A stealth ops tactical backpack is a specialized type of backpack designed for military and tactical purposes, as well as for outdoor enthusiasts who require durability, versatility, and a low-profile appearance.
You might have seen ads on TikTok or Youtube about this particular free backpack and wondering whether it's a good deal or if it's a scam.
In short, it's not necessarily a scam, but people fail to read the fine-print and the conditions when getting the "free Stealth Ops backpack" – It can be a good deal if you cancel the subscription service on time.
About Stealth Ops Backpacks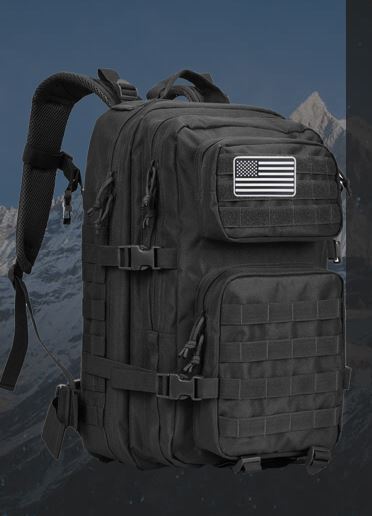 The Stealth Ops Tactical Backpack is a versatile and functional backpack designed for tactical and outdoor use. It includes the following features:
MOLLE Water Bottle Pouch: The backpack comes with a MOLLE-compatible water bottle pouch that includes 1 D-ring attachment and strong metal snap straps. This pouch can be attached to MOLLE straps or belts for added convenience.
D-Ring Grimlock: The D-Ring Grimlock on the water bottle pouch provides secure attachment and easy access. It allows users to quickly add or remove various MOLLE gear from the backpack.
Multi-Compartment Design: The backpack features multiple compartments and dual zippered closure pockets, including an interior zip pocket. This design helps users organize their gear efficiently.
Paracord Keyring: Included with the backpack is a Paracord keyring with 550 paracord cord. This can be useful for various outdoor activities such as camping, backpacking, or survival situations.
Large Capacity: The Tactical Backpack has dimensions of approximately 11.81″x19.68″x11.81″ (30x50x30CM) and offers a capacity of 42 liters. This provides ample space for carrying gear and supplies.
Durability: The backpack is constructed with durability in mind, making use of sturdy materials to withstand rugged conditions.
Comfortable Design: The back area and shoulder straps of the backpack are equipped with adjustable chest straps and ventilated mesh padding, ensuring comfort and breathability during use.
In summary, the Stealth Ops Tactical Backpack is a functional and well-designed backpack with features that cater to tactical and outdoor enthusiasts. It offers MOLLE compatibility, multiple compartments for organization, a paracord keyring, a substantial carrying capacity, and a comfortable design. Users can assess these features to determine if the backpack meets their specific needs and preferences.
The Fine Print – Terms of Conditions
Most people fail to read the fine print or do their due dilligence when entering such giveaways. When you order, you get a 14 day free trial to a subscription service.
It is down at the bottom, so it's easy to miss, but for careful and aware shoppers, it's plain in sight.


Is The Stealth Ops Backpack a Scam?
When people get charged later after the trial period ends for a subscription service, they are eager to call it a scam, which is understandable because it is a bit hard to see and easy to miss. Ultimately though, the company plays on people's ignorance, so as an aware and a smart shopper, you need to be careful.
You can get great value from the "free giveaway" as long as you cancel the subscription service on time if you don't need it, and use a one time debit card for safe measure.
However, I would personally recommend VIP Survival Academy's free backpack because they are more reliable with shipping, customer service, and are actually a legit company. You do get 14-day free trial to an outdoor survival course, but if you don't like it, also be sure to cancel it on time.