The allure of a starlit sky is impossible to resist. Who wouldn't want to gaze at the Milky Way while nestled comfortably under a blanket of warmth? Yet, nature doesn't offer the luxury of our cozy home beds. Fortunately, the All Season XL Mummy Sleeping Bag steps up, promising a snug sleep even amidst the rugged wilderness. Designed to comfortably accommodate even the tallest outdoor enthusiast, this sleeping bag becomes an essential camping, hiking, or backpacking gear.
Why Choose the All Season XL Mummy Sleeping Bag?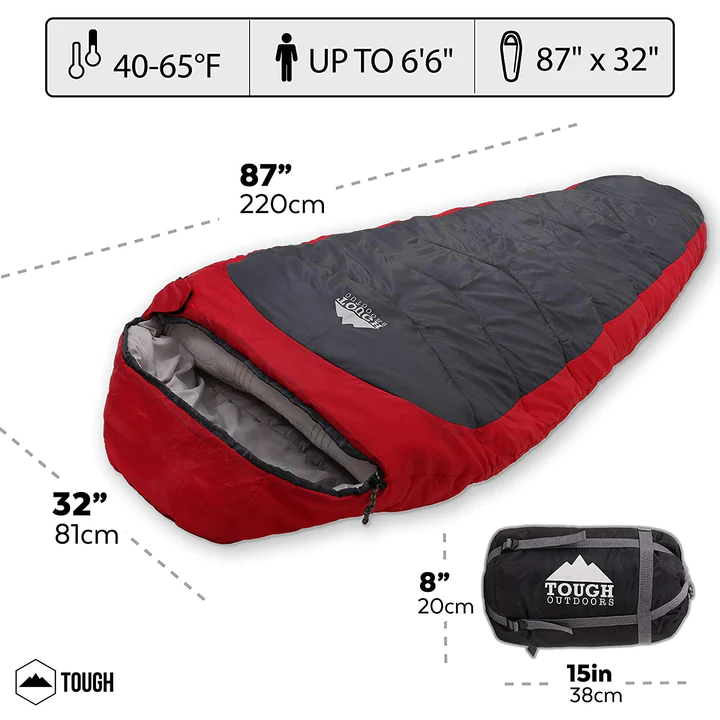 Sleep quality directly impacts your overall camping experience. The All Season XL Mummy Sleeping Bag understands this, ensuring restful sleep in even the chilliest 25° F weather. Its spacious design comfortably fits your six-foot tall stature, allowing enough room to adjust your sleep position.
What's more? Cleaning this sleeping bag is a breeze with machine-wash compatibility. For storage, compress it to a compact size, making it an ideal travel companion. And to keep your valuables secure, it features inner pockets to store your phone and other essentials.
What Makes The Season XL Mummy Sleeping Bag Stand Out?
This sleeping bag is more than just a resting place. It's an inclusive solution for tall individuals who often struggle to fit in standard sleeping bags. Apart from providing ample space to stretch, it ensures comfort and warmth, offering respite after a long day of exploring.
The sleeping bag's waterproof shell withstands the elements, guaranteeing dryness during rain spells. Its durable build is perfect for a range of outdoor activities like hiking, mountaineering, camping, and more.
Yes, it comes with a weak zipper, but with a responsive customer service team, any issues can be swiftly resolved. The bag also features an internal storage pouch to secure your important accessories, making solo travel worry-free.
Delving Into The Design and Specifications
Comfort: A perfect blend of warmth and coziness, this sleeping bag boasts a Velcro closure and a zipper to seal off any cold drafts. It provides unmatched warmth, even in freezing 25°F conditions.
Ease of Handling: Despite its size, this sleeping bag is travel-friendly. Compress it down to 8x8x15 inches using the included compression sack and slide it into your backpack. Cleaning is effortless with machine-wash compatibility. Plus, it's impressively lightweight and low maintenance.
All-Purpose Outdoor Gear: This sleeping bag is an all-rounder, ideal for camping, trekking, and other outdoor adventures. The waterproof shell ensures durability and weather resistance.
Safety: Prioritizing safety, it features an internal pocket for securely storing your phone, keys, and other essentials.
Spacious: Measuring 87 x32 inches, this sleeping bag provides more than enough space to rest comfortably. It can comfortably accommodate individuals up to 6'6″ tall.
Alternatives to Consider
While the All Season Mummy Sleeping Bag holds its own, it's worth considering some alternatives based on specific needs.
Coleman Palmetto Cool Weather Sleeping Bag: A great alternative with a Thermolock system, it maintains a warm interior and prevents cold drafts. The roll-control design allows for quick packing, and two bags can be zipped together for extra space. Despite missing a compression sack, it offers affordable warmth.
Coleman North Rim Extreme Weather Sleeping Bag: An excellent choice for warmer nights, this sleeping bag provides ventilation by unzipping the bottom. With a unique box-shaped foot space and quilting construction, it eliminates cold spots and maximizes comfort.
Forbidden Road Portable Lightweight Sleeping Bag: This bag stands out with its ability to accommodate an adult and two children. Additionally, two single sleeping bags can be combined for extra space, and it can be packed in under a minute, making it a superb choice for family campers.
Abco Sport Envelope Sleeping Bag: If you are looking for a sleeping bag that will keep you warm in most cold climates, then consider getting the abco sport sleeping bag.
Conclusion
Good sleep is non-negotiable, even when camping. The right sleeping bag can make all the difference, ensuring a night of restful sleep without muscle aches or discomfort. The All Season Mummy Sleeping Bag does just that, offering a combination of comfort, safety, and durability. Click here to check out the All Season Mummy Sleeping Bag today.