Going on a camping trip means smart packing and saying no to heavy blankets and rugs. What if instead, you could carry a lightweight, portable, and waterproof sleeping bag? Picking the right sleeping bag isn't easy. They need to be comfortable and durable enough to stand up to rough terrain and weather conditions. That's where the Abco Sleeping Bag, complete with a compression sack, shines. Here's my in-depth review to guide you in making an informed decision.
What Makes the Abco Sleeping Bag Special?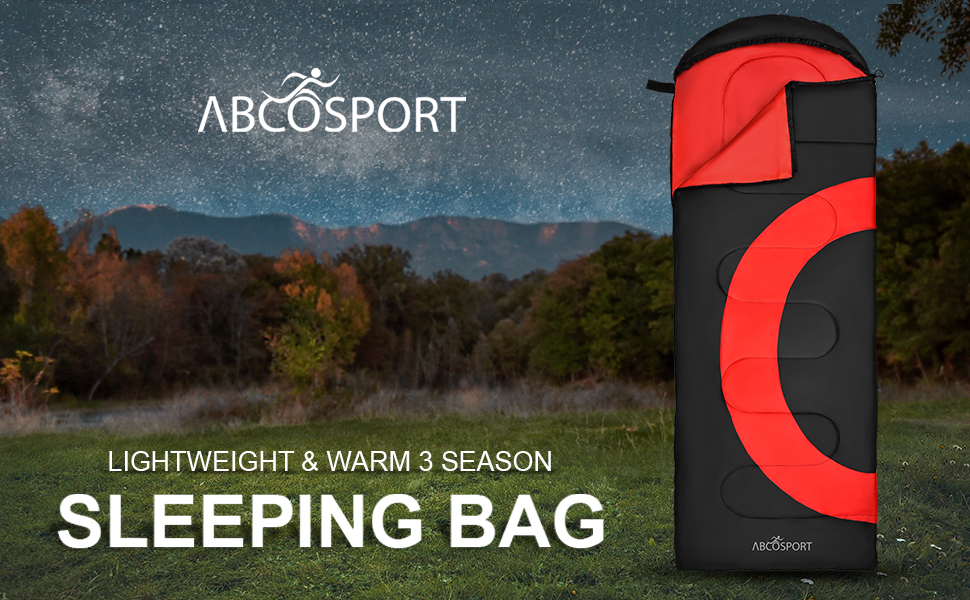 Sleeping on the cold, wet ground is a nightmare for every camper. After a hectic day of trekking, a warm, soft, and cozy sleeping bag is a blessing. The Abco Sleeping Bag, equipped with a compression sack, provides just that and more. Its heavy-duty design and commercial-grade framework can withstand the harshest of weather conditions. Thanks to the S-shaped quilt with double insulation, you'll stay warm even at 20 degrees F.
Key Features of The Abco Sleeping Bag
The Abco sleeping bag isn't your everyday sleeping bag. It boasts a solid, waterproof construction and S-shaped design with double insulation, tough enough for the roughest terrains and near-freezing weather conditions. This high-quality, durable bag is perfect for hiking, traveling, and other outdoor activities. Plus, you can easily store it in a compression sack for portability.
The Abco sleeping bags are designed to keep you comfortable in the warmest or chilliest of climates. Thanks to the 100% polyester lining, you can use the bag for extended hours without worrying about skin irritation or itchiness. The sleeping bag, featuring a 210T polyester covering, is easy to maintain and exceptionally durable.
Design and Specifications
While many sleeping bags struggle to balance comfort and durability, Abco Sport sleeping bags excel. They are portable, lightweight, and weatherproof. Here are some of the top features and design specifications that add to their credibility:
Durable Construction
The Abco Sleeping Bag shines with its premium quality design that's both durable and cozy. The polyester lining, along with double insulation technology, keeps you warm in sub-zero temperatures. The S-shaped framework is flexible, allowing you to move without feeling cramped. The wide bottom design suits all body types and ensures maximum comfort.
210T Polyester Covering
The Abco Tech sleeping bag features a robust 210T polyester covering, built to withstand extreme weather conditions. Its double lining of polyester on the inside of the sleeping bag maintains cool and comfortable conditions.
20-Degree F Temperature Rating
While many sleeping bags fail to live up to their promises in extremely cold climates, the Abco sport sleeping bag is an exception. Its polyester covering and double-lining insulation can keep you warm even in 20-degree Fahrenheit temperatures.
Portable and Easy to Store
Despite its heavy-duty construction and polyester lining, the sleeping bag is lightweight and portable. It easily folds into a compact roll and stores in the compression sack. The bag is easy to maintain and comes in a beautiful royal blue shade, making it a perfect companion for all your outdoor adventures.
Comfortable and Skin-Friendly
If you value quality, then the Abco soft sleeping bag is for you. It allows you ample leg space for movement and breathing. The bag's hood functions like a pillow for added comfort. Furthermore, the polyester lining is skin-friendly and doesn't cause irritation or rashes.
Alternative Choices
Here are some alternatives to the Abco sleeping bag:
Coleman Trinidad Warm-Weather Sleeping Bag
Made of 100% polyester, the Coleman Trinidad sleeping bags are suitable for all weather conditions. However, it fails to offer flexibility and space compared to the Abco sleeping bag.
Double Sleeping Bag by Sleeping
This sleeping bag by Sleeping is only suitable for cold weather and has enough space for 2 average-sized adults. It's a lot larger than the Abco sleeping bag, but also a bit more expensive.
Coleman Palmetto Cool Weather Sleeping Bag
Coleman Palmetto sleeping bags are ideal for cold weather only, unlike the Abco sleeping bags suitable for all weather. However, it is a lot heavier and does not come with a storage sack.
Tough Outdoors All Season XL Mummy Sleeping Bag
Tough Outdoors All Season XL Mummy Sleeping Bag is another great sleeping bag that will keep you warm and comfortable in all kinds of weather.
Conclusion
When it comes to choosing a cozy and comfortable sleeping bag for your next camping trip, the Abco Sport Sleeping Bag tops the list with its polyester covering, lightweight design, waterproof framework, and compression sack. Sturdy, stable, and solid, these sleeping bags are designed to keep you warm in the most extreme of weather.