23″ Stainless Steel Blade
Polypropylene Handle​
Protective Sheath w/ belt clip​
Contoured Grip For Improved Handling
Extremely Durable Steel Blade
Durable but Lightweight
Free Steel River Latin & Panga Review
The blade itself isn't too bad, it's just the construction of the handle that is a little ugly. It's just blocky, fat, and made out of cheap plastic.
The handle could definitely be designed to be a little more comfortable. Also, the sheath just doesn't go well with the machete color, but for practical purposes, it's better to have them sheathed than open carry as you might hurt yourself.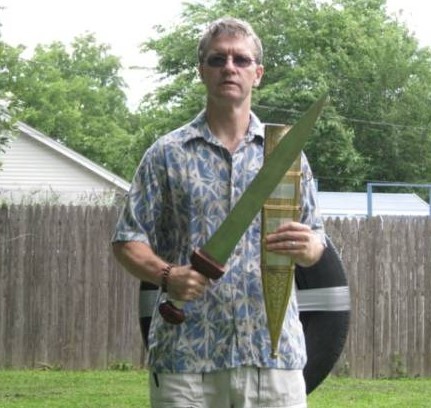 The size of these machetes are similar to the Roman Gladius, about the length of your forearms and hands. A little skinner than the sword shown above, but around similar size.
Overall, for practical purposes such as cutting wood, grass, and branches in a densely populated forest, it will do its job. The steel and construction is reliable, just a little ugly.
For $10 shipping and handling it's not such a bad deal for 2 steel machetes. As I said, the construction may no look the prettiest nor feel that comfortable in your hands, but if you need a cheap machete that will cut something, get these.
When checking out, make sure to know that you are subscribed to a 14 day survival video course. Be sure to cancel the subscription within 14 day period if you don't want to be charged $57.