FightFast TRS is currently offering a special giveaway promotion for their formidable TRS Buccaneer Machete. For those in search of a budget-friendly machete that packs a punch and can mow down any dense forest, this machete from FightFast TRS is worth a look.
History Behind the Buccaneer:
This close-quarters cutlass, known as the TRS Buccaneer, draws its inspiration from the classic 1917 U.S. Navy Cutlass, itself based on the M1912 Dutch Army Klewang. Its lineage traces back to the Indonesian War of Independence from 1945 to 1949 when the Ambonese Special Forces of the Dutch army wielded it with deadly efficiency, illustrating its effectiveness in real-world combat situations.
Features:
Overall Length: Stretches to a total length of 20 inches
Blade: Possesses a 14-inch blade with a thickness of 3mm
Material: Crafted with heat-treated blade steel for maximum durability
Structure: Features a full tang handle that lends strength and stability
Durability: Designed to be water-proof and shock-proof for enduring rugged conditions
Sheath: Comes equipped with a clip-point sheath for easy storage and access
Guarantee: Promises a full and prompt refund for unsatisfied customers
A Closer Look at the FightFast TRS Buccaneer Machete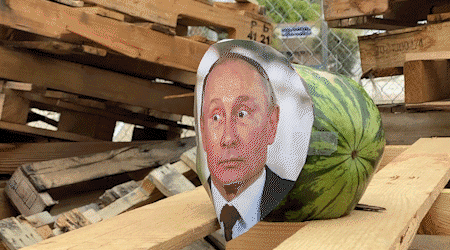 FightFast TRS, in general, offers reasonably high-quality products that are available for the cost of just shipping and handling. While they might not fall into the category of high-end premium quality, they never fail to deliver on the important aspects of their products. The TRS Buccaneer Machete stands as a testament to this commitment. But if you want something simple and functional, then check out these Free Steel River Latin & Panga Machetes.
Blade: The Cutting Edge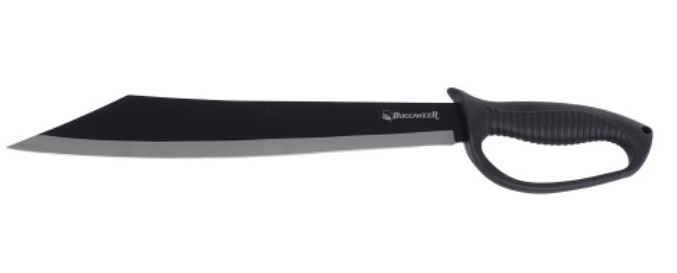 The blade, crafted with heat-treated stainless steel, is durable and sharp, retaining its edge efficiently. The 3mm thick blade rules out any fear of bending, making this TRS Buccaneer Machete an all-terrain chopper par excellence. Whether it's cutting through small trees or undertaking other utility tasks, this machete is up for the job.
Size and Design: Combining Aesthetics with Functionality
The overall length of the TRS Buccaneer Machete reaches 20 inches, which includes a 14-inch blade, striking a balance between blade length and handle length. The design bears a resemblance to a classic naval cutlass, presenting a sleek black oxide blade profile with a curved blade and a clip-point profile that lends a touch of style to its raw power.
Sheath and Handle: Practicality Meets Durability

Each TRS Buccaneer Machete is accompanied by a clip-point sheath. Though it's made of plastic, it ensures the blade is securely tucked away when not in use. The handle is crafted from fiberglass reinforced nylon which may not exude a high-end look, but the full tang construction ensures that it remains sturdy, even under intense usage.
Frequently Asked Questions
What is a Machete? How is it different?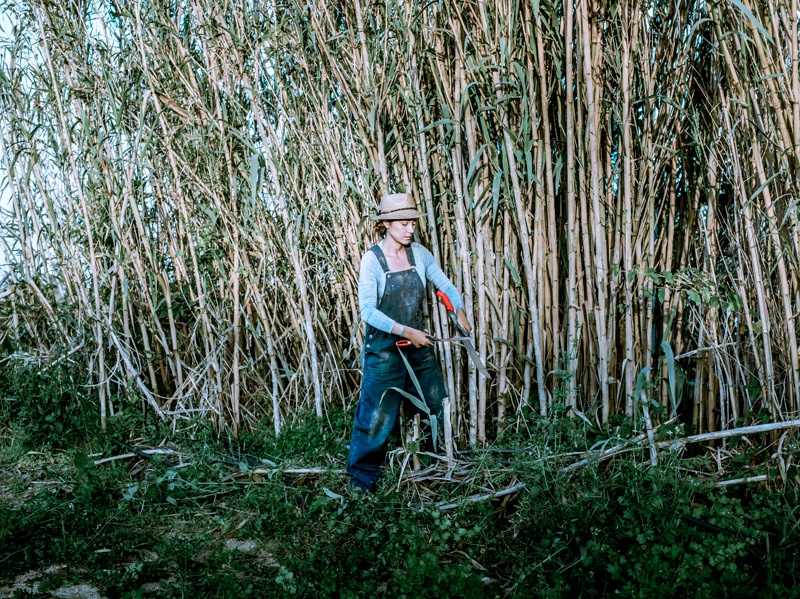 A machete is a large, knife-like tool engineered for tasks like chopping plants and clearing bushes. While it shares certain features with a sword, a machete sets itself apart with its shorter and wider blade. It's an equal parts short sword and an indispensable utility tool in tropical countries, proving useful to farmers and gardeners. It is this raw hacking power that makes a machete versatile in both rural and urban settings.
Is a Machete Considered a Sword?
Though machetes are not typically categorized as swords, they do share some commonalities. Swords are typically narrower than machetes and often possess higher-quality handle material. However, the utility of a machete as a tool for hacking through thick vegetation and even small trees cannot be overlooked. But if you want something handy and small for daily use, then I recommend this Free Evatac Combat Dagger or Free Steel River Colossal.
Why Is This Machete Free?
FightFast and TRS Survival are renowned for offering intriguing products for free, charging only for shipping and handling. Moreover, they stand by their promise of a full and prompt refund if a customer is not satisfied, giving an additional layer of confidence to the customer. It is speculated that the slightly inflated shipping costs enable them to make a small profit, even without a purchase price.
Seize Your Chance for a Free TRS Buccaneer Machete!
The FightFast TRS Buccaneer Machete, with its compelling blend of power and style, is a tool worthy of your attention. The full tang, fiberglass reinforced nylon handle, clip point sheath and black oxide blade profile make it an unbeatable offer. So, why wait? Embrace this opportunity and add the TRS Buccaneer Machete to your collection today!