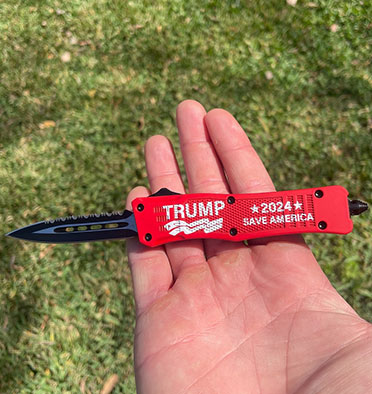 Product Details of the Donald Trump Knife:
Laser-etched with "Make America Great" — President Trump's iconic slogan.
Assisted Open Mechanism: Rapid deployment with a single click.
Triple Beveled, Razor-Sharp 420 Stainless Steel Blade.
Impressive 8″ in length with a 3.5″ blade.
Perfect for everyday concealed carry and serves as an efficient hunting knife.
The Assisted President Donald Trump Pocket Knife is rapidly gaining traction and popularity in the world of cutlery and outdoor gear.
Esteemed for its superior craftsmanship and functionality, this iconic knife has found its place not just among die-hard knife enthusiasts but also among adventurers, survivalists, and hikers.
Additionally, with the rising trend of outdoor escapades and wilderness exploration, this one-of-a-kind pocket knife serves as an indispensable tool, reflecting the essence of American craftsmanship and the adventurous spirit of its users.
About The Donald Trump 2024 Pocket Knife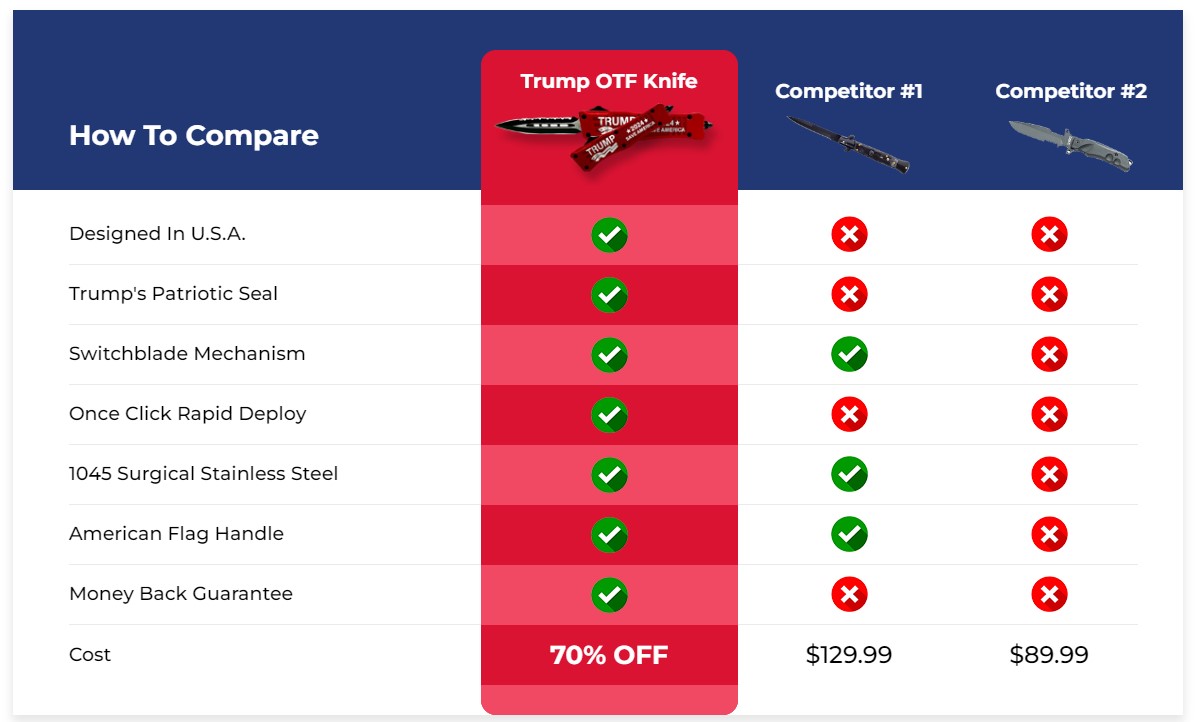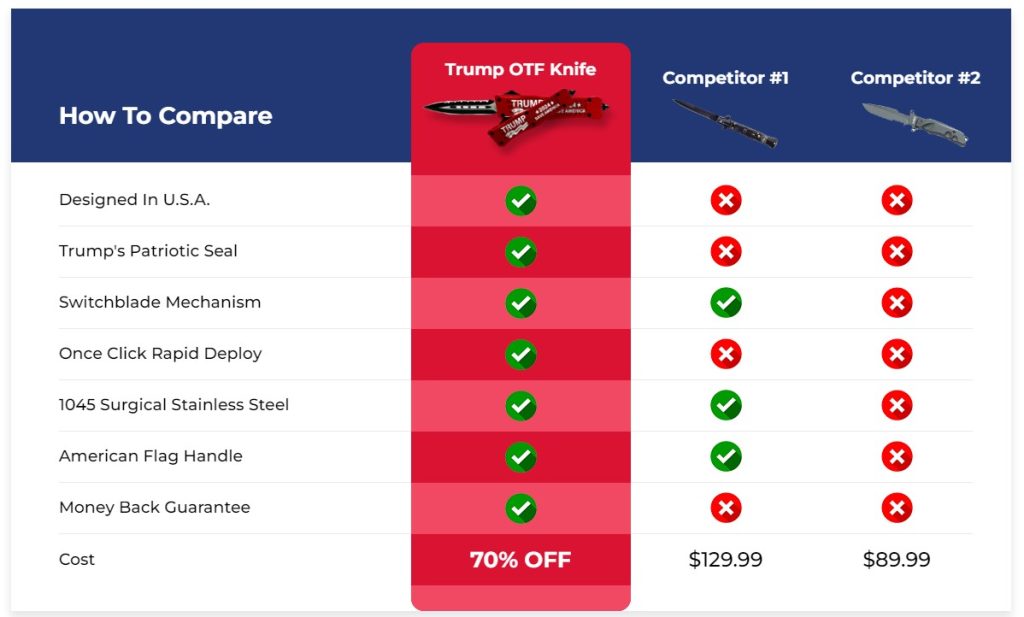 Dive deep into the intricate details and exceptional attributes of the Trump OTF Folding Pocket Knife.
Embrace its wide-ranging functionalities and marvel at its adaptability to various scenarios. 
With our comprehensive and transparent overview, gain a thorough understanding of its prowess, from its precision-engineered blade to its ergonomic design.
At its core, the message this knife gives off is all about putting America first. 
Triple Beveled Dual Blade System:
Renowned for its advanced engineering, the Trump OTF Knife boasts a unique dual-blade system.
With a razor-sharp straight edge tailored for intricate precision cuts and a robust serrated edge adept for tougher materials like ropes and wilderness branches, this knife stands as the epitome of multifunctional excellence.
Such a versatile configuration ensures readiness for various outdoor challenges and survival tasks.
Though the serrated portion delivers unmatched performance, users should note that it might require specialized blade sharpening techniques.
Premium Stainless Steel Material: 
Carved from top-tier, military-grade stainless steel, the Trump OTF Knife stands resilient against the harshest conditions, making it an essential tool for adventurers, survivalists, and outdoor enthusiasts.
This choice of premium material not only underlines its exceptional durability but also champions its corrosion-resistant capabilities.
However, as with most of these kinds of high quality equipment, it's vital to be cautious about prolonged water exposure to maintain its pristine anti-corrosion properties.
Its feather-light construction ensures effortless portability, endorsing it as a trusted companion for treks, hikes, and daily adventures. In terms of weight, it's lightweight just like a folding knife made from a titanium material.
Assisted Open Rapid Deploy Switch:

At the core of the Trump OTF Knife's unparalleled tactical prowess lies its cutting-edge assisted open rapid deployment system. With a simple, swift tap, the blade erupts into action, ready for immediate tasks, making it an indispensable tool during critical situations.
The seamless retraction mechanism ensures discreet storage and ease of transportation.
Every element of this system is painstakingly refined, guaranteeing that the knife is accessible at crucial moments and safely stowed during tranquil times, striking a perfect balance between functionality and safety.
Trump-Inspired Patriotic Wood Handle:
Beyond mere functionality, the Trump OTF Knife's wood handle design is a testament to patriotism even though it doesn't include the American flag in the design.
Bearing Trump's "Save America Again" phrase, it's an exclusive collectible for those supporting the 45th president. Yet, for some, a less branded knife like the Free Black Rhino Knife or Free TRS Commando Vietnam Knife might be more appealing.
Functional Advantages of Donald Trump President Pocket Knife: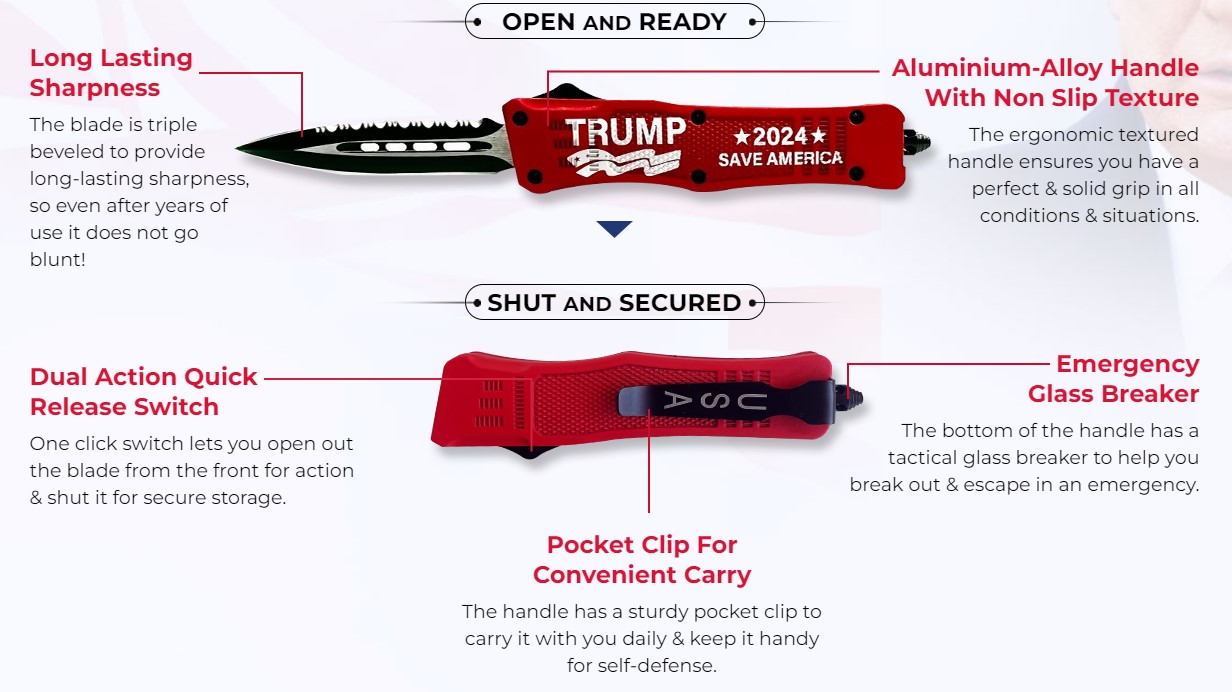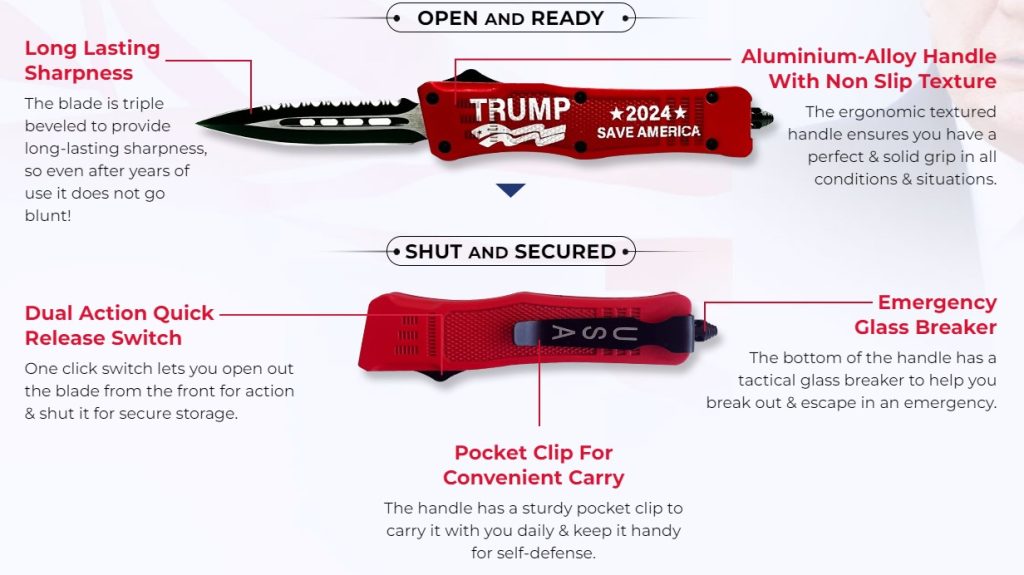 Long-Lasting Sharess: Thanks to its triple-beveled blade, the Trump OTF Knife maintains its sharpness through extended periods of use.
Aluminium-Alloy Handle With Non-Slip Texture: The ergonomic handle design not only enhances the knife's aesthetics but also serves a practical purpose.
Dual Action Quick Release Switch: The dual-action switch mechanism is a testament to the knife's user-centric design. It allows for effortless one-handed operation, ensuring that you can deploy the blade swiftly for action and securely lock it in place when closed.
Pocket Clip for Convenient Carry: For added convenience, the Trump OTF Knife features a sturdy pocket clip. This clip enables you to carry the knife with ease, keeping it readily accessible for everyday tasks.
How To Get The Trump Knife Free?


While the "Trump 2024" knife isn't available for free, the seller is offering substantial promotions, coupled with free shipping and handling.
If you're a fan of President Trump and his motto of "Keep America Great", this limited edition fixed blade knife should be yours. It will also be a great gift for men if you're looking to buy one.