Tactical Karambit Knife
American Gunner is having a special giveaway offer for this Karambit knife! This knife is a perfect everyday carry because of its lightweight and extremely strong features. Whatever purpose you use it for, you can be confident that it is reliable and durable.
Plus, the discreet and stylish design makes it even more appealing. Because you will most likely carry it on a daily basis, there is a protective sheath included!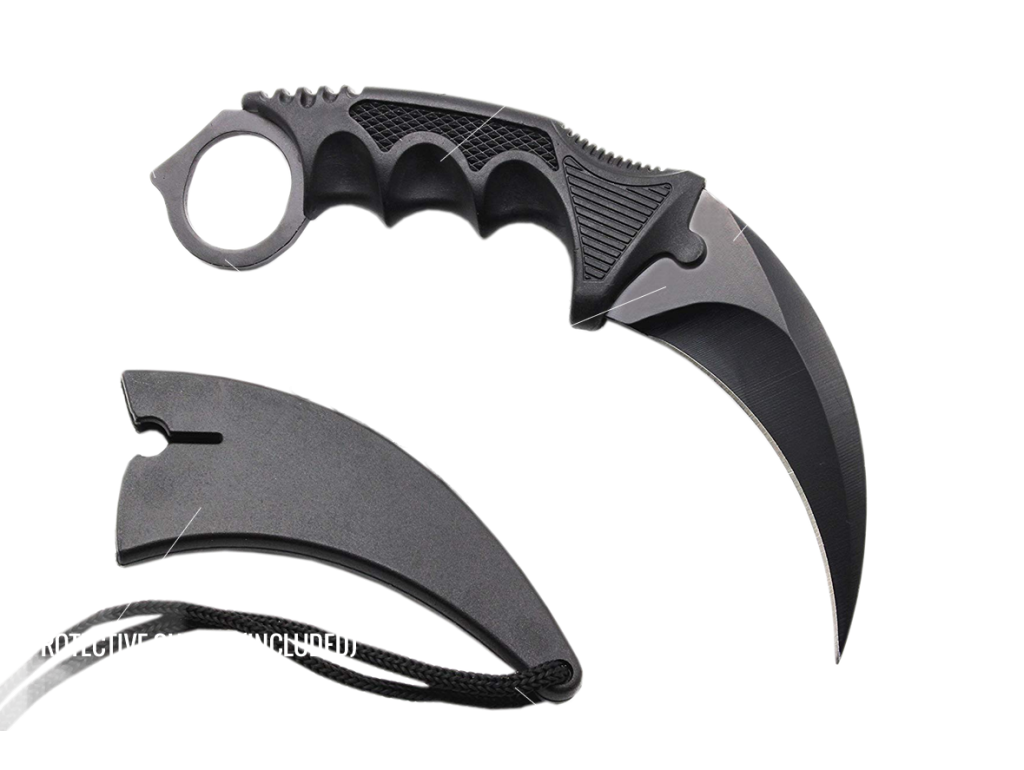 ​Unassuming Discreet Design
​Razor Sharp Blade
​Full Tang For Maximum Strength
​7.4 Inches In Length
​Protective Sheath Included
Quick Access Neck Cord Included
​Ergonomically Designed Handle
​Perfect EDC Defense Tool
​Stainless And Rust Proof
The length from the tip of the blade to the end of the handle is a generous 7.4 inches which are large enough to tackle any task you throw at it! It is a perfect knife for self-defense and hunting, camping, fishing, and even simple everyday use.
What's more? The ergonomically designed handle is made to make it easier for you to grab and hold. There is also an emergency glass breaker at the end of the handle in case of emergencies. This knife is worth $39.95, but you can grab it for free today! The supply is limited, so make sure to order ASAP.
In case you're not satisfied with the product, there is a 60-day, 100% money-back guarantee. You are only paying the shipping cost, but it is incredible that there is a money-back guarantee!
Folding Eclipse Karambit Knife
This folding knife is discreet and easy to conceal, which makes it a perfect self-defense weapon in case of emergencies. It's lightweight and portable, so you can also use it in survival situations out in the wilderness if you need to cut something.
For hunting purposes, it can be a great tool to cut through fur, skin, and meat. If you will be going through a dense forest or a jungle, the cutting and slashing capability of this Eclipse knife can be very useful as well.
Most people think that small and lightweight knives are not that strong, but it's totally different when it comes to this Karambit Knife! You'll be surprised to know how durable and strong it is.
EDC Cool Pocket Knives 440 Stainless Tactical Sharp Raptor Claw Knife, Holes on the blade
2.75-inch blade length; 5.25-inch closed length; 8-inch total length
The spring-assist folding knife offers rapid one-handed deployment, locks securely into place with liner lock
Weight only 5.5 OZ
Seamlessly used for Daily application、Camping to Search & Rescue, you can use it as a spearhead, make tent pegs, split kindling, cut small branches.
The best thing about this knife is its compatibility for EDC or everyday purposes. Since it can be folded, you can carry it anywhere with you. You can fold it with one hand in few seconds, plus there is a lock to keep it secure!
Just like the previous knife, this one is also perfect for camping, fishing, outdoor adventure, and self-defense. Purchasers also claim that it was far more high-quality and durable than expected. There is limited stock, so hurry and grab yours while you can!
If you aren't happy with your order for any reason, then you can just contact them within 30 days, and your issues will be solved!
Black Karambit Knife
Karambit is mainly used as a slashing weapon. While it's not the best knife for thrusting, it can slash and cut things very easily. This tool originated from South-Eastern Asia because of the need to cut through thick jungles and forests.
It also found its way into popular culture in Hollywood as an exotic and cool weapon to wield. You can find the Karambit knife being used in John Wick and Call of Duty. The exposure within the media and history channel makes the Karambit one of the most popular knives out there.
One of the most important features of any Karambit knife is multi-functionality. This black Karambit knife is versatile enough to be used in any situation just like the knives we've mentioned above.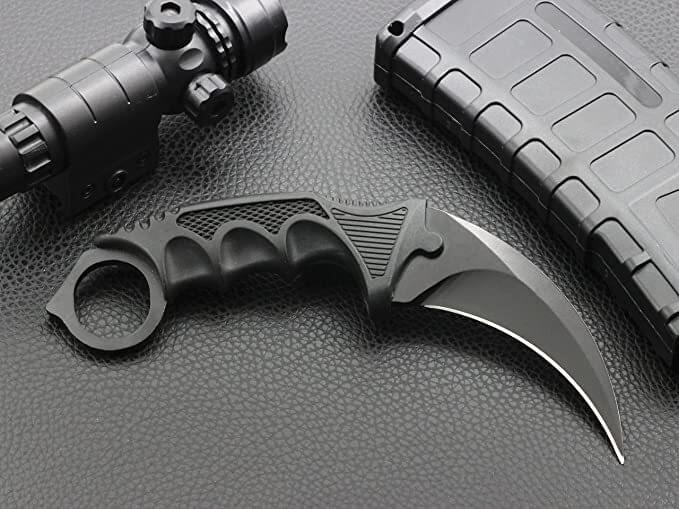 Knife Weight: 3.83Oz, lightweight easy to carry
Stainless Steel Blade- Rustproof, wearable, and sharp
Knife total length: 7.4″ 19cm Blade Length: 3.3″(8,5cm)
The ergonomically designed handle feels great to hold in your hand and comfortable to use
Multifunction- Perfectly suitable for outdoor activities, such as hunting, fishing, camping, etc
Stainless steel is highly corrosion-resistant, allowing it to be used in all types of environments. Even at elevated temperatures and pressures, it is resistant to fire and heat.
Moreover, the forged full tang design increases the force and leverage. It makes the knife even more durable. Lastly, the unique finger grip handle allows for greater control of your weapon. I don't even have to mention the protective case, sharp blade, and emergency glass breaker as they're expected. Plus, look at the beautiful color and design of the knife!
Raptor Claw Karambit Knife
The tactical USA is holding a giveaway for Raptor Claw Karambit Knife that is worth $49. This knife is unique and exceptional when it comes to self-defense. As the customers claim, it is the deadliest combat knife you can find. Why? Because this knife features a curved, razor-sharp blade that lets you cut through anything.
Not only this is a perfect combat tool, but it is also multi-functional. You can use it in the wilderness to clear brush, slash roots, and cut through rope and fishing line.
The best self-defense Karambit knife is discrete and lightweight. And this knife has both of those features. Plus, the razor-sharp steel that will never break or rust promises more durability.
2.5″ Black Razor-Sharp Stainless Steel Blade
5.25″ Karambit Black Handle
Finger-Ring Grip: Makes it impossible to drop and allows for powerful punches while holding the knife.
Lightning-Fast Spring-Assisted Opening
Folds Close For Comfortable Carry
Lightweight & Discrete
Includes Pocket Clip For Easy Carry
Black & Red Design
Some people think there is a catch and the offer is too good to be true. It is a real and golden opportunity even though it's good to be true. You will be getting the $49 knife for free, all you have to pay is the shipping fee.
However, if you're not satisfied with the product, they back up your shipping costs with a 100% money-back guarantee that lasts for a lifetime. It is an incredible offer you can't miss! So make sure to grab it quickly as there is a limited supply.