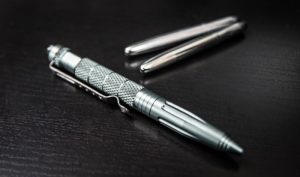 Free Offer Details
Uses A ballpoint tactical pen that becomes a tactical tool in case of an emergency that shatters a car window.

Refills & Material: Refillable with Standard and fisher space pen refills and made of lightweight aircraft aluminum

Gift for men: Perfect for birthdays, graduation, father's day, or Christmas.

Survival tool: This tactical gear can work as a companion for outdoor trips.
About UZI Tactical Pen
The UZI tactical pen is a great tool for outdoor enthusiasts and a great kit to have in your toolbox.
The UZI Tactical Pen is made from lightweight aircraft aluminum and features a triangular glass-breaking tip. You can carry this pen as a writing instrument or as a self-defense tool and it'll help you stay safe. The UZI Tactical Pen is not only stylish, but it's functional too.
It is a good choice for everyday carry and on-duty work.
Compared to some other brands, however, it does not have a distinctively unique quality about it as there are many tactical pens that offer the same value for cheaper.
You can read our list of best tactical pens here and get something like this for cheaper rather than on Amazon.