Easy Charging
180° Rotary + Magnet Base & Innovative Snap Design: It

provides multi-angle illumination, magnet base, and Snap make your hand free to do other things

Portable and Waterproof: Rainproof IP 44, it can be folded so easy to be taken everywhere (weight of only 6 oz)
Rechargeable Long-Lasting Batteries:

Built-in 2000 mAh rechargeable battery, rechargeable by USB port ( included USB cable)
Tactical Working Light Review
Working light is an essential tool for everyone who spends some time in the garage fixing things. So it's not only important to keep it at home, but also on hiking/camping/fishing trips. (especially If you're driving a car)
This working light is folded easily to be carried everywhere with a weight of only 6 oz. It also works as a flashlight as the lighting distance is not bad. But I recommend getting a separate tactical flashlight. 
IP44 waterproof feature enables you to use it in heavy rains without any worries. You don't have to worry about changing the batteries constantly because this light has a built-in 2000mAH rechargeable battery with a USB port. USB cable is also included.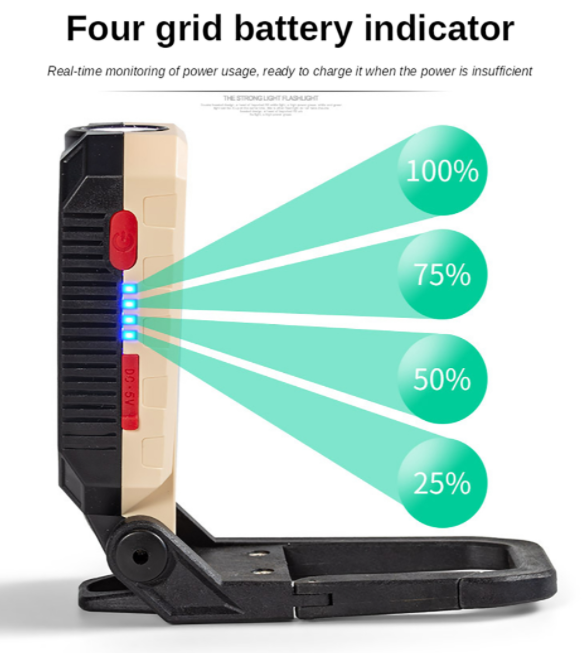 There is a power display function to let you know when the light is running out of battery so that you can be prepared. 180 degrees rotation offers multiple-angle illumination making it easier to work. 
Overall, it's a well-built and practical working light every one should own. When you're working or fixing stuff and don't have anyone to help you, it's a useful tool to free your hand to focus on the work.