Features
Full HD 1080P resolution with 30 fps capture rate.
2x zoom wide-angle lens for broader captures.
The camera dives up to 30m/98ft with its waterproof case.
900mAh removable battery offers up to 90 minutes of recording.
2-inch LCD screen for real-time display and playback.
Backed by a 1-year warranty and lifetime technical support.
Review of Tactical USA's Waterproof Action Sports Camera
In the growing realm of action cameras, having the right device can mean the difference between capturing a fleeting moment and just a memory. Tactical USA's Waterproof Action Sports Camera positions itself as a tool that can keep pace with adrenaline-fueled adventures. But how does it truly fare when pitted against real-world scenarios?
Vivid Captures with Full HD 1080P
Starting with its primary function, this camera boasts a Full HD 1080P resolution. Combined with its 2x zoom wide-angle lens, users are promised clarity in every frame. The ability to shoot at 1080P at up to 30 fps offers fluid video captures, ensuring the essence of every action-packed moment is encapsulated. However, while 30 fps is commendable, those looking for ultra-smooth footage might yearn for the 60 fps available in some high-end models.
Dive Deeper with a Sturdy Waterproof Case
One of the standout features of this camera is its waterproof capability. Accompanied by a high-quality waterproof case, this camera can confidently accompany divers to depths of 30m/98ft. This makes it an excellent companion for snorkelers, divers, and other water sports enthusiasts. Yet, while it's designed for underwater escapades, potential users should be wary of pushing it beyond its depth limit, as that might compromise the camera's integrity.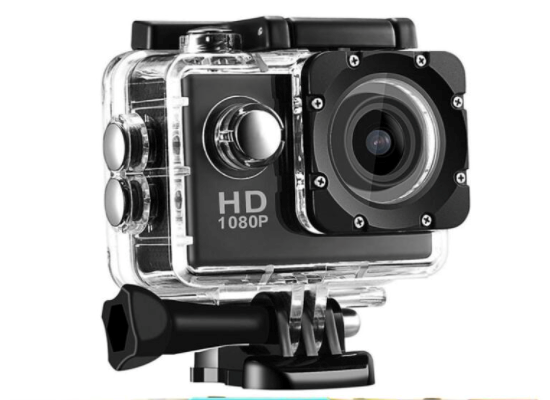 Stay Powered Longer with a Rechargeable Battery
Battery life often becomes the Achilles heel of many action cameras. Tactical USA seems to tackle this head-on with a 900mAh removable rechargeable battery. With the promise of up to 90 minutes of continuous recording, users are less likely to miss those once-in-a-lifetime moments. The added convenience of a removable battery is a plus, allowing for quick swaps on the go. Yet, for extended excursions, users might need to invest in backup batteries.
Relive the Adventure on a 2-Inch LCD Screen
Every good action camera needs a reliable screen for playback and framing. The 2-inch LCD screen on this model offers a real-time display, ensuring users can relive their adventures or ensure they're capturing the desired angle. This feature enhances user experience but might be a tad small for those accustomed to larger displays.
In Conclusion
Tactical USA's Waterproof Action Sports Camera presents itself as a strong contender in the mid-range action camera market. With features tailored for adventure, from its high-resolution captures to its commendable underwater prowess, it caters to a broad spectrum of users. While it might not boast the premium specs of top-tier models, it strikes a balance between functionality and affordability, making it a worthy consideration for both novices and seasoned action camera users.
Knowing that you have a safety net is always a plus when investing in gadgets. Tactical USA offers a 1-year warranty coupled with lifetime technical support. It's comforting to know that there's a team ready to assist should any issues arise. However, the longevity and robustness of the camera post the one-year warranty period could be a consideration for potential buyers.