In my journey as an outdoor enthusiast, I've come across my fair share of knives, but the TRS Titan Knife left a lasting impression that I can't help but share. This knife is more than just a tool; it's a versatile and reliable companion for various situations. The overall design is so cool and the functionality is not bad either, plus it's being offered for completely free. Let's look into the details.
The TRS Titan Knife is a true field knife that you can rely upon in various scenarios. Whether you find yourself in combat, a survival situation, camping, hunting, fishing, hiking, or simply tackling tasks around the house, this knife has your back. The merchant also mentioned that it excels at hacking through brush, splitting wood, prying, digging, and pounding stakes. Moreover, the butt of the Titan serves as a formidable striking weapon if the need arises.
Overall Features:
Sleek Black Oxide Coating
7.25 Inch Razor Sharp Blade
3mm Blade Thickness
Serrated Edge
Comfortable Grip & Handle
Full Tang Handle
Reinforced Nylon Sheath
Blade and Size
The first thing that caught my attention when I held the TRS Titan Knife was its impressive size. With a full length of one foot, this knife commands respect. The dagger profile blade is 7.25 inches long, featuring a single razor-sharp edge that keeps it within the legal limits under federal law in the United States. The blade also boasts a serrated edge, perfect for handling tough rope or solid bone.
The blade is a robust 3 mm thick, making it incredibly sturdy. Its steel shank runs the entire length of the handle, making it a full-tang knife. This full-tang construction ensures that the knife will never snap at the handle, making it a dependable choice when you need it most. The blade is coated with a tough black-oxide finish that not only looks badass but also adds to its durability. While I can't promise that the coating won't chip or peel, overall it's a good-looking and durable knife.
Ergonomic and Practical Handle
The handle of the TRS Titan Knife is nearly five inches long and made from tough, practically bulletproof, glass-reinforced nylon. This material is not only waterproof but also impervious to heat and weather, ensuring its longevity. The handle is roomy enough to accommodate gloved hands comfortably, making it suitable for use in various conditions.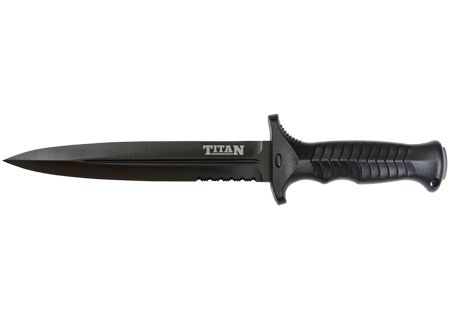 The textured GRN material provides an excellent grip, even when wet, muddy, or bloody. The finger guards are extra-large, offering protection from injuries, and the flared pommel enhances your grip and confidence when handling this knife.
A Sheath That Matches the Blade
It comes with a hard-shell, incredibly durable, glass-reinforced nylon sheath. This sheath is waterproof, weatherproof, chemical-resistant, and fire-resistant, ensuring the knife's protection for generations to come.
What I appreciate most about the sheath is its snap-fit design. It securely holds the blade in place, preventing accidental dislodging even during rigorous activities. When you're ready to unleash the Titan, a gentle tug on the handle releases it from the sheath, putting this snarling beast into action.
Flaws But no Dealbreakers
However, it's important to address some potential shortcomings. The design, while functional, might appear intimidating to some users. The aggressive appearance of the Titan may not be suitable for those seeking a more discreet or traditional-looking knife. Additionally, the size and weight of the knife may not be ideal for individuals looking for a compact and lightweight option for everyday carry.
In conclusion, the TRS Titan Knife is more than just a tool; it's a formidable companion for adventurers, survivalists, and anyone who values quality and reliability in their gear. While it may have a design that some might find intimidating, its functionality and performance are truly impressive. And the best part? You can get it for free, which is a rare opportunity for a knife of this caliber. So, if you're in need of a versatile and dependable field knife, the TRS Titan Knife is a choice worth considering. Just keep in mind the design's aggressive appearance and the knife's size and weight, which may not suit all users' preferences.