Features:
5 focused functions for optimal utility.
Blade made from 7Cr17MoV steel for durability and sharpness.
Black Titanium CarboNitride coating on the blade for reduced friction.
Built-in LED flashlight that's detachable, water, and shock-resistant.
Ferrocerium metal rod produces sparks up to 5,400 degrees.
Equipped with an emergency glass breaker.
Integrated belt slicer for ropes and cords.
Bonus "Fire Starter Secrets" DVD guided by survival expert Bruce Beck.

Adventure enthusiasts, preppers, and everyday users behold: there's a new knife in town. The TRS 5N1 EDC Tactical Survival Knife has arrived, and it's making waves. The question is, does it truly stand out amidst the plethora of survival tools on the market? Let's find out.
Free TRS 5N1 EDC Survival Knife Review
Diverging from the typical jack-of-all-trades tool filled with myriad gadgets, the 5N1 EDC Tactical Survival Knife has a focused approach. It zeroes in on five key functions, and this might be its biggest strength. Instead of burdening users with tools they'll rarely use, it offers essentials that are vital in survival scenarios, and yet practical for everyday life.
The Blade: More than Just a Knife
The centerpiece of any good survival tool is its knife. The blade here is a 3-¼ inch clip-point design made from 7Cr17MoV steel. For those not in the know, this type of steel is a mark of quality. It's corrosion-resistant, sharpens to a razor edge, and retains that edge impressively. The black Titanium CarboNitride coating isn't just for aesthetics—it ensures low friction and added protection. However, potential users might need to familiarize themselves with blade care to ensure longevity.

The blade/edge itself is a little short for my taste, but it is definitely very sharp right out of the box. The serrated portion takes almost half of the blade, making it even shorter. However, in case you need to cut through tough material such as rope or a seatbelt, it can come in handy, so it comes down to your preference. The edge is sharp, but over time it will become a little dull, so you should get one of these knife sharpeners to go along with it.
The Built-in LED flashlight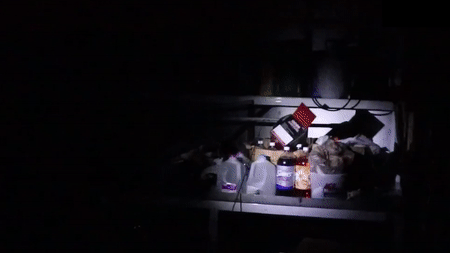 The built-in LED flashlight is a welcome addition. Its brightness is commendable, with added functionalities such as being detachable, water-resistant, and shock-proof. The magnet feature is particularly handy, allowing for hands-free operation—a boon in tricky situations.
It's not enough to replace any pocket flashlights for camping or hiking use, but if you need to look for something in the dark it's more than enough. The brightness is similar to that of a smartphone around 50-70 lumens.
Fire-Starting Made Easy
Any survivalist worth their salt knows the significance of fire. The ferrocerium metal rod is a game changer, producing sparks that can reach temperatures of 5,400 degrees. This makes fire-starting in damp environments or with minimal kindling more achievable. However, for those unfamiliar with Ferro rods, there might be a learning curve to fully capitalize on this feature.
Emergency Preparedness
Two additional features elevate this knife from a simple tool to a genuine survival aid: the glass breaker and the belt slicer. The former is invaluable in emergencies, especially in vehicle entrapments, while the latter makes short work of ropes and cords. Plus, these tools can be effective deterrents in self-defense situations, subtly reminding potential threats of your preparedness.
How Durable Is The Knife & Blade?
The knife frame and blade are coated and made out of stainless steel, so it is resistant to corrosion. You won't have any problems using it in rainy or wet environments.
It has a liner lock as well, so it's more durable and safer compared to other types of knives with different locking mechanisms.
Where To Get The TRS 5N1 ED Knife Free? Is It Worth It?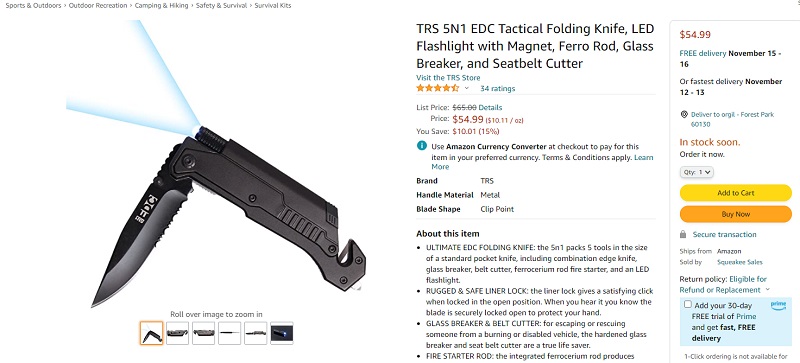 On Amazon, the knife is priced at $55, suggesting its value could approach $60. However, TRS offers an unbeatable deal on its website where the knife is available for just the cost of shipping. To enhance the value proposition, the package includes the "Fire Starter Secrets" DVD, valued at $49. This DVD, led by the renowned survival expert Bruce Beck, is a treasure trove of survival techniques.
The knife itself, while not a replacement for specialized tools, strikes a harmonious balance between daily utility and survival essentials. It's an alluring offer for adventurers, preppers, and the everyday prepared individual, though it's crucial for potential users to gauge if it aligns with their specific requirements.