If you are looking for an EDC survival knife with multi-functional use, then I highly recommend you get this 5N1 knife. Shockingly it has a lot of great features and tools included in the compact frame.
Overall, for what it includes and how well it performs, this is a great deal and well worth the value. Let's take a look at each of the components.
Free Offer Details
The particular steel is a super-tough high-quality corrosion-resistant stainless-steel
Features a built-in super reliable, an LED flashlight that's shockingly bright
Features a glass breaker
Features a fire starter: very effective at transforming a simple spark into a roaring fire
The TRS Knife Edge Sharpness

The blade/edge itself is a little short for my tastes, but it is definitely very sharp right out of the box.
The serrated portion takes almost half of the blade, making it even shorter. However, in case you need to cut through tough material such as rope or a seatbelt, it can come in handy, so it comes down to your preference.
The edge is sharp, but over time it will become a little dull, so you should get one of these knife sharpeners to go along with it.
Is The 5N1 Flashlight Any Good?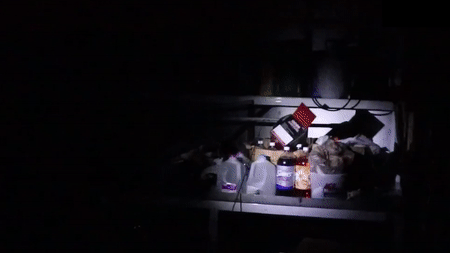 The flashlight is alright for most of the everyday carry use. It's not enough to replace any pocket flashlights for camping or hiking use, but if you need to look for something in the dark it's more than enough.
The brightness is similar to that of a smartphone around 50-70 lumens. However, the selling point is not the brightness of the flashlight, but the ease of use and portability.
You can actually pull out the flashlight piece and attach it to any metal surface because the flashlight itself is small and magnetic.
If you are doing something around the garage, or if the power goes out, or if you forgot to bring a flashlight on your camping trip, then this flashlight will definitely help.
Does the Firestarter Work?
The firestarter works perfectly well!
You do have to scrape off the coating beforehand. It has a black coat on the rod for safety purposes. Once you scrape it off, you can get a fire going with a few strikes.
Using the fire rod will make your blade a little dull, so if you like your TRS 5N1 EDC knife, then I suggest you use a throwaway that you don't care about to start any fire with the rod.
What About the Seatbelt Cutter & Glassbreaker?
The seatbelt cutter: This is more of a marketing tool to make it look fancy, but in reality, the seatbelt cutter doesn't work that well. You are better off using the serrated blade to cut through any tough material.
The glass breaker: In promotion videos, the glass breaker might look like it easily breaks through windows, but in reality, you do need to use some force. You won't be breaking through glass with a simple tap.
How Durable Is The Knife & Blade?
The knife frame and blade are made coated and made out of stainless steel, so it is resistant to corrosion. You won't have any problems using it in rain or wet environments.
It has a liner lock as well, so it's more durable and safer compared to other types of knives with different locking mechanisms.
Where To Get The TRS 5N1 ED Knife Free? Is It Worth It?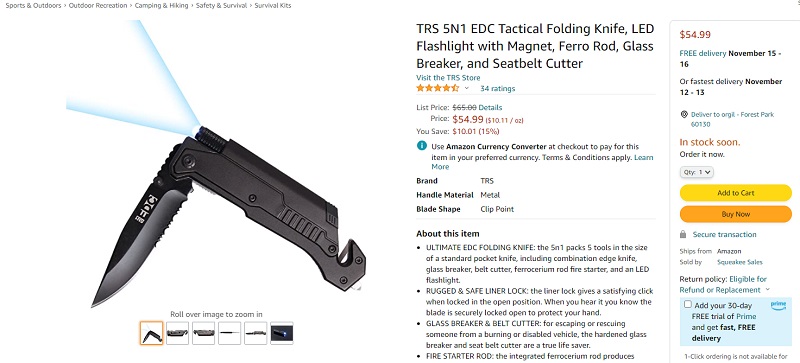 On Amazon, it is $55! For almost $60, I personally don't think this knife is not worth that much, but it does have good reviews on Amazon.
However, TRS is having a special offer on its page. You can in fact get this knife for free! Well, you do technically have to pay for shipping. But, for the shipping cost, this is a steal and has great value!