About This Tactical Ops Free Bag
LARGE CAPACITY: Size: 27mmx16mmx21mm (Approx.) 20L capacity
FASHIONABLE: Stylish, hands-free across the body, over the shoulder or by the handle
MOLLE SYSTEM & ADJUSTMENT: Molle system on the front and side of the bag. Adjustable & comfortable shoulder straps
WATERPROOF POLYESTER: High-quality nylon repels water on rainy days & most stains
BREATHABLE: Mesh sponge on the back is made from breathable cloth, which helps reduce sweat and improves comfort while wearing
The thing I mainly like about this small "tactical backpack" is how portable and functional it is. The quality is decent for something that is free and you can definitely get great value out of this.
Besides using sturdy double stitching and durable material such as polyester, I think around 600D, there are a lot of compartments that can be used to store items for hiking, fishing, trekking, hunting, etc.
There are adjustable chest straps that you can use to adjust where it sits on your body.
So if you are looking for a budget shoulder sling bag that has the same features as a more expensive EDC bag and such, then try this out! You can pay the shipping and handling fee on Proud Patriot's website and get it free.
How Large Is It?
This tactical sling bag is advertised as 20Liters but there is no way this is 20Liters. It's around 10-13 Liters at most, which is better suited for light travel, hunting, fishing, and perhaps shooting at the range. 20 Liters capacity, while not necessarily large, is as large as an elementary schooler's backpack (for reference)
How Durable Is This Tactical Shoulder Bag?
When it comes to the sling backpack durability you can expect decent value for the price.
Polyester is a fabric made from synthetic fibers, typically derived from petroleum. It is lightweight and strong, making it a popular choice for clothing, upholstery, and many other applications.
Polyester is also highly resistant to creasing and fading, making it a good fabric for tactical shoulder sling bags and other tactical gear. Thanks to its many benefits, polyester is one of the most popular fabrics in the world.
What is a Tactical Military Sling Bag?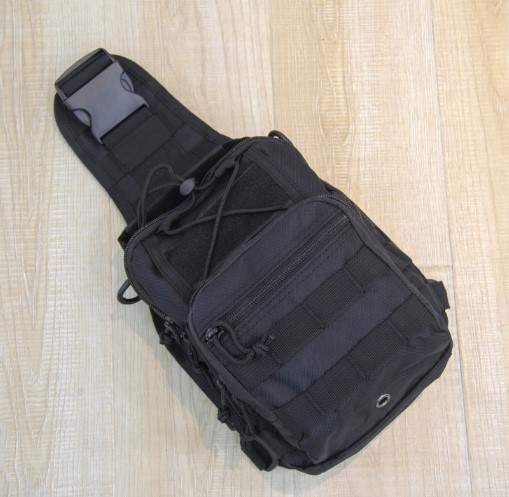 A tactical military sling bag is designed to be worn over one shoulder, with the bag hanging down to the side. These bags are typically made from sturdy materials like nylon or canvas and feature multiple pockets and compartments for storing gear.
Tactical sling bags are popular with military personnel and law enforcement personnel and civilians who enjoy heavy duty outdoor activities like hiking and camping.
These bags offer a convenient way to carry essential equipment without being bulky or cumbersome. Additionally, many tactical sling bags come equipped with Molle webbing, which allows for attaching additional pouches or accessories.
Whether you're looking for a functional bag to take on your next adventure or a stylish way to carry your everyday essentials, a tactical sling bag is a great option.
Why Get a Tactical Shoulder Sling Bag?
A tactical shoulder sling bag is a versatile and practical piece of gear that can be used for a variety of purposes. Whether you're an avid outdoorsman or simply looking for a new way to carry your everyday essentials, a tactical shoulder sling bag can offer a number of advantages over traditional backpacks and purses.
For one, tactical shoulder sling bags are designed to be worn across the body, which helps distribute the weight more evenly and makes them more comfortable to carry for extended periods of time thanks to a comfortable shoulder strap.
Additionally, most tactical shoulder sling bags feature multiple compartments and many zippered pockets that make it easy to organize and access your belongings such as cell phone, battery, flashlight, and may also include MOLLE webbing for attaching additional pouches or gear.
Whether you're in need of a new bug-out bag or simply looking for a more efficient way to carry your everyday essentials, a tactical shoulder sling bag is worth considering.
Can It Be Used as a Range Bag?
This tactical sling bag can also be a great option for those looking for a pistol range bag. This bag features a large main compartment that can easily store all equipment and gear for the range, as well as a number of smaller pockets and compartments for things like ammunition, ear protection, and safety glasses. Overall, while it was not necessarily made to be a range bag, the tactical sling bag is a cheap alternative for those who want a "pistol range bag."
However, I do have to mention that this bag does not necessarily have the proper compartments for guns and such, so use it as a range bag at your discretion.
Why is it Also Called a Diaper Bag / Chest Bag?
The term "diaper bag" is thought to have originated in the United States in the early 1900s, when disposable diapers were first introduced. At that time, women began carrying around large bags filled with diapers, wipes, and other supplies. Today, diaper bags come in a wide variety of styles and sizes, but they all serve the same purpose: to make it easy to take care of a baby on the go.
While the design of this bag is more military style, this can also function as a diaper bag for people who choose to use it as such. Besides hiking and camping, this is a functional chest bag that can be used to store supplies such as diapers, toys, etc, hence this can be called a "diaper bag".
How Is It Different From Other Free Backpacks?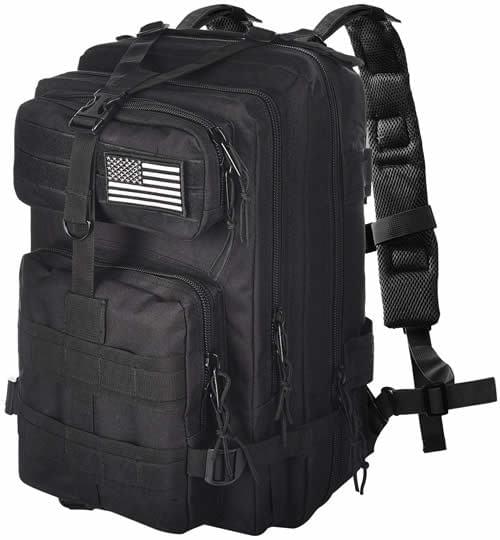 This tactical shoulder bag is compact and smaller than the free Evatac assault backpack that you may have also browsed through. The material is the same and the overall build is quite similar, so compared to the Evatac free backpack it's mainly the difference in size and functionality.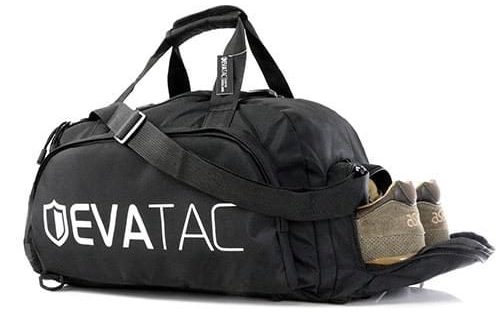 While Evatac free backpack is better suited for everyday carry such as school, gym, trekking, hiking, or even as a sleeping bag etc, the tactical shoulder bag is better suited for stuff related to the outdoors as you can't necessarily use this bag for school, gym, putting your laptop etc.
Difference Compared to a Hand Bag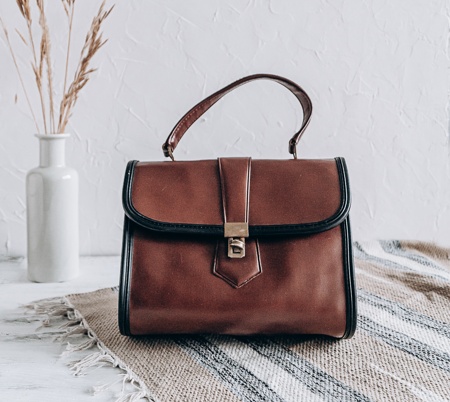 A tactical shoulder bag is usually designed to be lightweight and comfortable to wear, with multiple compartments for storing items. In contrast, handbags come in a variety of styles, but they are typically smaller than shoulder sling bags and have fewer compartments. A handbag is more commonly used for everyday items such as keys and wallets, and not for trekking, hiking, or outdoor travel.
Final Thoughts: Is It a Good Offer?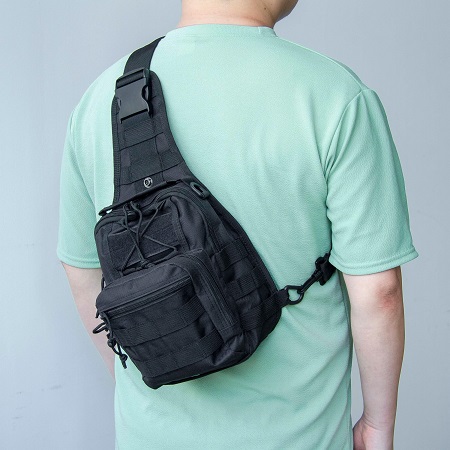 For $7.95, hell yeah! It's definitely worth the shipping and handling fee, but the only disclaimer I will say is that it may take a bit longer to ship than expected.