In a world where unexpected situations can test our limits, the importance of being prepared cannot be overstated. That's where the Shiyunme Survival Watch comes into play, a multifunctional wrist-worn companion designed to empower you in the great outdoors. In this review, let's look into the details of this survival watch and the free offer.
A Compact Survival Tool
The Shiyunme Survival Watch is much more than a timekeeping device. It's a 6-in-1 survival powerhouse that offers essential tools for outdoor enthusiasts and adventurers alike. Inside this compact package, you'll find a compass, whistle, fire starter scraper, paracord, and a magic sticker strap. But it doesn't stop there—the scraper ingeniously doubles as a knife and fire starter. So this one is really like an emergency kit, but nobody would suspect that it's more than a watch just by looking – and that is just so cool.
A Timepiece with Added Value
Beyond its survival features, the watch itself offers an array of functions that elevate its utility. It boasts a cold noctilucent light display mode that combines traditional hand pointers with digital elements. This comprehensive digital watch includes day and date features, an alarm clock, a snooze function, an hourly chime, a stopwatch display, and a backlight for clear visibility in low-light conditions. The digital and analog components work in harmony to provide accurate and versatile timekeeping.
Customizable Comfort
One notable feature is the adjustable 2-in-1 wrist strap, designed for maximum comfort. The magic sticker strap ensures a snug fit on your wrist, and its durable construction is made from a parachute cord that can be unraveled into a 2-meter rescue rope—a potential lifesaver in emergencies.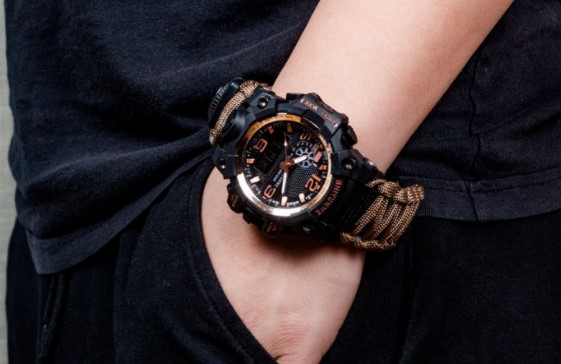 The watch's bracelet is highly adjustable, accommodating wrist sizes ranging from 23 to 25.5 cm (9 to 10 inches). With a width of 3.2 cm (1.26 inches) and a watch diameter of 5.6 cm (2.2 inches), it provides flexibility for a comfortable fit.
Paracord: Your Lifeline in the Wild
One of the watch's standout features is its inclusion of a 7-core paracord. This robust cord can be disassembled to yield a 2-meter (6.56 ft) rope with a sturdy 4mm diameter, capable of supporting an impressive 485 pounds (220kg). This paracord isn't just for show; it's a practical tool with real-world applications. Whether you need to stem the bleeding, create traps, secure shelters, or hoist heavy objects, this paracord offers a safety net when you're exploring the wilderness.
A Flaw But Not a Dealbreaker
While the Shiyunme Survival Watch excels in functionality, its material composition might leave some users wanting. It's primarily constructed from affordable plastic, which, for some, may not provide the comfort they seek. Materials like metal or rubber often offer a more comfortable feel against the skin, whereas plastic can sometimes feel lightweight and abrasive.
Despite this minor drawback, the Shiyunme Survival Watch doesn't compromise on style. Its aesthetic complements outdoor outfits and gear, making it a compelling choice for those who value both form and function in their survival accessories.
So How to Get This Versatile Survival Watch for Free?
In the world of survival gear, practicality and preparedness are paramount. The Shiyunme Survival Watch strikes a harmonious balance between these factors, offering an essential toolset for outdoor adventures while showcasing a stylish design. And the best part is that this offer is completely free, all you have to do is pay for shipping and handling. While this watch could be "too much" for minimalists, I don't see why you can't try it out. You can go to their website for more information and real testimonials.