Features:
Tough-as-nails aircraft aluminum construction
Waterproof IPX7 – Submersible for 30min
Overall length 5.25 in
Weighs only 3 ounces
Tactical Pocket Clip
Tactical Construction: Shockproof & crushproof
2 AAA Duracell Batteries included
Phoenix M80 Tactical Pen Light Review
Experience the exceptional benefits of the Phoenix Tactical Light, now available at a 66% discount. This compact yet powerful penlight is designed to be your go-to tool for everyday carry. Its outstanding features set it apart as a reliable choice for military personnel, first responders, and security professionals.
This penlight is built to fit perfectly in your pocket. With its pocket clip, you don't have to worry about losing it. With an overall length of 5.25 in and a weight of only 3 ounces, it can be the perfect EDC tool.
Compact and Convenient Design:
The Phoenix Tactical Light is crafted with portability in mind. Its compact dimensions allow it to comfortably fit into shirt or pants pockets, and the stout pocket clip ensures it stays securely in place, ready for action.
Intense Illumination:
Powered by high-output LED technology, this penlight emits an intense 1600 candela beam. Its exceptional brightness makes it an invaluable tool for lighting up low-light environments effectively.
Waterproof Durability:
With an IPX7 waterproof rating, the Phoenix Tactical Light is designed to withstand challenging weather conditions. It can be submerged for up to 30 minutes, ensuring its reliability even in adverse situations.
But I don't recommend putting it under any water since we don't know how that might affect the pen. Plus, the long life of the bulb doesn't seem plausible.
Rugged and Reliable Construction: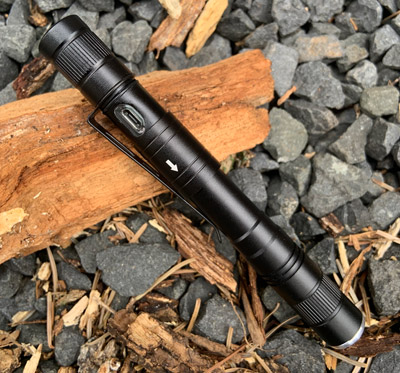 Crafted from aircraft aluminum, this light is built to endure the demands of daily use. It's both shockproof and crushproof, making it a durable choice that can handle the bumps and knocks of everyday life.
Integrated Rechargeable Battery:
Even though it's small and lightweight, the LED bulb is high-powered enough to illuminate a long distance. 2 AAA Duracell Batteries and aircraft aluminum construction prove the high quality of the penlight.
So say goodbye to the hassle of buying batteries. The Phoenix Tactical Light features an internal rechargeable battery, and they've included a charger with your purchase for added convenience.
One Minor Consideration: While the Phoenix Tactical Light excels in many aspects, its compact size may limit its suitability for extended outdoor adventures requiring longer runtime. However, for everyday use and emergency situations, it performs admirably. Overall, it's a finely built penlight with versatile usage. But you can check out this ultra-bright tactical flashlight or this steel river torch + baton as alternatives if you're looking for more powerful tools.
So Is It Worth It?
With a compact design, intense illumination, waterproof durability, and a 66% discount, the Phoenix Tactical Light offers a compelling package for everyday carry. While its compact size may limit suitability for extended outdoor adventures, it excels in typical daily use and serves as a reliable emergency light. Backed by a 60-day Iron-Clad Guarantee, trying it out risk-free is a practical choice. At a discounted price, this penlight presents an affordable opportunity to enhance your everyday carry gear. Don't miss out—order yours today and experience the benefits firsthand.