As a firearms enthusiast and an AR-15 owner, I understand the importance of having reliable and versatile accessories that can enhance the performance of your rifle. The Free D AR-15 Compatible Cobra Flip-up Sight is one such accessory that caught my attention, and I'd like to share my honest thoughts about this free offer.
Seamless Transition for Close-Quarter Shooting
One of the standout features of the Cobra Flip-up Sight is its unique design, which allows shooters to swiftly transition between a magnified optic and iron sights. This feature is invaluable for those situations when you need to quickly engage mid to close-quarter targets. With just a flick of your wrist, you can seamlessly switch to iron sights for enhanced accuracy in tight situations.
Precision Open-Sights Shooting
The Cobra is engineered for precision open-sight shooting. It boasts fine-tuning windage and elevation adjustments, ensuring that you can achieve the perfect sight alignment. This level of precision is essential for shooters who demand accuracy and consistency in their shots.
Military-Grade Quality and Durability
The manufacturer says that this flip-up sight is constructed to meet rigorous military standards and undergoes quality checks at the ADG facility. It's also claimed that sights are crafted from high-quality aluminum, delivering the reliability and durability that you'd expect from a sight in the $200 price range. While I wouldn't necessarily agree that this AR-15 Sight is worth around $200, it definitely can be used on a daily basis. But if you want a high-quality one to use for ages, I recommend checking out other brands.
Co-Witness Compatibility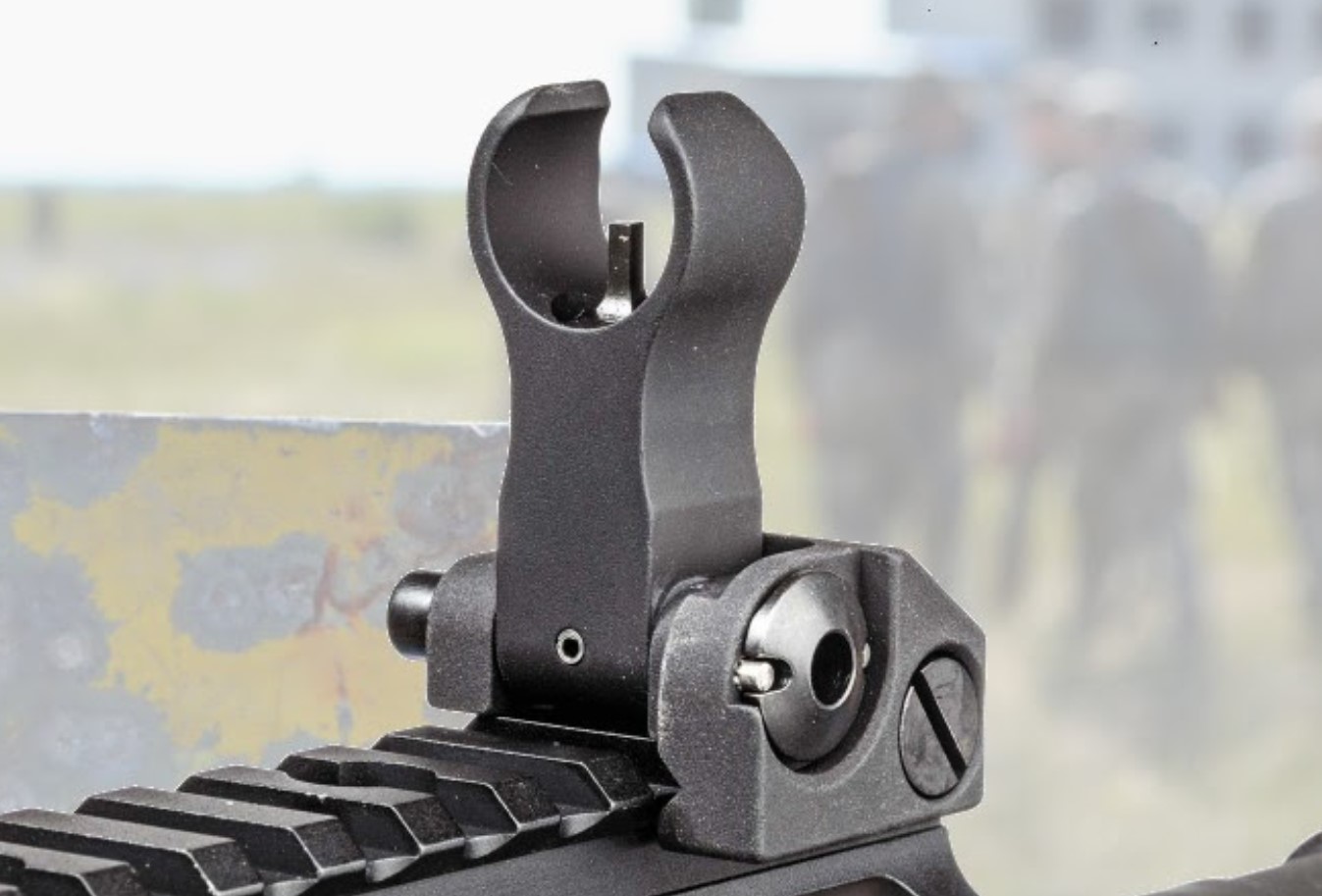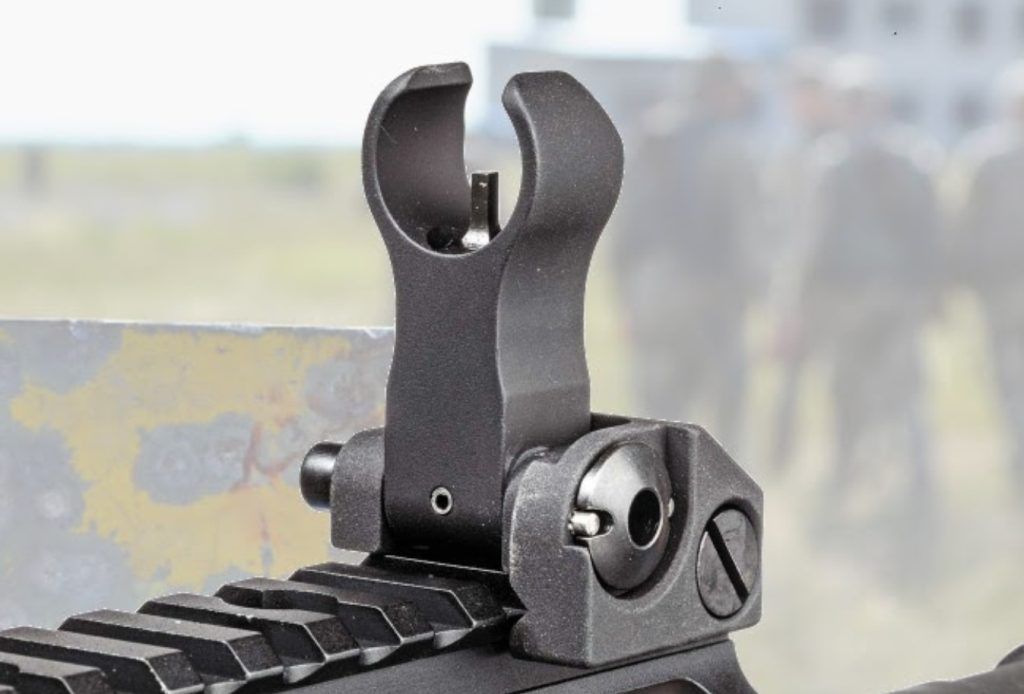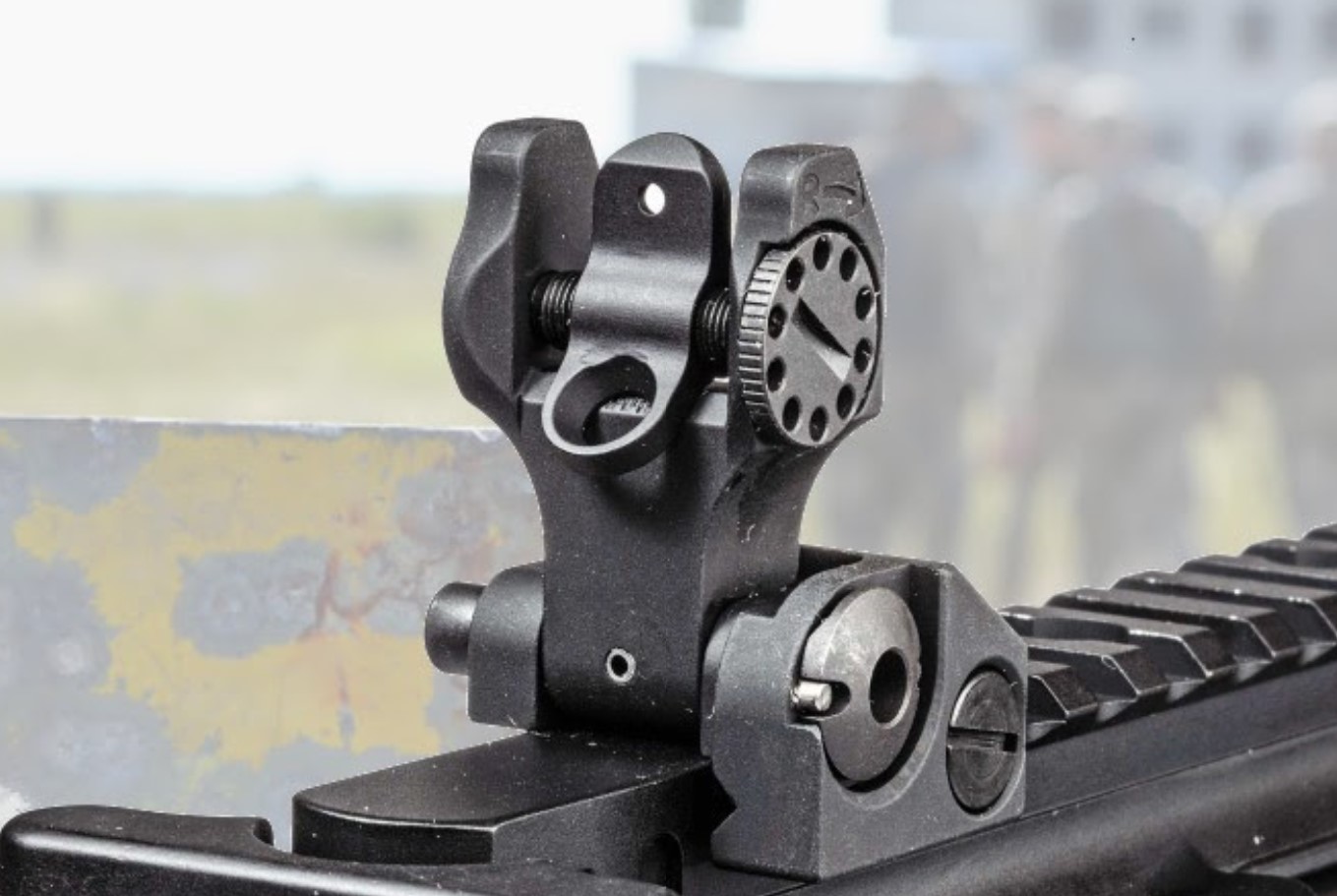 Another notable feature of the Cobra is its ability to co-witness effortlessly with red dot sights, holographic sights, and tactical scopes. This compatibility allows you to maintain your sight picture, ensuring that your shots are on target regardless of the optic you're using.
Lightweight and Durable Construction
The Cobra Flip-up Sight is machined from aircraft-grade 7075 aluminum, making it both lightweight and incredibly durable. It weighs in at just 4.5 ounces, making it an excellent choice for those who want to keep their AR-15 setup as lightweight as possible.
Additional Features Worth Mentioning
Designed for the AR-15/M4 platform and works with any rifle that uses a Picatinny rail system.
Precision ½ MOA elevation and windage adjustments for fine-tuning.
Features a battle-proven HK-style front sight.
Dual aperture rear sight for long-range and close-quarter engagements.
Mil-Spec Type III Hard Anodized finish for added durability.
Torture tested and proven by military, SWAT, and competition shooters.
Conclusion, How to Get It for Free?
In conclusion, the Free D AR-15 Compatible Cobra Flip-up Sight is a valuable addition to any AR-15 setup. Its seamless transition between optics, precision open-sights shooting capabilities, military-grade quality, and lightweight construction make it a fine choice for those who demand reliability and versatility from their accessories. Plus, the fact that you can get it for free (with just shipping and handling charges) and the 60-Day Iron-Clad Guarantee provide extra peace of mind. While the tool might not last ages, it's a good offer considering that the price is completely free.
Frequently Asked Questions
What is the Cobra Flip-up Sight?
The Cobra Flip-up Sight is a versatile firearm accessory designed for AR-15 and similar platforms. It allows quick transitions between magnified optics and iron sights for close-quarters shooting.
What is the purpose of an iron sight?
Iron sights provide a backup aiming option for firearms when electronic or magnified optics fail or are not practical to use. They are simple and reliable aiming devices.
Can I use the Cobra Flip-up Sight with other rifles besides the AR-15?
Yes, the Cobra Flip-up Sight is designed to work with any rifle that utilizes a Picatinny rail system, not limited to the AR-15.
How precise are iron sights for shooting?
Iron sights can be highly precise when properly aligned and adjusted. They offer a level of precision that's essential for accurate shooting.
Can I co-witness the Cobra Flip-up Sight with other optics?
Yes, the Cobra Flip-up Sight is engineered for easy co-witnessing with red dot sights, holographic sights, and tactical scopes.
What is the advantage of using iron sights over other optics?
Iron sights are dependable and do not rely on batteries or electronics, making them a reliable backup option. They are also lightweight and provide quick target acquisition in close-quarters scenarios.
Are iron sights suitable for long-range shooting?
While iron sights can be used for long-range shooting, they are typically better suited for shorter to medium-range engagements. Specialized long-range optics are often preferred for precision shooting at extended distances.