When it comes to choosing the right bag for your travels, sports activities, gym sessions, or camping adventures, versatility, durability, and style are key factors. The Free Evatac Duffle Bag checks all the boxes and more.
Crafted from premium 600D Polyester, this bag is designed to be portable yet durable, featuring hidden shoulder straps, four main compartments, a vented shoe compartment, and a bit of waterproof quality.
In this blog post, we'll delve deeper into the features of the Free Evatac Duffle Bag and explore why it's the ultimate choice for anyone seeking a reliable, spacious, and stylish bag for a variety of activities.
Made from Premium Materials
This Sling Bag is constructed using premium 600D Polyester, a high-quality material known for its durability and resistance to wear and tear. Even though 600D polyester is not as rugged as some other materials used in outdoor gear, such as Cordura or ballistic nylon, it's generally lightweight and easy to maintain.
While it claims that the bag is waterproof, I don't recommend fully submerging it as it could fall apart.
Large Capacity
The Sling Bag is not only versatile but also spacious. With four main compartments, including a vented shoe compartment, you'll have ample room to store all your essentials and more. Its large capacity makes it ideal for carrying a significant number of items, whether you're packing for a weekend getaway or a more extended adventure.
Comfortable Carrying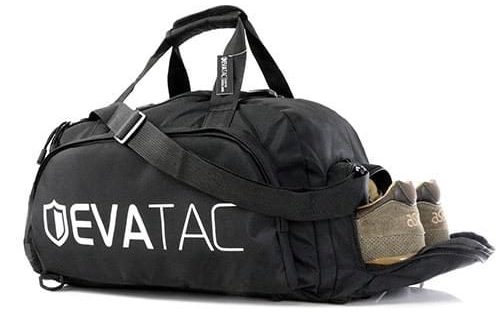 Carrying your belongings is a breeze with this Sling Bag. It comes equipped with hidden shoulder straps that allow you to carry it as a backpack, distributing the weight evenly and reducing strain on your shoulders and back. Alternatively, you can use the comfortable handles for a traditional duffle bag carry. The choice is yours, and both options ensure ease of transport. However, some people may find the hidden shoulder straps less padded than dedicated backpacks, potentially impacting long-term comfort during extended carrying.
Space-Saving
When not in use, the Evatac Sling Bag can be easily folded and packed away, making it a convenient space-saving solution. Whether you're storing it at home or in your travel luggage, its collapsible design ensures it won't take up unnecessary space.
Conclusion
The Free Evatac Duffle Bag can be your ultimate travel and adventure companion whether you're hitting the gym, embarking on a journey, or embracing outdoor adventures. The sling bag is completely free and all you have to do is pay for the shipping and handling which is $7.95 USD.
If you're wondering why the bag is free, it's because some companies make money through the shipping cost while making the product completely free. So even though quality won't be as good as bags sold at $50, I recommend you to try this free offer. You're basically getting a free tactical sling bag for the cost of a cup of coffee, why not give it a go?