Tough-as-Nails 8Cr13MoV steel construction
Scary sharp 2.5 in drop point with ambidextrous thumb studs
Overall length 6.5 in
Weighs only 2.9 ounces
Deep-Ride Pocket Clip
Anodized Liner Lock
Diving into the realm of everyday carry gear, the Free Black Rhino Knife stands as an interesting choice for those seeking a reliable pocket knife.
The Steel: The Foundation of Durability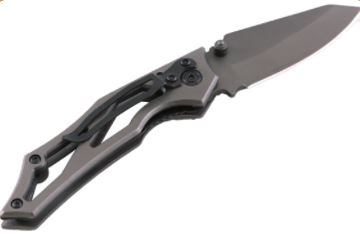 One aspect to note about the Black Rhino is its blade construction. The knife sports a 2.5-inch drop point blade crafted from 8Cr13MoV steel. The relevance of this? This type of steel is recognized for its durability and superior edge retention, translating to a blade that stays sharp for longer.
Overall Design and Specs
The Black Rhino's design and features reveal more about why it's a noteworthy consideration. It stretches out to an overall length of 6.5 inches, making it compact enough for convenient carry yet long enough for various tasks.
Tipping the scales at a mere 2.9 ounces, it's a lightweight contender in the realm of everyday carry knives. Its size and weight balance provide an excellent feel without the burden of excessive weight.
Unique Features: More Than Just a Knife

The Black Rhino goes beyond being just another pocket knife. It has ambidextrous thumb studs, offering an easy one-handed opening, regardless of whether you're left or right-handed.
An added feature that appeals to many users is the deep-ride pocket clip. This feature allows for secure and discreet carry, keeping the knife easily accessible while ensuring it doesn't accidentally slip from your pocket.
The anodized liner lock is another aspect that adds value to the knife. This safety feature ensures that the blade stays firmly in place while in use and reduces the risk of any accidental closures.
Comparisons and Considerations
Compared to other similar products I've had the chance to use, such as the traditional Swiss Army Knife or the Leatherman multi-tool, the Black Rhino shines in terms of its simplicity and purpose-driven design. It doesn't boast a multitude of different tools but rather focuses on providing a reliable and high-quality knife blade.
Having said that, the pros of the Black Rhino include:
High-quality 8Cr13MoV steel construction that offers durability and excellent edge retention.
Lightweight and compact design that makes it ideal for everyday carry.
The combination of ambidextrous thumb studs, a deep-ride pocket clip, and an anodized liner lock, all contribute to user convenience and safety.
On the other hand, one potential drawback might be:
It's a single-purpose tool. If you're seeking a multi-tool with a variety of different functions, the Black Rhino might not meet those specific needs.