If you are looking for a decent pair of tactical gloves, then try these gloves by American Blade Club. For most everyday use, it's useful. Such as: Riding a motorcycle, playing paintball, softball, hunting, or just for style reasons.
Or if you have a job that is labor intensive, then this pair of tactical gloves can be a cheaper way to protect your hands. It is cut and impact-resistant, so it's good for landscaping, construction, etc.
Features:
Reliable Protection – Full Kevlar lining that can handle high-temperature and sharp objects, with reinforced palm grips to provide the highest level of protection.
Durable and Comfortable – Made with warm, breathable neoprene, anti-slip fabric with adjustable hooks, loop straps, and touch screen-sensitive fingertips.
Essential Outdoor Gear – The high-performance design makes it ideal for hiking, mountaineering, airsoft, and other multi-outdoor sports. Also suitable for law enforcement, handling heavy machinery, construction, woodworking, and gardening.
3 Available Sizes – Small, Medium, Large
I like that the glove is touch-screen sensitive, thus you can fiddle around with your phone without having to take it off. This is especially nice in colder weather.
Tactical gloves are gloves that are designed for durability, protection, and functionality in outdoor and emergency situations. Here are some possible reasons why someone may want to buy these Free Tactical Gloves:
Unbeatable Protection
These Tactical Gloves are engineered with your safety in mind. They feature a full Kevlar lining that can withstand high temperatures and sharp objects, ensuring your hands stay protected in any type of environment. Plus, the reinforced palm grips provide an extra layer of defense.
The material and durability are not the same quality as real tactical gloves which use real kevlar and leather, but they should hold up all right for any type of sport or outdoor activities.
Durable and Comfortable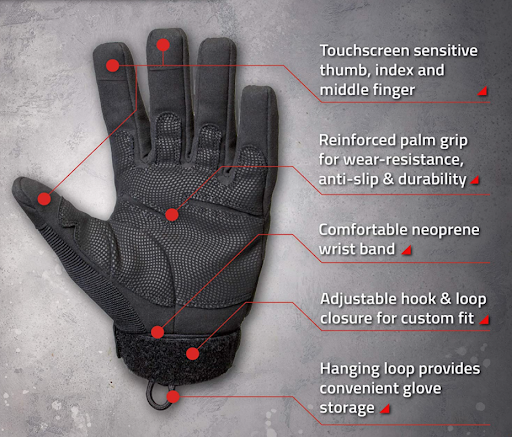 Crafted from warm and breathable neoprene, they keep your hands comfortable even during extended use. The anti-slip fabric and adjustable hooks and loop straps ensure a secure fit, preventing the gloves from slipping during critical tasks.
Essential Outdoor Gear
The high-performance design of these Tactical Gloves makes them ideal for a wide range of outdoor activities. Whether you're hiking, mountaineering, or engaging in airsoft and other multi-sport adventures, these gloves will be your trusted companions. They are also well-suited for law enforcement personnel who require dependable hand protection. Furthermore, they excel in tasks such as handling heavy machinery, construction work, woodworking, and gardening, making them versatile gear for various jobs.
Three Sizes to Fit All
Finding the perfect fit is crucial when it comes to gloves. The Tactical Gloves come in three sizes to ensure a comfortable and secure fit for everyone. To determine your size, measure starting from where your thumb and index finger meet and continue straight across your palm. Use the size guide below for more details:
Small: 3.00″-3.50″
Medium: 3.51″-3.80″
Large: 3.81″-4.20″
So Are They Worth It?
When it comes to gear that offers unbeatable protection, durability, and comfort, these FREE Tactical Gloves are quite good, in my opinion. Considering that they are completely free, I would say that these gloves will help you with any job. So if you're asking for my advice? Don't miss out on this offer while available.