Incredibly lightweight (5.04 oz) and very easy to carry
Included Belt Clip and Premium Quality Nylon Carrying Pouch
Ultra-sharp knife made of quality 420 stainless steel and anodized aluminum handle
6-in-1 multi-functional emergency survival knife
The LED light can work up to 12 hours on one set of batteries (Batteries included)
Perfect for hiking, fishing, camping, survival, and emergency situations
6-in-1 Survival Knife Review
Have you ever looked for two different tactical knives for outdoor activities like camping, hiking, and self-defense purposes? If you're someone who doesn't travel outdoors regularly, and only pursues your outdoor hobbies occasionally depending on the season or weather, then you should get one knife that can fulfill both duties. That's where multi-functional tools come in handy.
Firstly, this knife is quite an exceptional survival tool (just like the name states) when you have to survive in the wilderness. There is a LED light, a Bottle opener, and a Belt Clip for versatile usage and easy carry. The size is neither too big nor too small. The lightweight feature is another great advantage. There is even a fire starter in emergency situations. Just imagine how many items you can leave behind by getting this knife. There are also knives that offer fork and spoon functions too.
However, for tactical duties, I wouldn't say this knife is as strong as other survival knives, especially fixed ones. (Folding knives tend to break down fast) If you're an avid outdoorsman, I recommend you get a high-quality knife like a Tanto Tactical Knife.
Secondly, this is an ideal knife for self-defense purposes. Seat Belt cutter, glass breaker, and clipper features offer better defense in emergency situations. The easy usage and carry is a big advantage in those situations too.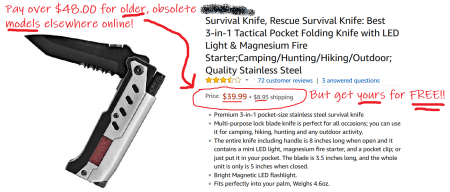 Overall, I think this knife can fulfill many duties and offer durable use. The same knives are sold for around 40-50$ price while you can get this knife for free. But keep in mind that the quality could differ.  Whether you're a camper, hiker, or just someone looking for a self-defense tool, a tactical pocket knife is something you should own. And this knife could be a start if you want to experiment with a tactical pocket knife.