​​​Fits any type of gun with a weaver rail or Picatinny rail
​​Highest legal Red OR Green laser beam sight
Super bright disorienting 600 Lumen LED Bulb with strobe effect
Rated IPX4 Water Resistant, FL1 Standard for heavy outdoor rain
​​Over 350-yard laser range
​​Made with 100% lightweight aircraft-grade aluminum
3-in-1 Laser Light Review
Anyone who owns a gun should give this laser light a try. Whether you're an amateur or a professional, having close-to-perfect accuracy is very important when it comes to using guns for self-defense.
It offers a bright LED  with over 600 lumens. When used during the night, it provides a laser range of over 350 yards. Not only it'll help you with brightness but also help you to target quickly and accurately.
The strobe effect is crucial for self-defense as it enables you to practically blind the attacker without needing to fire. There are Red and Green laser light options.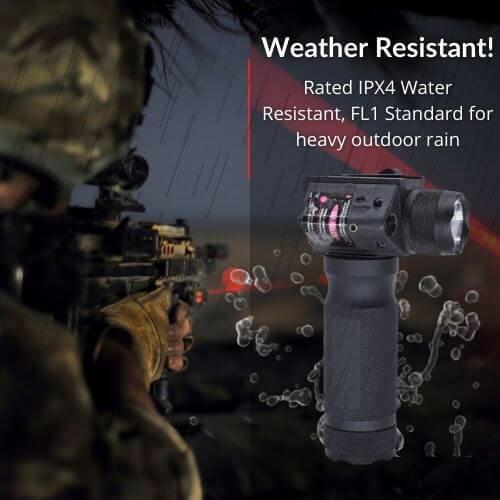 Lightweight, all-metal construction with a non-slip anodized black finish makes it a cool look. A quick crossbar mounting system with wing nut allows speedy installation and removal of the grip with no tools needed.
It can quickly attach to any gun with a "Weaver" or 'Picatinny" rail.  You can simply slide it onto the rail and tighten the side fitting to secure it in place. It takes less than 10 seconds. Rated IPX4 Water Resistant, it's built to withstand any weather.