How To Get it For Free?
AmericanGunner is having a giveaway for this incredibly versatile strike pen. Not to mention that it's a perfectly functional pen, it is such an effective self-defense tool. You can use it for multiple purposes including a flashlight, knife, bottle opener, and so on.
If you want to get in this offer, you can do so on their website!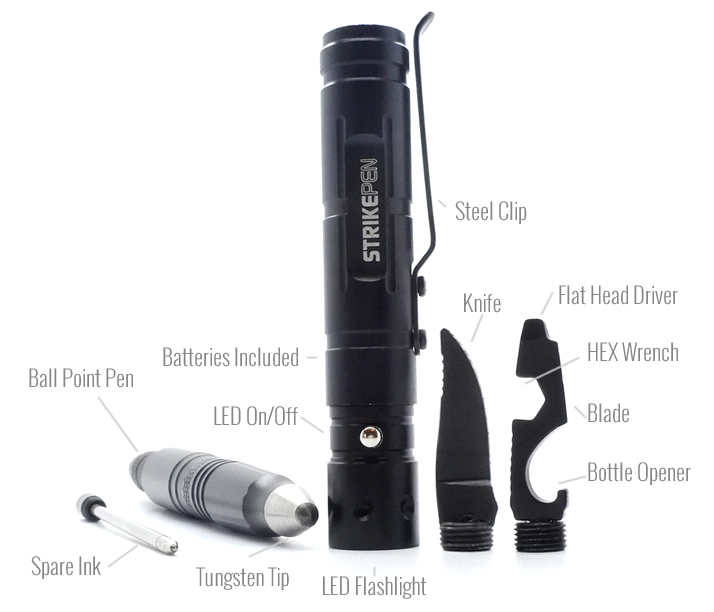 What is a Strike Pen?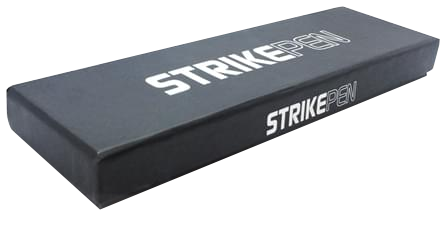 To simply explain, the strike pen is a self-defense tool. When you need to defend yourself, but do not want to keep any weapon, a strike pen can be the best option. Plus, nobody would suspect you are carrying a weapon since the strike pen resembles a simple pen. Plus, it is lightweight, and small to fit in your pocket. Therefore, it is one of the best self-defense tools to carry on a daily basis.
When you are carrying a knife or a gun, it is likely that you might kill your opponent. However, strike pens do not leave serious damage, even though they can be harmful. Most strike pens are versatile and multi-functional to be used in various ways including a flashlight, knife, bottle opener, and so on.
Why get a Free StrikePen
Unassuming Discreet Design
​Precision Milled Alloy Body
​Scientifically Tested Grip Pattern
​Tungsten Metal Steel Striker
​"Blinding Bright" LED Emitter
​2 x Interchangeable Tools
​Perfectly Functional Pen
​Perfect EDC Defense Tool
​Includes Batteries
​Comes in Gift Box
The strike pen I would like to recommend today is one of the best out there. Constructed with military-grade Aluminium with a tungsten steel defense tip, it looks just like a normal pen on the outside. In fact, even the armed forces are known to use it. The pen might look small, and lightweight, but there are a concealed knife and a multi-tool. It also comes with an Industry-Leading "Blinding Bright" LED Emitter. The scientifically tested grip pattern will help you hold it tight and safe when needed.
What Functions Does The StrikePen Have?

You are not just carrying a fake pen that is a secret weapon. It is a perfectly functional ballpoint pen, so you can write just like other pens. Not only that, there is even spare ink included in the package.
This pen works as a self-defense tool, and it is also versatile enough to be used in various other ways. There is a bright LED flashlight, flat head driver, HEX wrench, blade, bottle opener, knife, and so on. So you can use it for more than self-defense purposes.
Is it durable and high-quality?
Even though it is true that the pen is lightweight, it is made from military-grade Aluminium with a tungsten steel defense tip. Combining the scientifically tested grip pattern and the precision-milled alloy body, it creates such a high-quality and durable pen without a doubt.
Final Verdict, Is It Worth It?
The best part of this Strike Pen from AmericanGunner is, of course, it is completely FREE. Since you are getting it for free, there will a no risk associated with it: you won't lose money if the pen doesn't come up to your expectation. But looking from the reviews, this Strike Pen is as good as other expensive pens on the market. In fact, it is valued at $54.95, but being given away for free.
If you have been looking for a valuable gift for your close ones, it also can be such an amazing option. Since the pen comes in a gift box, you can gift it right away. I personally would be super delighted to receive such a beautiful, yet practical present.
Lastly, the supply of the pen is limited, so I suggest you hurry up. There are detailed information or guide about the shipping and ordering. Plus, the customer service is open if you have any issues.
Frequently Asked Questions
Where does this product ship from?
They store and ship all products from their warehouse in Denver, Colorado, USA!
Is American Gunner secure to order from?
American Gunner is proudly American-owned. They offer 256bit encryption with SSL on their order form, that's the same level of encryption that the US Military uses. So you know that your details are kept safe and private.
Why do I have to pay for shipping?
They kindly ask our customers to cover the shipping fees because they are not a Government funded operation and they simply cannot afford to cover the cost of the product and the shipping fees. They charge you just enough for quicker shipper times!