When choosing any type of knife, paying attention to the steel is crucial. There are many types of steel that are used in knife-making and each of them varies regarding certain functionalities. Overall, blade steel is the critical element that determines how the knife performs.
The three main types of steel used in knives are stainless steel, tool steel, and carbon steel. They differ in terms of hardness, corrosion resistance, durability, toughness, and edge retention. On top of those elements, you should pay attention to the unique features and advantages of the knife you're purchasing.
You will find three of the best steel river knives in this article. They all feature unique advantages and great quality. Depending on the situation you would be using the knife for, you can choose the suitable one for you. And the best thing is that you are given an amazing opportunity to try them out FREE.
1. Steel River TDK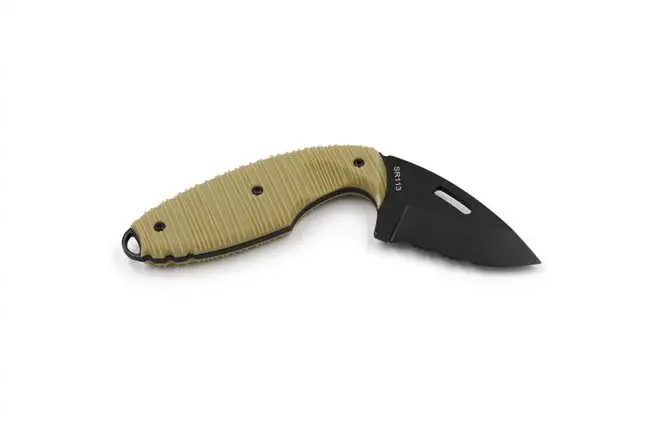 Sharpest Blade In Our Lineup
Blade Length – 2.5\"
Total Length – 5\"
Sheath Included
Integrated Belt Clip
Textured Grip
Contoured 'Natural' Handling
Wicked Fast Draw From Sheath
Extremely Lightweight
Our first knife which is Steel River TDK is perfect for those who're looking for an EDC knife. As you might already know, the EDC knife is all about being convenient to carry and use daily which includes lightweight, small, yet effective features.
Why Choose It?
This knife was initially designed by Ken Roberts, who's a Green Beret Master Sergeant and he knows what it takes to protect yourself. Therefore, it features characteristics of a perfect self-defense tool. You will find it to be extremely durable, stealthy, easily concealed, sleek, functional, and so much more.
It is incredibly convenient to use and carry. The textured grip makes sure that you won't drop or lose your knife easily while using it. There is a sheath that's included. It's made from the same materials as the handle of the knife. Plus, there is also an integrated belt clip.
Final Verdict, Is it Worth It?
As you can see, the blade and the overall length as well as the weight of the knife clearly demonstrate its lightweight and small features. If you were to use it for more tough tasks that encounter during hiking or camping, the knife isn't likely to handle those. That might be the only drawback of Steel River TDK, however, it is an incredible option if you are to use it for simple daily tasks.
In addition, our next recommendations demonstrate more capability, strength, and overall durability to take on tougher tasks if that's what you are looking for.
Get the Steel River TDK for Free
2. Steel River Dagger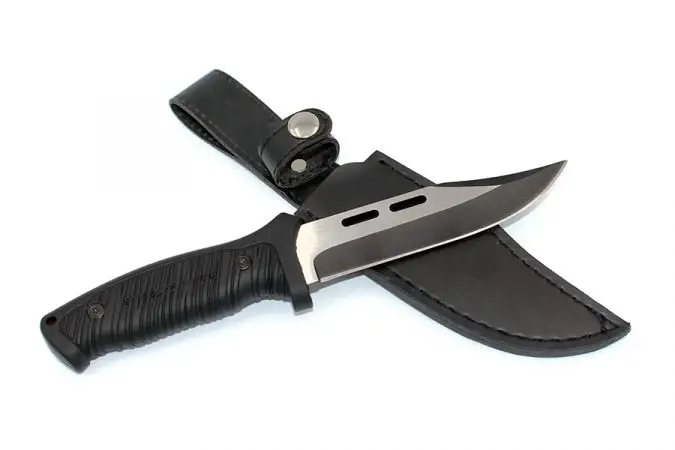 Specifics:
Steel River Original
3.75 Inch Razor Sharp Blade
Sleek 5\" Indented Grip
8.75 Inch Total Length
Weight: 6 oz.
Wicked Fast Blade Release
Extremely Sharp Blade
Easily Concealed
Extremely Lethal
Our second knife is also a great dagger which is small & lightweight, but incredibly effective. It is slightly bigger or longer than the previous steel river TDK, but since there is no sheath included, it might be as lightweight as the TDK. It's great for any occasion including self-defense, camping, survival, and more.
Why Choose It?
As you can see, this Steel River Dagger is a folding knife. Folding knives are commonly used for EDC or self-defense purposes. It is much easier to carry around and has a fast blade release in any given situation. Plus, the sleek textured grip for improved handling is another advantage.
When you purchase the knife (which is incredibly cheap), you automatically get over 134$ worth of free bonuses. Those bonuses include a Family Protection Plan, a mystery gift that is shipped with every order, an annual membership of an Elite Gear Tester, and a Green Beret CCW digital course. Those offers are usually sold at a much higher price on the market.
If you are worried about authenticity and reliability, there is no need to worry as they actually offer 60 days 100% money-back guarantee. If you are not completely satisfied, then you can send it back and it is guaranteed that you will get a complete refund of the purchase price.
Final Verdict, Is it Worth It?
As you can see, it is not a single Steel River Dagger you are getting. It is a whole package of helpful and invaluable products. A lot of the purchasers claimed that the knife quality was as good as the expensive brand knives on the market. Plus, the package of courses, materials, and memberships has helped the customers in a lot of ways.
You can make your purchase with a 45% off discount by making 5 payments of $6. Even though it is not completely free, you can ensure the reliability of the offer with the 60 days 100% money-back guarantee. I am sure you'll love the knife as well as the package. Overall, it seems like a great opportunity worth taking considering the affordable price.
Get the Steel Dagger with a Discount
3. Steel River Karambit Knife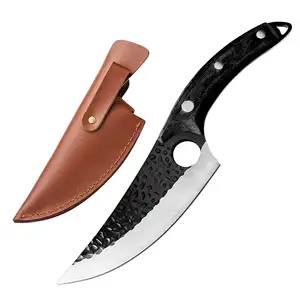 Specifics:
Steel River Original
3.5\" Curved Tiger Claw Blade
8.25\" total length
Aluminum Textured Handle
Titanium Oxide Coated Blade
Integrated Belt Clip
Retention Ring To Improve Grip
Improved Glass Breaker
Karambit knife is famous for its versatility, quality, usage, and design. It is one of the most unique knives you can own. They feature a particular type of curved shape and often a double-edged blade that makes them stand out. Not only it looks absolutely good in terms of design, but it can also come in handy in various different situations.
Why Choose It?
This Steel River Karambit Knife is small, lightweight, and easy to conceal, which makes it the perfect tactical knife for self-defense purposes. Plus, with this knife, you will make such big damage with almost none a minimum amount of effort. Because it is more efficient than knives with straight blades, a lot of people prefer to keep a knife with a curved blade like this karambit.
Its ability to cut through the hardest and toughest things without much effort and strain is praised a lot by customers. Therefore, if you love to go hunting, you can use your karambit knife to cut the skin, meat, and everything else.
There is a safety ring in this Karambit knife that prevents the knife from slipping in case it gets wet, muddy, or bloody. The retention ring and the aluminum textured handle ensure improved grip and safety.
Final Verdict, Is it Worth It?
From my point of view, you could really call it a multi-functional tactical knife. It can work as an EDC, survival, camping, and self-defense knife. You could really rely on this karambit when it comes to self-defense because there is a glass breaker and a belt-cutting razor-sharp blade.
Moreover, the size and weight are perfect to carry as an EDC knife. Since it features a folding blade type, you can easily release the blade when needed and carry it without any issues. The integrated belt clip and retention ring also make the process easier.
Overall, this karambit knife can satisfy your needs in terms of its design, shape, overall quality, and functionalities. You can get the knife at discounted price for a limited time. For such an affordable price, I believe you should grab this opportunity while it's available 🙂