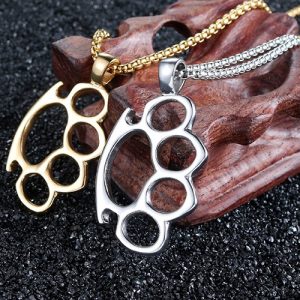 Free Offer Details
Beautiful Silver Finish
Belt-Buckle Pin Included (removable)
6oz of Power in Your Hand
Small, Discrete, and can easily fit on a belt or in pocket
Easy to Slip-On and Grip
Perfect Tactical EDC
Check Local Laws and Ordinances**
Silver Brass Knuckles Review
One of the most convenient and easily accessible self-defense tools is brass knuckles. It is quite difficult to find brass knuckles around some areas as it's not legal in all 50 states. So don't forget to check your local laws and ordinances before ordering it for free.
These brass knuckles feature a comfortable grip and usage. You can carry it around holding it in your hands or pin it to your belt (belt-buckle pin is included).
Brass Knuckles are also widely used as fashion statements or accessories. Just in case such an occasion comes up, this brass knuckle's polished silver finish is definitely an advantage.
Compared to expensive brass knuckles made with genuine brass, this one looks a little lightweight. But there's no doubt that your punch will be several times stronger and effective. Lastly, make sure to practice a bit before using.