The Evatac brand is doing a free Evatac knife giveaway promotion. You do have to pay for shipping and handling, which is less than $10.
While you can order some of these knives on Amazon, it's almost double the cost, so you could save some money when you get them via their promotions.
Evatac Rescue Knife
This free Evatac rescue knife is the perfect EDC Knife.
You have two designs to choose from: the Shadow Black rescue knife or the Patriot American flag knife
You can fold it and put it in your pocket and when in need, just unfold it for whatever use you need it for.
This is great for hiking and for outdoors enthusiasts as it's portable and durable with a strong edge. It is perfect for cutting and peeling things that might come your way during your camping trips.
Something to note about the free Evatac rescue knife is that it needs to be broken in, in the beginning. After a few unfolding and folding actions, the spring-assisted mechanism feels smoother and more satisfying.
While the blade is sharp and sleek, one of the only downsides of this free Evatac rescue knife is the belt cutter. Because of the cheaper production cost, the seat belt cutter is not as sharp. It's just something to keep in mind, otherwise, the Evatac rescue knife is a great knife and I highly recommend you to get it.

Evatac Combat Dagger
Compared to the Evatac rescue knife which is more like a "tactical utility knife", the Evatac combat dagger is mainly for self-defense, rather than for hiking and survival use, but it still comes in handy if you need it. It's really sharp with a double edge. You get a free knife sheath and a clip to attach to your pants.
It's not foldable like the rescue knife, so it's less portable, but the edge is finer and the handle is rubberized full-tang, so it won't be slipping from your hand as easily.
Tactical Karambit Knife
However, on the more exotic and tactical knife side, you do have the option of getting this karambit. If you've played Call of Duty Black Ops, then you will know what these are.
The Karambit is better suited for slicing through thick dense jungle or forests. While they can be used for self-defense, you would have to be somewhat experienced with wielding them.
Realistically, I don't find much use for the Karambit in everyday situations as it doesn't have tools like a glass breaker, screwdriver, and such, but even though the black rescue knife does look cool, I have to admit this karambit for all visual purposes looks flashier than the boring portable knives.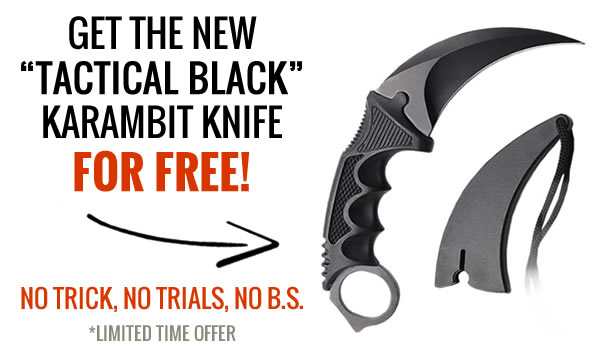 USMC Neck Knife
If you would like to honor the Marines or the Army, then this "tactical knife" is the recommendation. It might look like a simple self defense device or an accessory with a drop point blade, but the blade is very sharp. The neck knife will great on a green t-shirt or something that resembles army colors.
Evatac Carabiner Super Knife
The Carabiner SuperKnife is more of a handy tool than an actual knife. You have a screwdriver and a bottle opener and can put the Carabiner knife to many different uses in emergency situations or if a disaster occurs.
Compared to the shadow black rescue knife, the carabiner knife is more compact and doesn't even look like a knife when folded. Reviews for such Evatac knives are extremely positive, so give it a try.
Frequently Asked Questions