If you are looking for a budget-friendly backpack for hiking, school, gym, fitness, and a carry-on for airplanes, then try these free backpacks from the Evatac brand/company. While these are not necessarily high-end backpacks, for someone who is on a budget, they could be a good choice with great value.
Free Offer Details
Portable but durable
​Premium 1000D Poly
​FAT Zipper™ Zips
​15 Separate Compartments
​Chest & Waist Strap
​Expandable Molle System
Waterproof Lining
It's not really an "assault/military" bag, but it is designed and looks like one with similar features and compartments.
The coloring and overall look of the backpack are stylish and the main material is sturdy and tough. However, the selling point is the compartments you will find inside the backpack.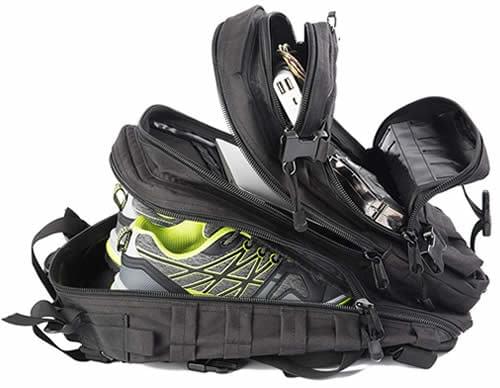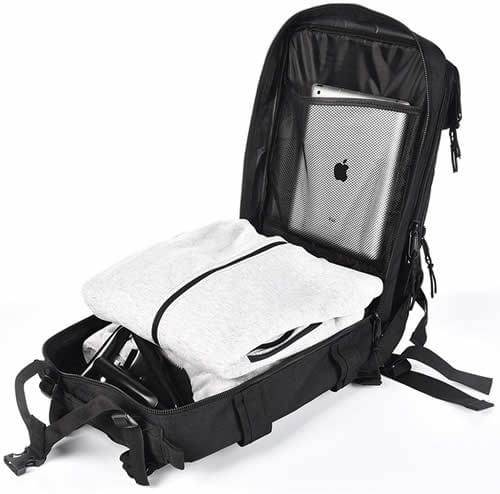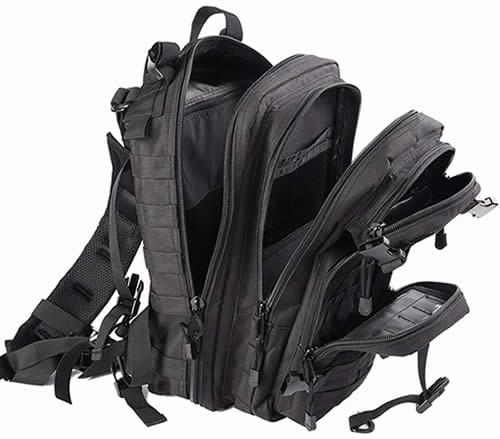 There are 4 main compartments and 15 separate pockets/zippers with (MOLLE System), so it's easy to separate what you will be putting in it.
If you don't know what MOLLE means, it stands for Modular Lightweight Load-carrying Equipment. As a "tactical" backpack you have compartments for putting in flashlights, survival knives, and other kits that you might need during a hike, trek, excursion within the Evatac assault bag.
Overall, it's good for most everyday use such as short hiking trips, school, gym, carry-on bag for flying, etc. There are plenty of zippers, pockets, and compartments inside it which makes it great for using as a cheap multi-purpose backpack that you don't mind damaging or getting dirty.
Some downsides:
For bigger-sized fellows, the backpack might be small. Anyone above 6 feet or wide framed might find this backpack a little on the smaller side. Some people have said the sizing is a little smaller. Also, there's not a whole lot of padding on the shoulder straps.
You do have a chest strap and waist strap that helps with keeping it in place, but the padding on the assault bag is minimal. It would have been better if it was a little thicker, but you can't expect much from a free backpack… Wearing the backpack shirtless or with a t-shirt might get uncomfortable after a long hike or trek.
Final Verdict, Is It Worth It?
If you have the money and are willing to spend $80 or $90 on something more sturdy and comfortable, then that's the better decision. The Evatac backpack can't compete with other high-quality bags that you actually pay for.
However, for a free backpack, it will deliver on most of the essentials. While the padding and straps could be better, you have enough room, space, and compartments for using it as a school backpack and on short hiking trips. However, you can't expect a "Ferrari" quality as mentioned. As long as your expectations are reasonable, you will find that it's actually a good backpack with some minor flaws.
Free Offer Details
Portable but durable
​Premium 600D Polyester
​Hidden shoulder straps
​4 main compartments
​Vented shoe compartment
​Waterproof and durable
If you are looking for a gym bag that can also convert into a traditional backpack? Then get this Evatac duffel bag free! What I love about this bag is how well it's made for something that is free. The overall quality is almost the same as what you would find in a store that's actually between $40-70
Compared with their assault bag, they've improved the overall quality and design. It's large enough to fit most things, from laptops to shoes, even a sleeping bag, and other equipment that is needed for camping and hiking.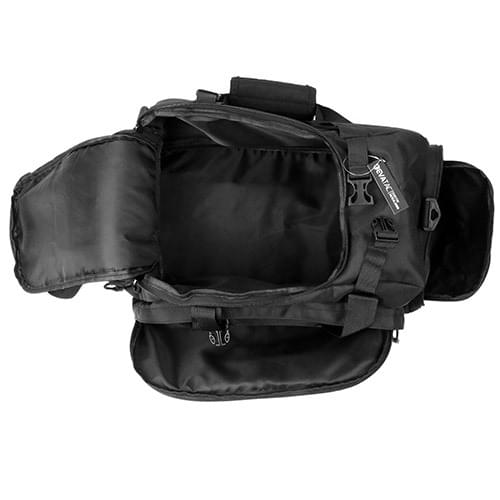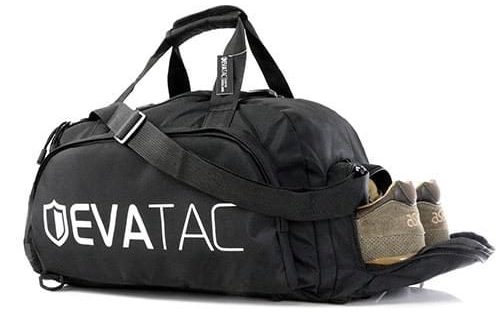 It's made from Premium 600D polyester, which is one of the most commonly used materials for backpacks as it's sturdy and durable with resistance to tearing. The material is water-resistant as well, so in wet environments, you won't have to worry about water getting in.
The Evatac duffel bag is also great as a gym bag. You won't have any problems fitting your gym clothes or shoes. And guess what? There is a shoe compartment that has ventilation, so you won't have to deal with foul odor anymore!
There are 4 main compartments: 2 side pockets, 1 outer pocket, and the main compartment for shoes, laptop, sleeping bag, etc. The size/volume is ~30 liters, so it's large enough for everyday use and outdoor camping excursions or travel if you need it.
In case you want to use it as a backpack for school and strap it over your shoulders, you can easily convert it into a traditional backpack. Basically, you are getting a gym duffel bag AND a backpack that can be used for hiking and trekking, etc.
Some Downsides
The shoulder straps and back padding are reasonable, but I think the overall material thickness could have been a little thicker with extra cushioning, but the handle for when using it as a duffel bag is sturdy, and some people have commented it's slightly smaller than expected, so those are the only cons I would have to say about the bag.
Final Verdict, Is It Worth It?
Compared to my Evatac assault bag review which was a little mixed, I can confidently say this is a pretty solid bag for most of everyday and travel use. As I mentioned, the material and cushion could be a little thicker, but the overall size, sturdiness, water resistance, and versatility are definitely the highlights.
There is a shipping and handling cost, but the overall quality of this bag can rival that of ones that are sold in stores or even online for about $40 or so. In my opinion, it's a pretty good deal.
Is Evatac / American Gunner Legit or a Scam?
NO, it's not a scam! Plenty of people have found this backpack useful and worth the value, but some of the bad apples yell the loudest.
There is some info circulating around stating that it's a scam or that the offer is not actually "free" or legit, however, seems like some people had different expectations or hoped that the backpack would be of similar quality as higher-end bags.
It's not Ferrari-level quality and there are some things to keep in mind, but for someone who is looking for a budget hiking backpack, it could very well be a decent choice.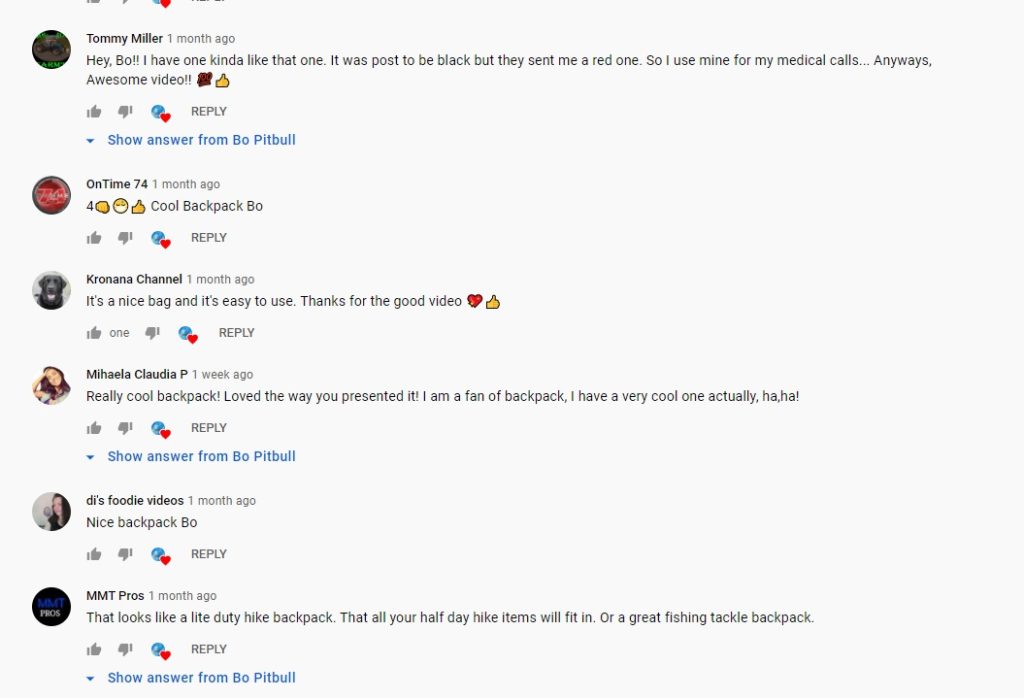 Reasons Why Some People Think It's a Scam
First and foremost, some think it's an $80 backpack that's supposedly being offered for "free" for a limited time. Most companies use this marketing method to get someone's attention in order to increase revenue/sales and make you buy based on a sense of urgency, but this marketing method is nothing new.
Another reason why people think it's a scam is that they initially think it's 100% free with free shipping along with a free product. There is a shipping and handling fee, albeit the packaging could be a little better in my opinion, as you do pay a bit higher for shipping.
Lastly, some people don't pay attention to the details or read through things and then are unpleasantly surprised. Most of the other reviews I found online take you to a page with a $9.95 / month membership enrollment when ordering. Maybe some people forget to uncheck the box and are angry about the extra charge and then proceed to call it a scam.
Company Contact Info
If anything, you can reach out to the Evatac / Ape Survival company for inquiries:
Contact between:
10am – 7pm EST Monday to Friday.
Phone – (720) 606-7720
Email – [email protected]
Backpack Shipping Cost
Shipping can take 2 days to prepare with Fedex, but you should be able to receive your package within 5 business days. Due to Covid, it may take a little longer.
Shipping cost may depend on your order size, but it's generally between $15 – $20.
The product is shipped from Denver, Colorado.