Evalast Fire Clip
If you are looking for something with a slightly different design, then try the Evalast. It has a clip for attaching to anything you want. Compared to LifeStrike, the flame is brighter and burns hotter, but the size is a little bigger.
Perfect EDC Key-Chain
​Matchstick Design Lighter
​Integrated Bottle Opener
​Durable Spring Clip
​Black Shadow Chrome Finish
​Double Key Chain
​Perfect EDC Multi-Tool
​Stainless And Rust Proof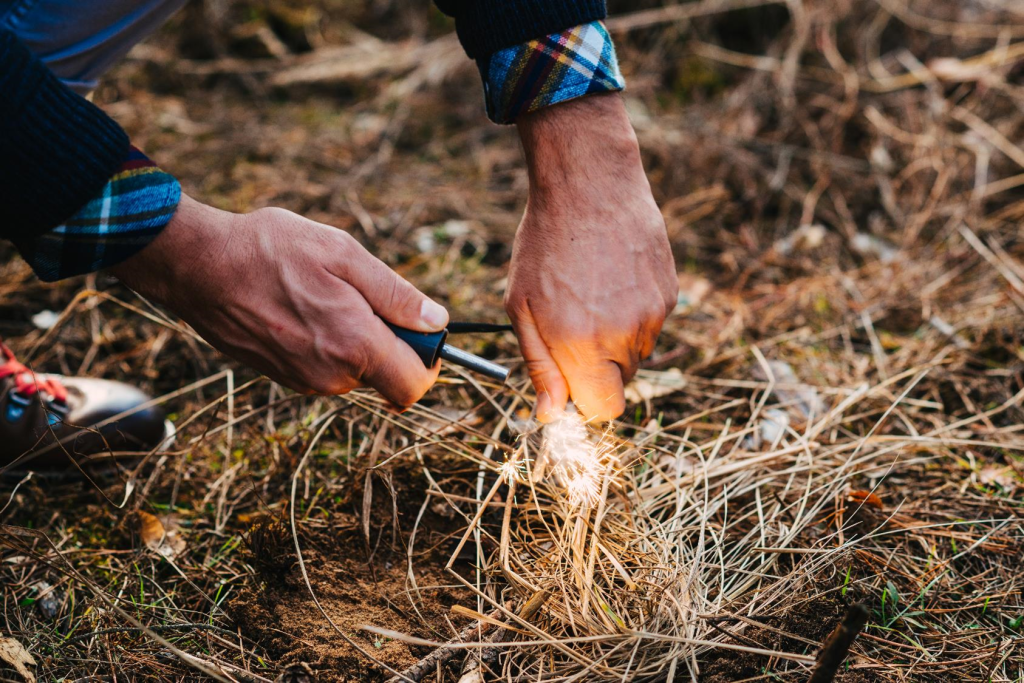 Optic Fire Starter
If you are old-fashioned and want to get the raw experience of outdoor survival without the aid of modern-day technology. Then the optic fire starter is for you. Not only will you get a free tool to start a fire the natural way, but you will also get a handy guidebook to starting a fire from scratch.
Burns Incredibly Hot – ignites tinder almost instantly.
Can easily start a fire in under 60 seconds.
Compact, credit card size fits easily in your wallet.
Never run out of fuel during the day!
Doubles as a magnifying glass to read the small print.
BONUS Get my new Catching Fire: Fire Starter Secrets Report, FREE! This report will show you 21 fail-safe ways to start a fire.
Get The Optic Fire Starter Free
If you prefer a waterproof match / lighter that can be used to start a fire then, try Everstryke. It's durable and reusable, which means you will last a long time with this.
Has it all: Contains the Ferro rod and wick in one all-inclusive fire-starting kit that fits conveniently in your pocket
Strikes hot burns hot: Ferro rod strikes at over 3,000 degrees and flame burns at over 600 degrees Fahrenheit
Long Lasting: Each match is capable of 15,000 long burning strikes. Built-in O-Ring keeps fuel from evaporating indefinitely.
Easy to use: If you can strike a match you can start a fire (and this one won't burn your fingertips)
LifeStrike
If you prefer something smaller and portable, then LifeStrike might be a better choice. It's very small, so it won't hold as much fuel, but it fits perfectly on a keychain or on a backpack zipper.
100% Waterproof: You can start a fire anywhere
Solid Stainless Steel: It is practically indestructible
600 Degree Flame: It starts a fire FAST
Clip On Attachment: You Can Take it Anywhere
Lifetime Guarantee: You'll Keep it Forever
Replaceable Flint: It always strikes at 3,000 Degrees
Get The LifeStrike Lighter Free
Permanent Match
The permanent match is another EDC survival tool that is very similar to LifeStrike in design, but unlike a lighter, you have to use the rod match to get a fire going.
A sturdy stainless steel body works well in wet or cold weather.
Superior windproof wick makes fire last longer.
Each light can be struck about 10000 times.
Lightweight with a hook for easy attachment to your backpack.
Great for camping, tourism, traveling, hiking and etc.
While free is great, they can't compete with paid lighters and matches which have plenty of other functionalities that are useful and handy. Here are some of our recommendations for paid ones.
TRS Pyro Arc Lighter
Dual 2000 Degree Plasma Arcs, (super easy ignition).
Wind Proof, (works inside a tornado).
Water Proof, (perfect in stormy weather).
Rechargeable, (hundreds of lights on a single charge).
Flashlight: 3 functions, bright, dim, and strobe.
USB Charging Cord Included: (No batteries required).
Carrying Lanyard, (means you'll never drop it).
FREE shipping and handling.
FREE \"Fire Building\" Bonus Video! (Bushcraft survival secrets).
Plasma Torch Lighter
Power Indicator & Long Battery Life: Upgraded 4 LED battery lights to display different power level statuses, can remind you to recharge it in advance; High-quality battery cycle lasts 600~700 charges
Arc design & Quality: Dual arc lighter,5 times faster than single arc electronic lighter; use high-quality zinc alloy and high-temperature resistance ceramic plate, safe and durable; It makes it easier to light candles and cigarettes
Windproof & Flameless: Arc lighter is a rechargeable electric lighter that requires no flame, and no butane, weather-resistant, it is great for camping, traveling, and hiking; It can work well on a windy day while protecting the environment
Perfect Gift: Come with an elegant gift box, looks cool, and definitely lets friends scream; This is probably a perfect gift for a birthday, friends, family, a lover, a business, and more
Safe & Durable: The lighter uses plasma tech so that you don't have to worry about harmful chemicals; The plasma lighter contains a large capacity battery that can be used more than 200~300 times ignitions after fully charged
Tesla Multi-Functional Lighter
Never Fails in Brutal Winds: This windproof lighter fires up anything that's flammable in the strongest of winds. It's because of the unusual top-facing "Dual Arc" design. You'll be pleasantly surprised when you don't have to continually flick your lighter to make it work.
Completely Waterproof: The zinc alloy casing is covered with rubberized plastic. And the wire safety latch ensures the dampness stays out. It still worked beautifully after being soaked in water for weeks and submerged 30 meters below the surface.
Charge Quickly: Your Tesla Lighter charges in just 2 hours and can be used 300 times before its next charge.   
Built-In Flashlight: Use while searching for tinder or signaling for help. Three modes: bright, ultra-bright, and flashing.
Lanyard Cordage: Your lighter comes with a removable Lanyard that is 17 inches of ultra-strong cordage with a built-in easy-release buckle.
Paratinder Fire Starting: The core of the lanyard is the very flammable para tinder to help you start fires quickly with minimal kindling. Just cut open the cord to expose the partner (over 15 inches worth) and light 'er up.
Loud Rescue Whistle: Your lanyard also has a tiny, but powerful 120-decibel whistle you can use to signal for help. You'll be heard for miles around.