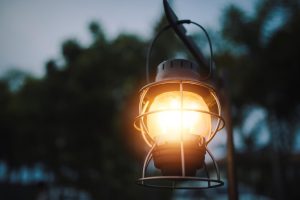 Free Offer Details
Perfect for household and camping use
Comes with a mini-fan
Power bank and USB for charging phones
Solar charging capabilities
Includes a magnetic surface that allows you to stick it upside down or sideways
Camping Lantern Review
This is one of the coolest lanterns that I have ever come across. It's not just used for lighting up the campsite, but it can be used like a flashlight as well as many other additional capabilities.
Simply turn it and hold it from the handle to use it more like a flashlight.
In case of emergency, you can plug in your phone or other devices via its USB port and charge it. This lantern definitely comes in handy from time to time.
It also includes a mini-fan! You can use it in your car or your tent if the weather is too hot to handle. If you are out of batteries, you can use the small solar panel at the top to get a little charge in.
Besides just camping and outdoor use, you can use it around the house or in your garage. This lantern has a magnetic base that allows you to stick it on any metal surface.