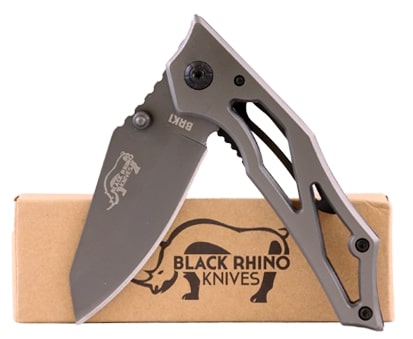 Tough-as-Nails 8Cr13MoV steel construction

Scary sharp 2.5 in drop point with ambidextrous thumb studs

Overall length 6.5 in

Weighs only 2.9 ounces

Deep-Ride Pocket Clip

Anodized Liner Lock
Not all tactical knives are huge in size and offer many different functions. Sometimes we just look for lightweight, small, and simple ones which can do their job without issues. If you are looking for that kind of knife, this black Rhino Knife might be the one for you.
As you can see from the picture, the blade and the chisel point are quite sharp despite their size. Plus, the ergonomic thumb stud makes it easier to open and leverage the knife to use.
The lightweight feature already makes the knife easier to carry around. But there is also a pocket clip if you are planning on carrying it around on a daily basis. The size is a little small compared to other tactical knives.
But I personally think this knife is better suited for self-defense purposes. Of course, it can fulfill the little tasks of outdoor activities, but you can choose larger and stronger knives like a Tanto Tactical Knife in those situations. But if you're more interested in multi-functional knives you can check out a 6-in-1 Survival Knife or a Fork knife.
Since there is an anodized liner lock, you won't worry about the knife opening itself while you walk, move, etc. The most important thing is your safety, so this knife satisfied that need.