If you are looking for the best folding knives with slingshots, then give these a try. You can actually join their official giveaway and get it for free today!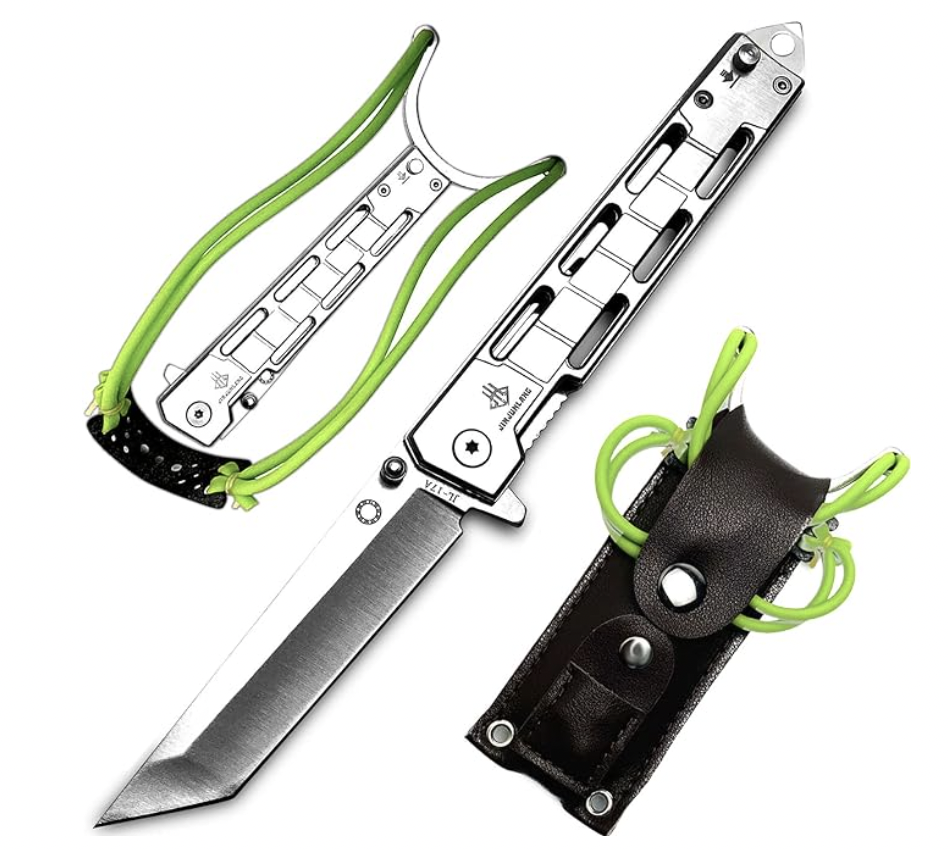 AULAKNIV EDC Folding Knife with Slingshot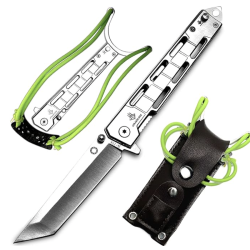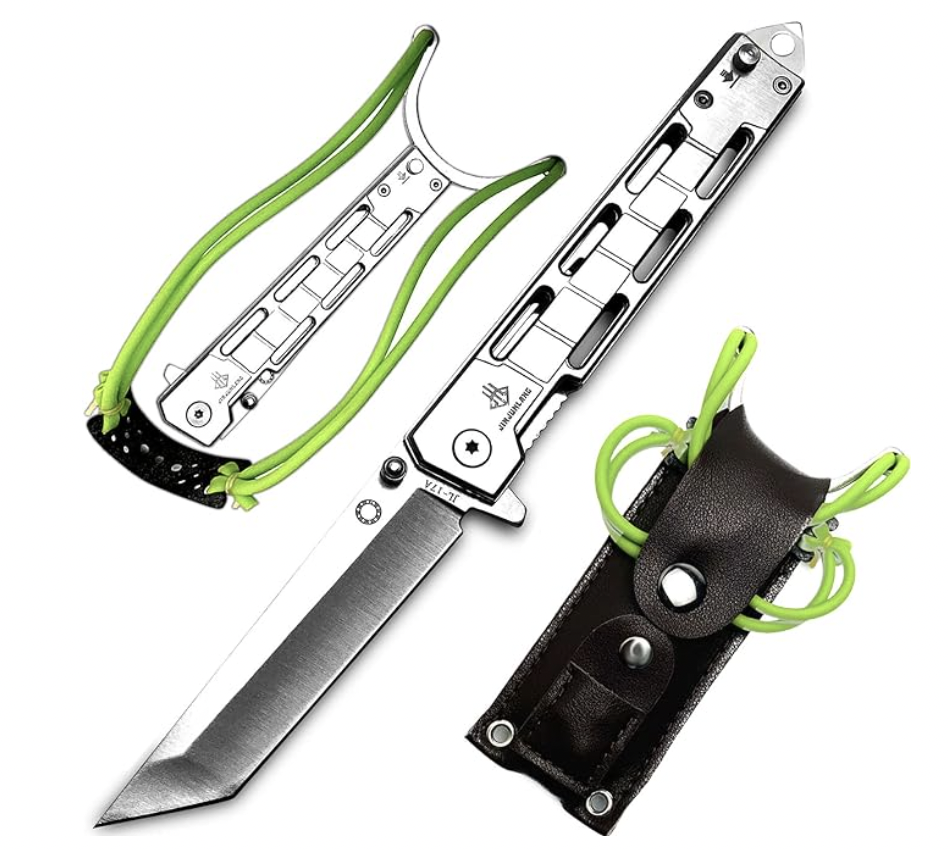 Blade Length: 3.34″
Handle Length: 4.2″
Overall Length: 8.40″
Weight: 7.72 oz (219 g)
Made of 440C Stainless Steel material

The AULAKNIV EDC Folding Knife with Slingshot is a versatile and high-quality tool for outdoor enthusiasts. Its tanto blade, made of durable 440C Stainless Steel, ensures sharpness and longevity. The stainless steel handle features an exquisite hollow-out design and includes a glass breaker for emergency situations. With a blade length of 3.34 inches and an overall length of 8.40 inches, this folding knife is equipped with a pocket clip for easy and convenient everyday carry.
This EDC knife is user-friendly, thanks to its flipper and thumb stud, allowing for one-handed opening and closing. It also features reliable lining locks to prevent accidental openings or closures, ensuring safety during use. What sets this knife apart is its 3-in-1 functionality, as it comes with a slingshot attachment and rubber bands, allowing for added fun during outdoor activities. Whether for camping, hiking, backpacking, or other adventures, it makes an excellent gift for men who enjoy such pursuits, making it an ideal choice for Father's Day or birthday gifts.
Maxam 12-Piece Survival Knife Set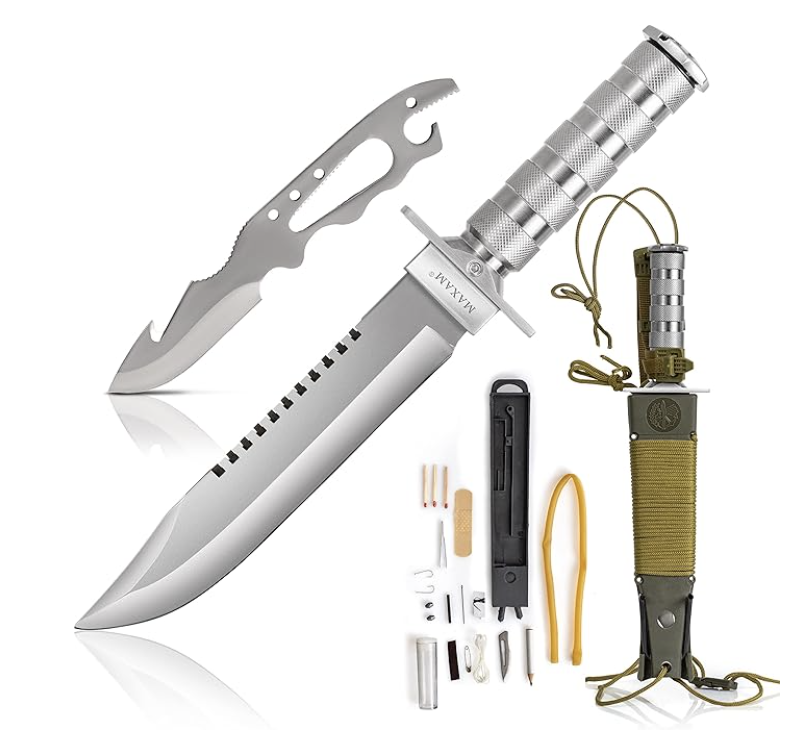 Total length of primary hunting knife: 14 inches
Blade length of primary hunting knife: 7 3/4 inches
Blade thickness of primary hunting knife: 1/8 inch
Secondary skeleton knife length: 7 inches
Blade length of secondary skeleton knife: 1 1/2 inches
The Maxam 12-Piece Survival Knife Set is a comprehensive and reliable tool for outdoor enthusiasts and adventurers. This set includes a primary hunting knife measuring 14 inches in total length with a 7 3/4-inch long 1/8-inch thick blade.
It features a hollow zinc alloy survival-tool capsule handle, while the secondary 7-inch skeleton knife has a 1 1/2-inch blade with a gutting hook. The set also comes with a sheath-attached slingshot with tubing, a missile pouch, a knife sharpener, a compass, and a scabbard-sheath safety latch for added security.
In addition to its cutting capabilities, this survival tool capsule contains essential items like a bandage, fire starter and matches, fishing line, weights and hooks, a razor blade, tweezers, a pencil, a safety pin, and a needle and thread, making it a versatile and practical choice for outdoor challenges.
NedFoss Pocket Knife with Slingshot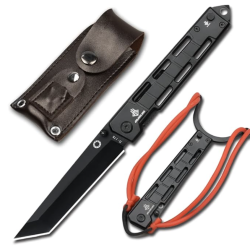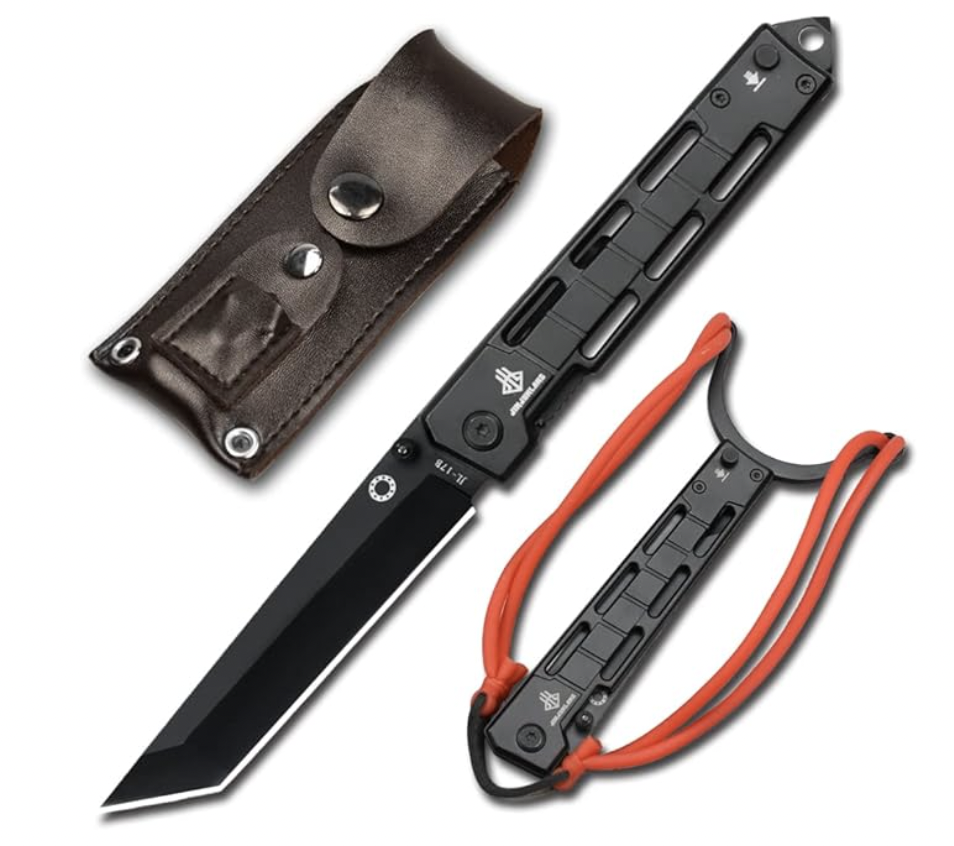 Whole length: 21.5cm ( 8.5″ )
Blade's length: 9cm ( 3.6″ )
Blade Material: Stainless steel
Liner Lock Type
Thumb Stud
It features a tanto blade made of stainless steel, making it suitable for a variety of outdoor activities such as hunting, fishing, camping, survival, and hiking. The knife is equipped with a liner locking system, providing confidence that it won't accidentally close during use. The inclusion of a thumb stud allows for easy manual opening of the blade, ensuring a smooth and secure lock into place.
What sets this pocket knife apart is its interchangeable attachments. It comes with a high-quality slingshot attachment, making it ideal for outdoor hunting and camping. The slingshot can be easily dismantled and replaced with glass breakers, giving users the flexibility to switch between tools as needed. With its compact shape and convenient carry options, this EDC folding knife is a practical and reliable companion for outdoor adventures.
What are the common uses of a survival knife with a slingshot?
A survival knife with a slingshot is versatile and can be used for hunting, camping, hiking, and survival situations. The knife serves utility purposes, while the slingshot attachment can be used for hunting small game or target shooting.
How do you use the slingshot attachment on a survival knife?
To use the slingshot attachment, you load it with a projectile, pull back on the slingshot bands, aim, and release to shoot the projectile. It's important to follow safety precautions and practice proper slingshot handling.
What are the advantages of having a survival knife with a slingshot?
The main advantage is versatility. This tool allows you to perform various tasks, including cutting, hunting small game, and self-defense, all with a single tool.
Are there safety precautions for using the slingshot attachment?
Safety is crucial when using the slingshot attachment. Be aware of your surroundings, wear eye protection, and follow proper slingshot handling techniques to minimize the risk of accidents.
Other Survival Knives