If you are looking for the best folding knives with belt clips, then give these a try. We have chosen the best survival kits that are affordable and multifunctional. Keep in mind that while some products are given away for free, you still have to pay for some of our recommendations.
Survival Knife with Camping Accessories Kit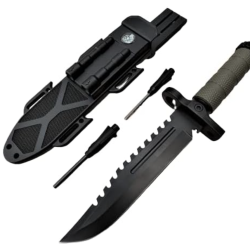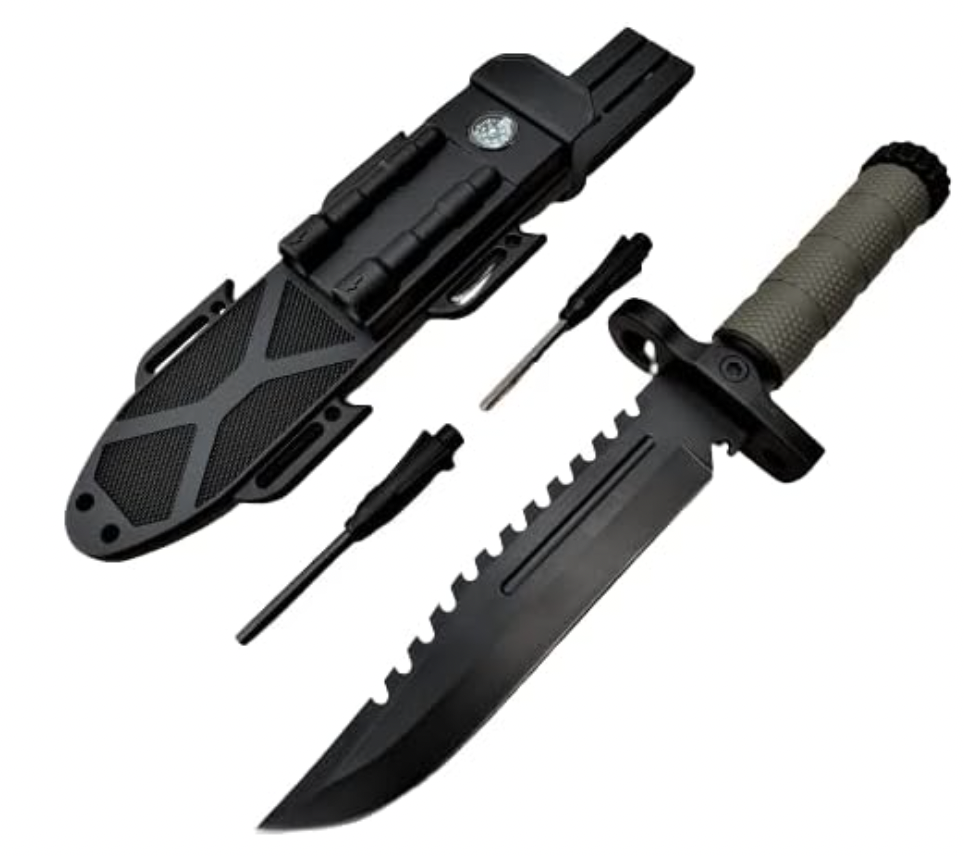 Knife Style: Tactical Fixed Blade Knife
Overall Length: 12.75″
Blade Style: Combat Clip Point
Edge: Full Edge With Sawback
Blade Length: 7.5″
Blade Material: 3cr13 Stainless Steel
The Survival Knife with Camping Accessories Kit offers a comprehensive solution for outdoor enthusiasts and emergency preparedness. With a 12.75-inch tactical fixed-blade knife at its core, this kit includes essential features such as a fire starter, knife sharpener, compass, and bottle opener, making it a versatile tool for navigating rough terrain and survival situations.
The knife's blade is professionally heat-treated to strike a balance between hardness and toughness, ensuring increased durability and performance. Crafted from 3cr13 stainless steel, it provides razor-sharp cutting capabilities, high durability, and easy edge maintenance.
This multi-use knife serves as a valuable companion for various activities, from camping and fishing to hunting and everyday tasks. Its compact design makes it easy to carry in your pocket or attach to a backpack, fitting seamlessly into your EDC gear and tactical equipment.
Survival Kit with a Pouch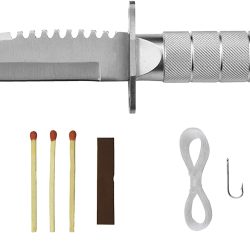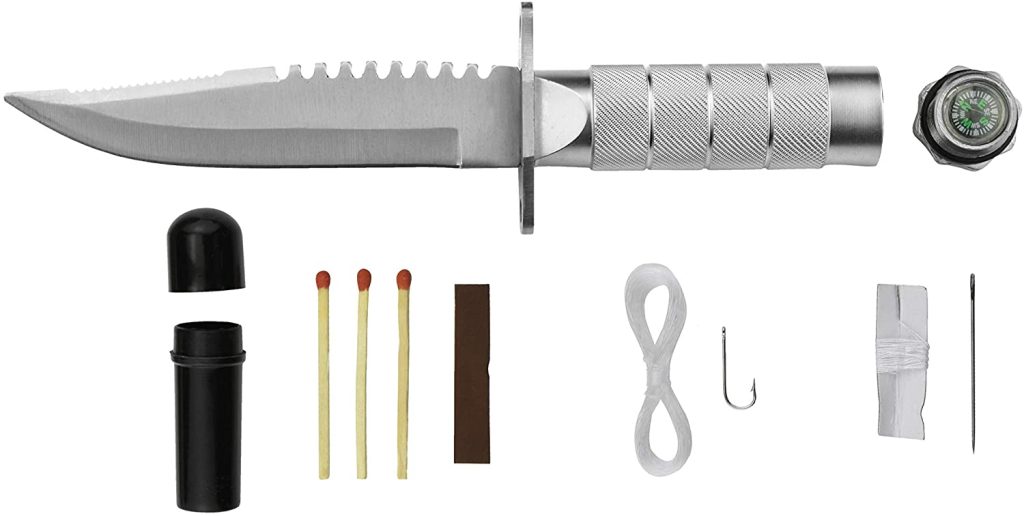 8-inch stainless steel knife
Includes compass and survival kit
Compact and versatile for outdoor adventures
Nylon pouch for easy storage
The Survival Kit is a versatile and compact tool for outdoor enthusiasts and adventurers. This kit includes an 8-inch knife made entirely of durable and lightweight stainless steel, ensuring easy handling. The knife features a 4-3/4-inch blade with a 3mm thickness and a 3-1/4-inch handle, making it suitable for a variety of tasks during camping, fishing, hiking, hunting, or any outdoor adventure.
What sets this survival kit apart is its integrated storage compartment containing essential survival tools. It includes a compass and a survival kit, all neatly packed in a nylon pouch. But compared to other survival knives with emergency kits, this one has few products that can't last long. Please keep that in mind if you're looking for a survival kit to take on a long hiking or camping trip.
Free Midnight Stiletto & Emergency Baton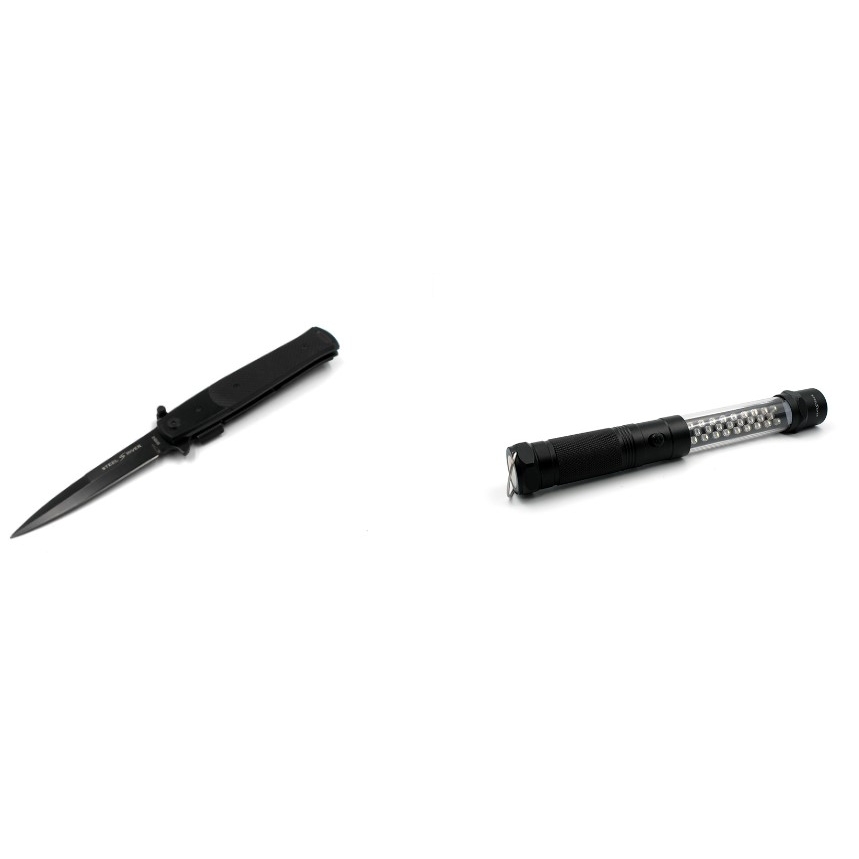 Knife Features: Lethal Reinforced Steel Blade, Textured Grip, Wicked Fast Blade Release, 7.5 Inch Total Length, Integrated Belt Clip, Easily Concealed
Flashlight Features: Durable Black Aluminum Frame, Contoured and tapered Comfort Grip, 100 Blinding Lumens, Durable Glass Breaker Tip, Flashing LED Strobe
The FREE TitanEdge Stiletto Knife and BlackOut Tactical Baton Flashlight make for an impressive and practical duo. The stiletto knife boasts a lethal reinforced steel blade and a textured grip for improved handling. With its wicked-fast blade release and 7.5-inch total length, it's a formidable tool for everyday carry. The integrated belt clip ensures easy and convenient carrying, while its easily concealed design and dark finish make it discreetly hidden in plain sight.
As a bonus, they're including the BlackOut Tactical Baton Flashlight, featuring a durable black aluminum frame, comfortable grip, blinding lumens, and a glass breaker tip. It's a package deal that enhances your safety and preparedness.
Are these knives suitable for self-defense?
While they are primarily designed for outdoor tasks, survival knives can be used for basic self-defense in emergency situations. However, specialized self-defense tools may be more effective for that purpose.
Are these knives suitable for everyday carry (EDC)?
Survival knives with kits are primarily designed for outdoor adventures and may not be practical for everyday carry due to their size and weight.
How can a survival knife with a kit be useful in outdoor activities?
It serves as a valuable tool for camping, hiking, fishing, hunting, and emergency situations by providing tools for navigation, fire starting, shelter building, and basic survival tasks.
Other Survival Knives