If you are looking for the best survival knives with glass breaker and seatbelt cutter, then give these a try. You can actually join their official giveaway and get it for free today!
Evatac Glass Breaker & Seatbelt Cutter Rescue Knife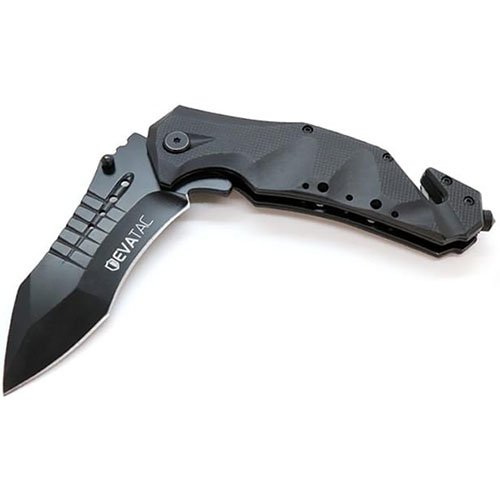 Symmetrical Double Edge Blade
​Overall 9" In Length (23cm)
​4.7" Blade & 4.3" Handle
​Stainless And Rust Proof!
​Matt Black Finish
​Extremely Sharp Out Of The Box!
​Effective Fighting/Defensive Knife!
​Extra Wide Double Guard
​Comfortable Rubberized Handle
​Palm Swell Grip
​Brass Lanyard Hole
​Boot/Belt Sheath Included!
This rugged 9-inch knife, with a 4.7-inch stainless steel blade, matte black finish, and rust-proof durability, stands ready for any challenge. What truly sets it apart is the built-in glass breaker feature, designed to shatter windows and break free in emergencies.
Whether you're in a survival situation or need a reliable tool for safety and rescue, our Survival Knife has you covered. With a comfortable rubberized handle, extra-wide double guard, and included boot/belt sheath, this knife ensures you're well-equipped for any situation.
TRS Glass Breaker & Seatbelt Cutter 5N1 Multi-Knife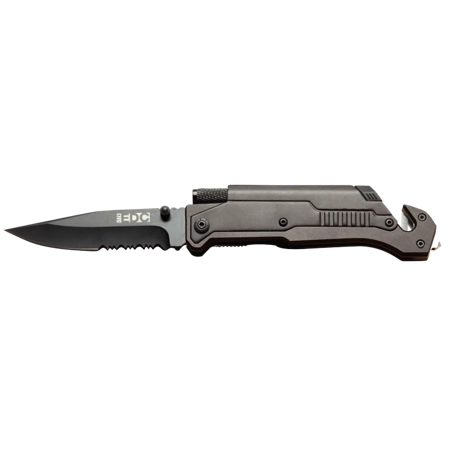 The particular steel is a super-tough high-quality corrosion-resistant stainless-steel
Features a built-in super reliable, an LED flashlight that's shockingly bright
Features a glass breaker
Features a fire starter: very effective at transforming a simple spark into a roaring fire
This versatile tool goes beyond just a knife. It features a built-in, shockingly bright LED flashlight, providing reliable illumination whenever you need it. In addition to its cutting prowess, it includes a glass breaker for emergency situations, allowing you to shatter windows with ease.
Plus, there's a highly effective fire starter, capable of turning a simple spark into a roaring fire, ensuring you have the means to stay warm and cook in the wild.
Patriot Glass Breaker & Seatbelt Cutter USA-Flag Knife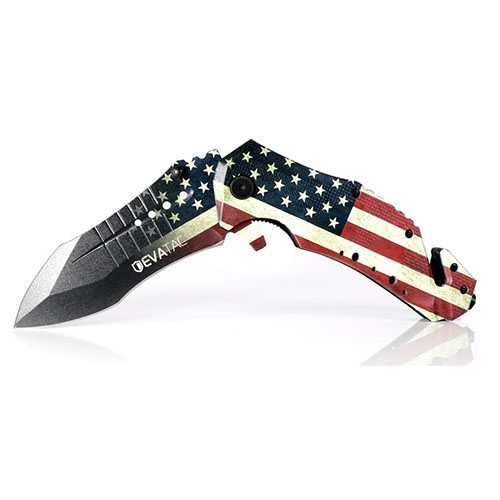 The Ultimate Rescue Knife!
Powder-Coated USA Design!
Ultra Sharp Drop-Point Knife
​Safe One-Handed Spring Assisted Opening
Emergency Belt Cutter
Emergency Glass Breaker
Tough ​Meaty 1/8" Blade
​Perfect Emergency Tool
​Ergonomically Designed
​Stainless And Rust Proof
This USA-designed, powder-coated masterpiece is your ultimate companion for emergencies. With its ultra-sharp drop-point blade and safe one-handed spring-assisted opening, it ensures quick and precise action when time is of the essence. Equipped with an emergency belt cutter and a glass breaker, this knife is your lifeline in critical situations.
Do Knife Glass Breakers Work?
Glass breakers are designed to break tempered glass, which is used in car windows, windshields, and other applications. They work by using brute force from a striking movement that breaks the glass. When used correctly, glass breakers can be very effective in breaking glass. There are also videos available online that demonstrate the effectiveness of glass breakers on knives and carbide glass breakers.
How To Use A Glass Breaker On A Knife?
Using a glass breaker on a knife can be a useful tool in emergency situations. Here are some steps to follow when using a glass breaker on a knife:
1. Identify the tempered glass: Glass breakers are designed to break tempered glass, which is used in car windows, windshields, and other applications.
2. Hold the knife correctly: Hold the knife firmly with the glass breaker facing the glass.
3. Aim for the corner: Aim for the corner of the window, as this is the weakest point of the glass.
4. Use brute force: Use a striking movement with brute force to break the glass.
Remember that using a glass breaker on a knife should only be done in emergency situations, and it is always best to call for professional help if possible.
How To Use Knife Seatbelt Cutter?
Remember that using a seatbelt cutter knife can be a life-saving tool, but it should be used with caution and only in emergencies. Be mindful of your surroundings, prioritize safety, and seek professional medical assistance for any injuries sustained during the accident.
Hold the Knife Securely: Grip the knife securely in your dominant hand, making sure you have a firm hold on the handle.
Locate the Seatbelt: Find the seatbelt you need to cut. Be aware of any obstacles or obstructions in the way.
Position the Seatbelt Cutter: Place the seatbelt cutter's blade against the seatbelt, perpendicular to the direction of the belt. The blade should be on the side of the seatbelt facing away from the person you're trying to free.
Apply Steady Pressure: With the knife's blade against the seatbelt, apply steady pressure while moving the cutter along the length of the seatbelt. Do this in one fluid motion, using enough force to cut through the seatbelt.
Are Glass Breakers Illegal?
In the US, the blade used in a survival knife for emergency rescue situations is considered safe, as it does not have a sharp point that can be used as a weapon.
Other Survival Knives