If you are looking for the best folding knives with high-quality sheaths, then give these cool knives a try. We have chosen the best folding knives with sheaths in terms of quality, functionality, and look.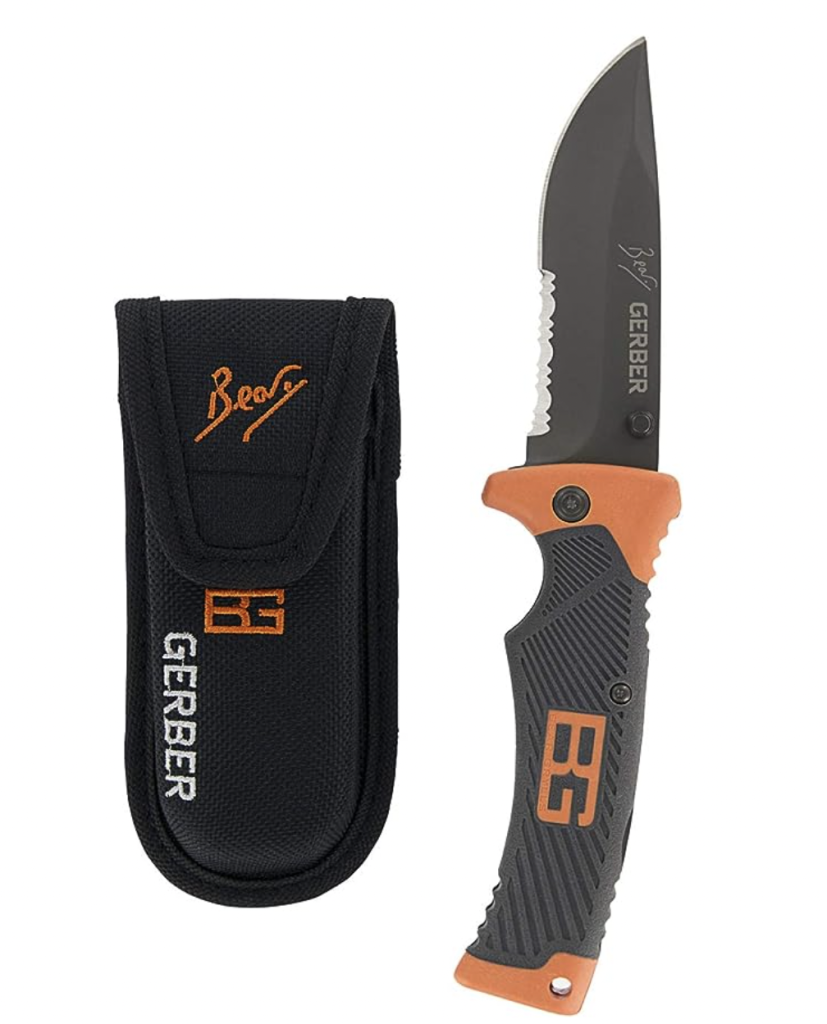 Folding Sheath Knife from Bear Grylls Survival Series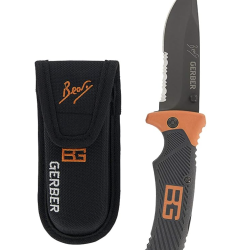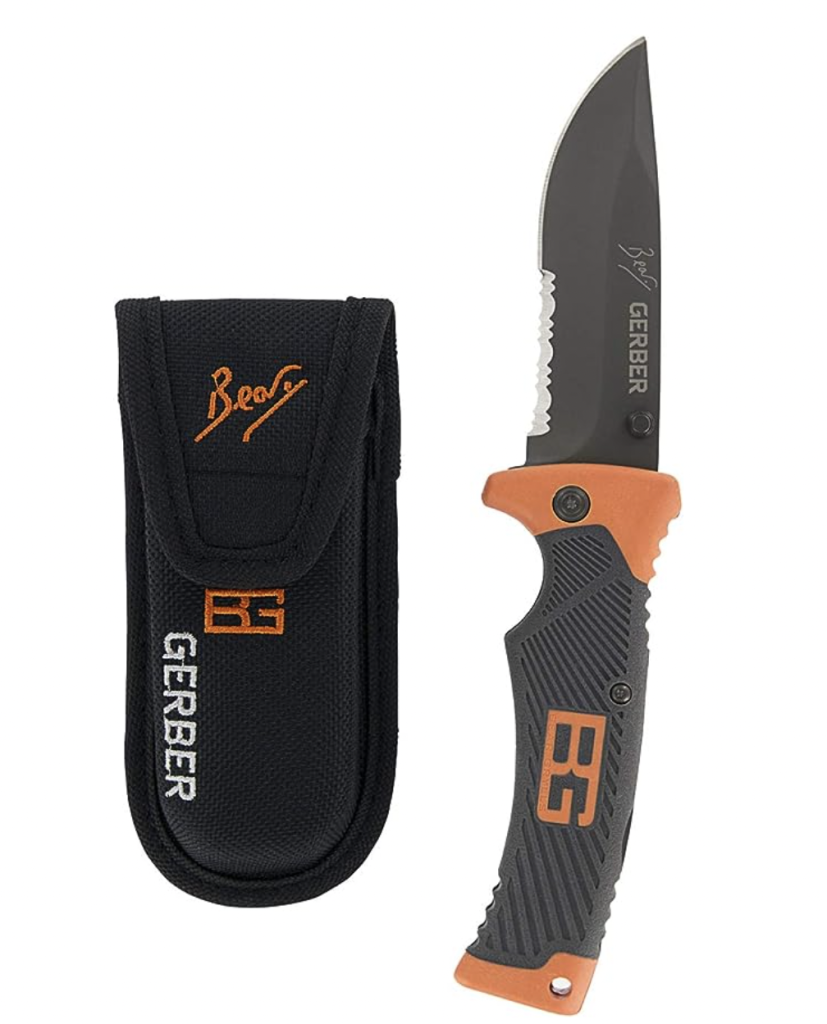 Overall Length: 8.5''
Closed Length: 4.9''
Blade Length: 3.6''
Weight (with sheath): 5.3 oz.
Weight (no sheath): 4.3 oz.
½ Serrated High Carbon Stainless Steel Drop Point Blade – Ideal for edge retention and cutting rope
Nylon sheath – Lightweight, military-grade, mildew-resistant sheath allows for horizontal or vertical carry
The Bear Grylls Survival Series Folding Sheath Knife by Gerber is a versatile and compact outdoor and military tool that's designed for those who want a serious blade they can carry with ease. Featuring a 3.6-inch serrated high carbon stainless steel drop point blade with a textured rubber grip, this knife ensures a secure and comfortable hold during use. It offers a convenient one-handed opening thanks to its dual-sided thumb stud and has a lock-back design for added safety.
This folding knife, based on the Ultimate Knife, is a rugged and reliable choice. It comes with a military-grade nylon sheath that's both lightweight and durable, allowing for vertical or horizontal carry. Additionally, the knife includes Bear Grylls' "Priorities of Survival" pocket guide, providing valuable survival essentials. With an overall length of 8.5 inches and the ability to fold neatly into its sheath, this knife is a compact yet powerful tool for outdoor enthusiasts and those in need of a dependable military-grade blade.
GVDV Damascus Steel Pocket Knife with Leather Sheath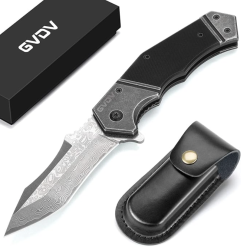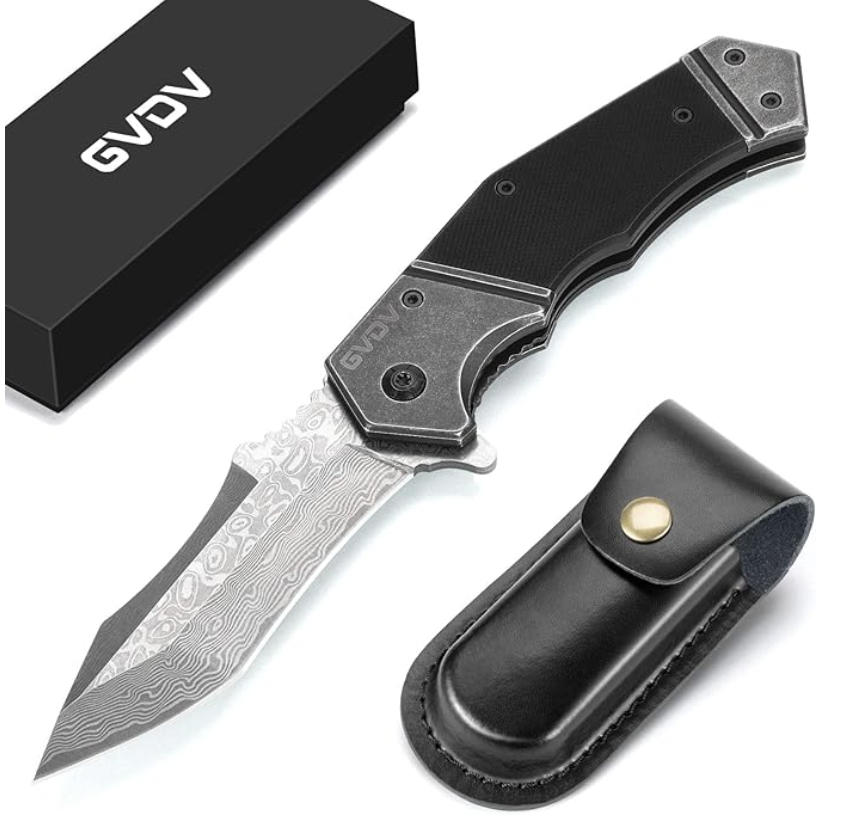 Folded: 4.56" (116 mm)
Unfolded: 8.07" (205 mm)
Weight: 165g (5.8OZ)
Thickness: 19mm
Width: 42mm
Blade Hardness: 60-61HRC
Blade material: Damascus steel
Handle material: G10, Stainless steel
The GVDV Damascus Pocket Knife is a top-quality tool with a Damascus steel blade that's sharp, durable, and resistant to rust and stains. Its one-hand opening flipper and secure locking mechanism make it easy and safe to use. The military-grade G10 handle provides a comfortable grip and is designed to withstand various conditions. With a weight of 5.8 ounces and a folded length of 4.56 inches, it's a practical and portable EDC knife with a convenient belt clip.
This versatile knife is suitable for camping, hiking, travel, and many outdoor activities, as well as everyday cutting tasks. It comes with a genuine leather sheath and cotton cloth, making it an elegant and thoughtful gift choice. Compared to its other alternatives, this one is much more cool-looking. So if you're looking for a knife to give someone as a present, I highly recommend this one.
Benkey Damascus Folding Knife with Clip Leather Sheath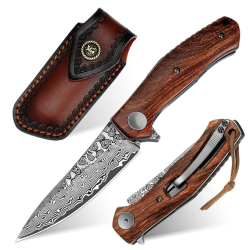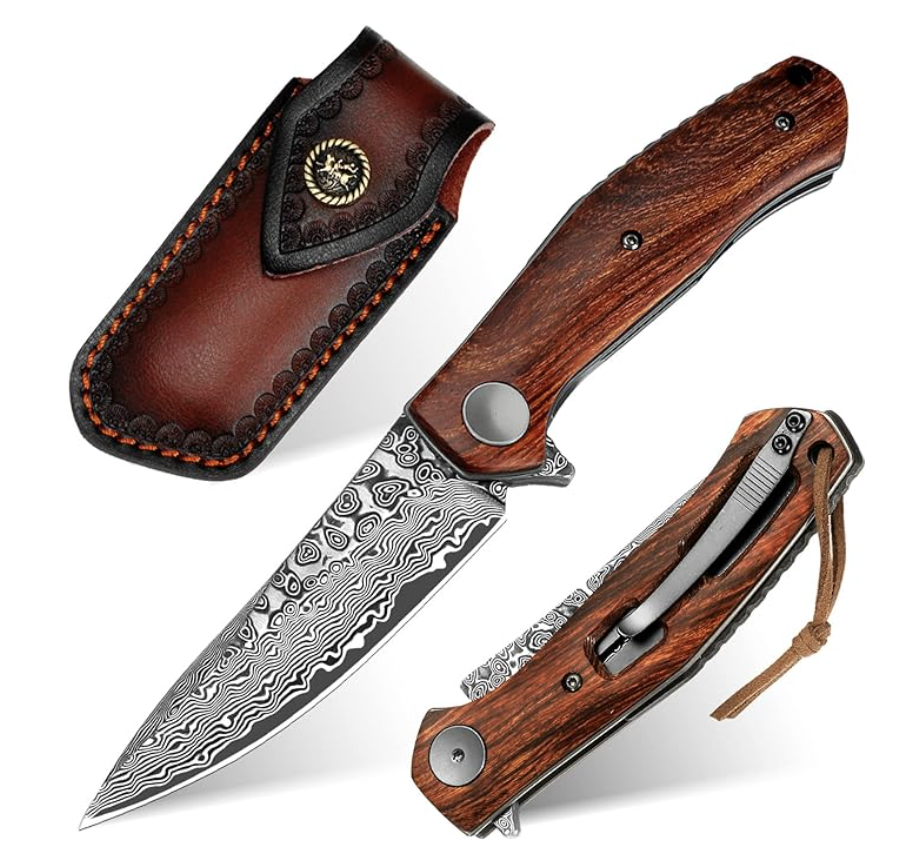 Blade length:3.35″
Overall length: 7.6″
Handle length:4.3″
Weight: 4.13 OZ (117g)
Thickness: 0.11″ (2.99mm)
Hardness: Blade 59-60HRC
Blade Material: VG10 Damascus Steel
Handle Material: Natural Unique Rose wooden
The Benkey Damascus Folding Knife is a reliable and durable outdoor tool. Its 76 layers of high-quality high-carbon steel and Damascus VG10 steel core make for a sharp and resilient blade with excellent corrosion resistance. The ergonomic rosewood handle offers a secure grip, even in wet conditions, and minimizes hand fatigue during use. With an easy-to-operate liner-lock mechanism and a smooth one-hand flipper deployment, this pocket knife is both practical and safe.
Measuring an overall length of 7.52 inches, with a blade length of 3.23 inches, and weighing 3.66 ounces, it's a portable EDC knife that comes with a classic leather sheath and a convenient belt clip. This Damascus folding knife is ideal for various outdoor activities, including survival, camping, fishing, and hiking, as well as everyday cutting tasks. Its exceptional sharpness and craftsmanship, along with the included black gift box, make it a perfect gift choice for both men and women.
What are some common materials for folding knife sheaths?
Common materials for sheaths include leather, nylon, Kydex, and plastic. Each material has its advantages in terms of durability and aesthetics.
How do I attach a folding knife with a sheath securely?
Follow the manufacturer's instructions for attaching the sheath securely to your belt, backpack, or gear. Ensure that it is fastened tightly to prevent loss.
Are folding knives with sheaths suitable for self-defense?
While they can be used for self-defense in emergency situations, folding knives are primarily designed for utility tasks. Always prioritize safety and adhere to legal regulations when considering self-defense tools.
How can I sharpen the blade of my folding knife with a sheath?
You can sharpen the blade of your folding knife using various sharpening tools, such as sharpening stones, honing rods, or sharpening systems. Follow the manufacturer's guidelines or seek professional sharpening services for the best results.
Other Survival Knives