The first time I encountered a gut hook on a folding knife, I was both curious and impressed. It's a design that melds form and purpose seamlessly. Over the years, I've come across a few that stand out in terms of craftsmanship and efficiency. In this piece, I'll share three folding knives with gut hooks that have truly resonated with me during my outdoor adventures. Let's delve into their unique charm.
1. Gerber Gear Freeman Guide Folding Knife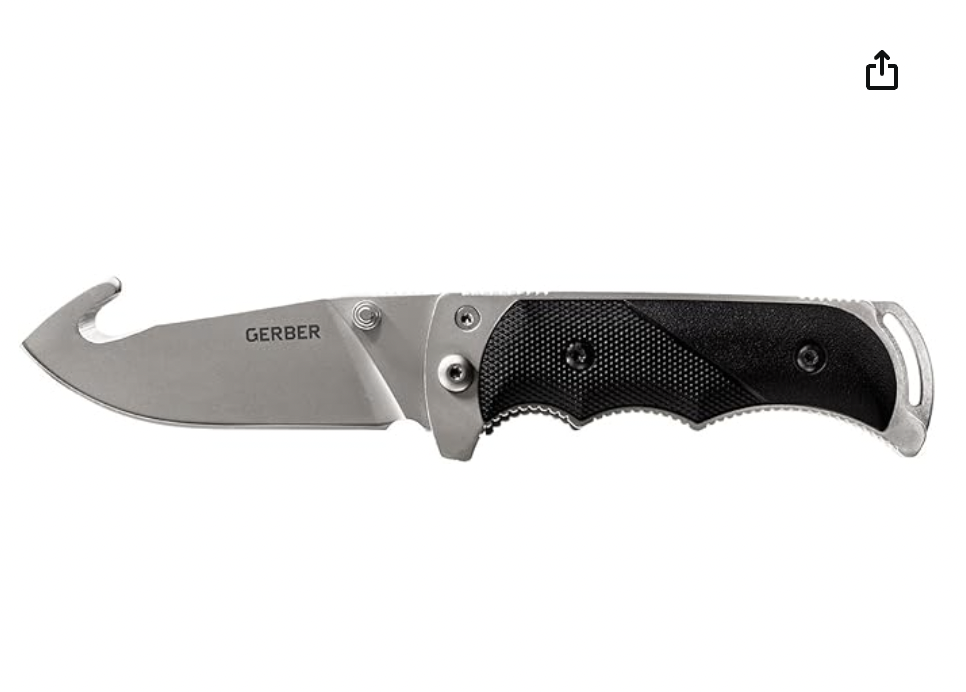 Blade Material: 5Cr15MoV SS with glass bead finish
Blade Type: Drop point, full fine edge
Accessibility: Dual thumb studs
Grip: Large finger grooves, tachide overlay
Locking Mechanism: Liner lock
Extras: Lanyard slot, formed nylon sheath included
Recommended Use: Camping
Handle Material: Stainless Steel
Color: Black
Style: Fine Edge- Gut Hook
Brand/Model: Gerber Gear G0592
The Gerber Gear Freeman Guide Folding Knife (G0592) integrates a robust 5Cr15MoV SS blade with a sleek glass bead finish, presenting a sharp drop point and full fine-edge blade. The inclusion of dual thumb studs makes for easy accessibility, while the knife's design features substantial finger grooves and a tachide overlay for an enhanced grip.
Optimized for camping, this folding knife ensures security with its dependable liner lock and offers added convenience with a lanyard slot and an included formed nylon sheath. The stainless steel handle, paired with its fine edge-gut hook style, makes it not just functional but also aesthetically pleasing in its black finish.
2. TONIFE Rhinoceros Grip Hook Folding Knife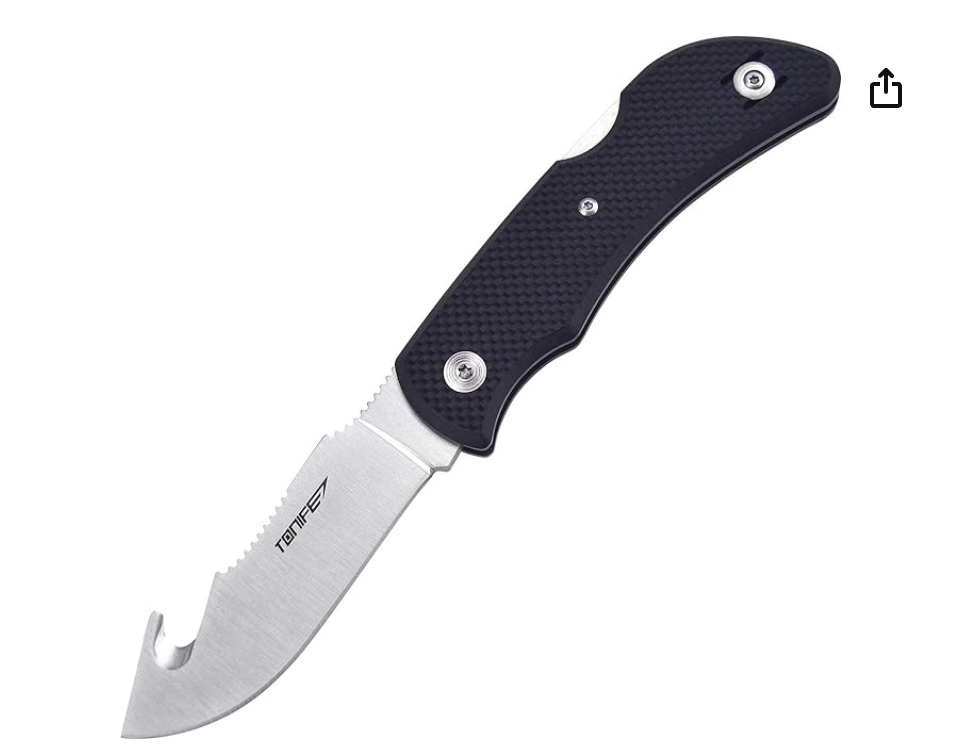 Blade Material: Japanese Aichi AUS-8 stainless steel
Blade Length: 2.95″
Overall Length: 7.28″
Gut Hook: Opens game without damaging organs
Handle: G-10 composite
Lock: Back lock
Pocket Clip: Special design for convenience
Use: Camping
The TONIFE Rhinoceros Grip Hook Folding Knife boasts a precision-engineered Japanese Aichi AUS-8 stainless steel blade, measuring 2.95″ in length, ensuring long-lasting sharpness, corrosion resistance, and remarkable strength. This blade uniquely features a gut hook, designed to open the game seamlessly without damaging internal organs.
Designed for outdoor enthusiasts, its robust G-10 composite handle offers exceptional durability and grip under any condition. Coupled with a practical pocket clip for easy accessibility, this knife stands out as a must-have tool for camping and other outdoor adventures.
3. ITOKEY Keychain Knife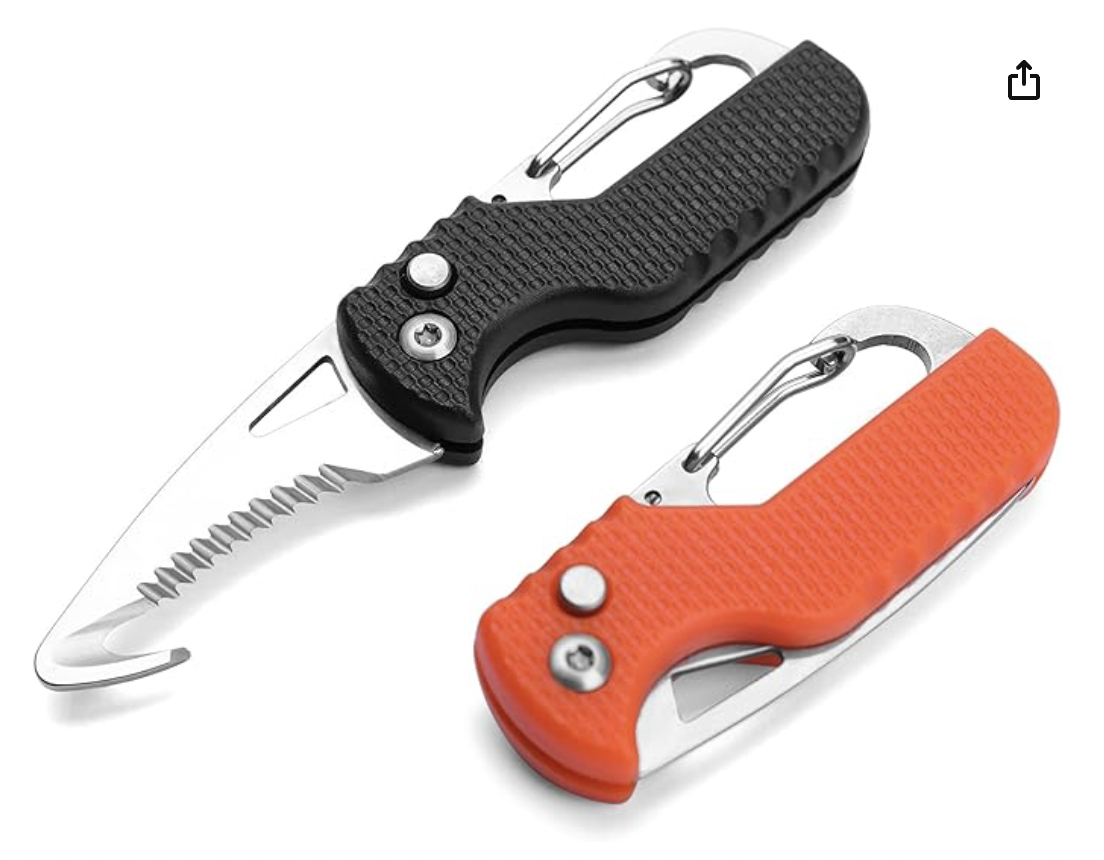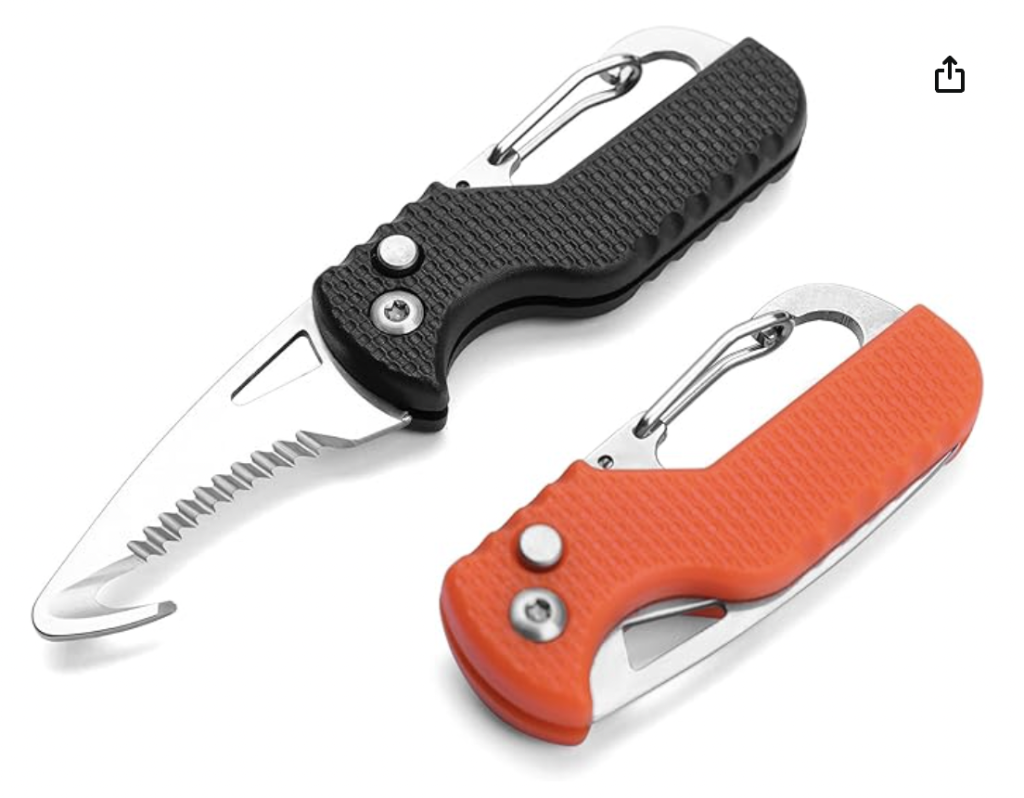 Functionality: 2-in-1 multi-tool (serrated blade & paratrooper hook)
Uses: Cutting straps, ropes, and seat belts; ideal for outdoor activities
Handle: High-quality nylon fiber, ergonomic, non-slip texture
Safety: Safety lock feature
Size & Weight: Compact, 1 oz
Portability: Carabiner/keychain design for easy attachment
Affordability: 2 pack option, one-year warranty
Ideal Gift: Suitable for both men and women
The ITOKEY Keychain Knife stands out as a versatile 2-in-1 multi-tool, perfect for outdoor adventures like hiking and camping. With its razor-sharp serrated blade and a paratrooper hook, it's adept at quickly severing straps, ropes, and even car seat belts. Additionally, its carabiner design means it's always within reach, clipped to your gear or keychain.
Designed with functionality in mind, the high-quality nylon fiber handle offers both durability and ergonomic comfort. Its non-slip texture ensures a firm grip, while the safety lock guarantees secure use. This multi-tool is not only compact and weighs just 1 oz, making it extremely portable, but it's also a valuable utility tool for daily tasks. Plus, with its affordable price and one-year warranty, it's a risk-free purchase and a fantastic gift option.
Conclusion
When it comes to folding knives with gut hooks, the TONIFE Rhinoceros Grip Hook Folding Knife, Gerber Gear Freeman Guide Folding Knife, and ITOKEY Keychain Knife each bring unique offerings to the table. The TONIFE knife impresses with its Japanese Aichi AUS-8 stainless steel blade and a sturdy G-10 composite handle. On the other hand, the Gerber Gear Freeman stands out with its 5Cr15MoV SS blade and substantial finger grooves for an enhanced grip. Meanwhile, the ITOKEY's compact design and multifunctionality make it an ideal pocket companion, especially for those on the go. All in all, your choice will depend on your specific needs, whether it's for outdoor adventures, daily tasks, or emergency situations. Each of these knives ensures quality, durability, and practicality in its own right.
FAQs
What is the primary purpose of a gut hook on a folding knife?
The gut hook is specifically designed to aid hunters in field dressing game. Its primary function is to effortlessly slice open the abdomen of the animal without piercing or damaging the internal organs, ensuring a cleaner and more efficient process.
Are knives with gut hooks suitable for everyday carry?
Absolutely. While the gut hook feature is tailored for hunters, the primary blade of such knives is versatile and can handle a myriad of daily tasks, from opening packages to cutting rope.
How do I maintain and sharpen the gut hook portion of my knife?
To maintain the sharpness of the gut hook, use a rounded file or a specialized sharpener designed for hooks. Regular maintenance ensures the longevity of the knife and its efficiency in the field. Remember always to follow the curve of the hook during sharpening to avoid any damage.
Can I use the gut hook for other tasks aside from game dressing?
Certainly. While its design is optimized for game dressing, the gut hook's curved shape can also effectively cut through materials like ropes, straps, and zip ties without inadvertently damaging items beneath.
Other Survival Knives