Ever held a knife and wished for a more intuitive grip? I've been there. Folding knives with finger holes offer that extra layer of connection and control, merging design with function. Join me as I share three of my personal favorites that not only look distinct but also feel right in hand. Let's get a handle on these unique blades.
1. TAC Force TF-707 Assisted Open Knife with Dragon Handle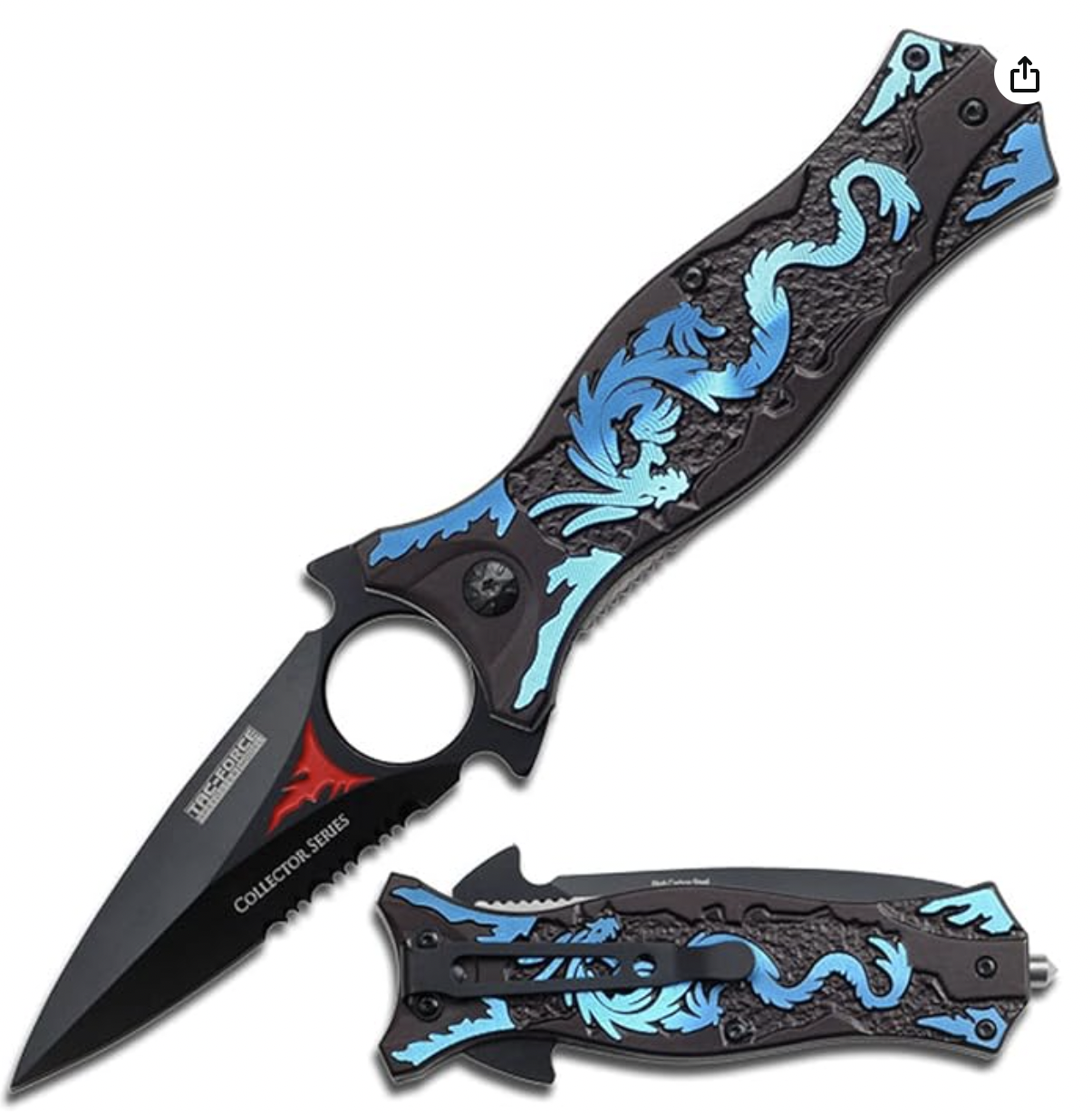 Blade Material: 3CR13 partially serrated black stainless steel.
Blade Length: 3.5-inch drop point fine edge.
Handle Length: 4.5 inches.
Overall Length: 8 inches.
Design: Black aluminum handle with blue dragon design.
Special Features:

The TAC Force TF-707 Assisted Open Knife boasts a 3.5-inch drop point fine edge blade made of 3CR13 partially serrated black stainless steel. This material ensures both robustness against wear and a strong resistance to corrosion. Designed with the unique requirements of military, police, and rescue professionals in mind, it promises dependable and razor-sharp cutting performance, making it a trustworthy tool for a wide range of situations such as camping, hunting, and emergencies.
Among its distinct features are a spring-assisted finger flipper for easy opening and a visually striking black aluminum handle with a blue dragon design. It also incorporates practical tools like a liner lock, glass punch, and pocket clip, ensuring utility and safety in numerous scenarios. With its 8-inch overall length and 4.5-inch handle, the knife is conveniently sized for portability and use.
There are four different colors to choose from including yellow, pink, gray, and blue. So it's actually suitable for both men and women. And the knife is currently discounted at half price! I mean, how great of an opportunity is that? I highly recommend you buy this cool-looking knife for less than the price of a coffee.
2. Smith & Wesson Karambit Folding Knife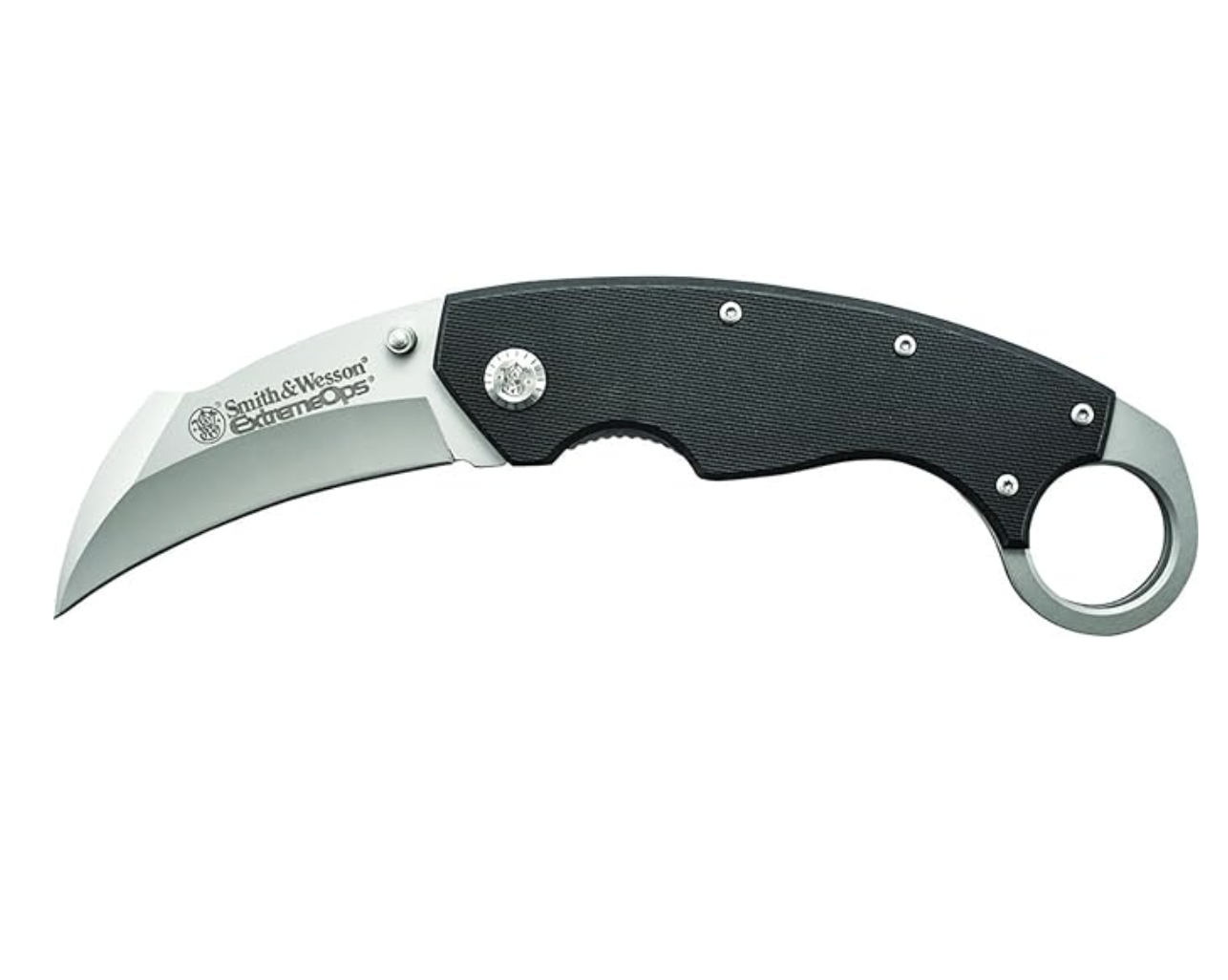 Overall Length: 7.9 inches
Blade Length: 3.1 inches
Weight: 6.8 ounces
Blade Material: 7Cr17MoV High Carbon Stainless Steel
Handle Material: Black, G-10 handle
Access Features: Pocket clip, ambidextrous thumb knobs
Security: Liner lock
Enhanced Usability: Ergonomic thumb hole
Warranty: Limited Lifetime Warranty
The Smith & Wesson Karambit Folding Knife measures a total of 7.9 inches in length, with a 3.1-inch blade crafted from reliable 7Cr17MoV High Carbon Stainless Steel. Weighing in at 6.8 ounces, this knife is designed for durability, featuring a robust black, G-10 handle that ensures a comfortable and firm grip.
For those on the go, this knife offers quick and effortless access due to its convenient pocket clip and ambidextrous thumb knobs, making it a top pick for everyday carry. Additional features such as the liner lock instill confidence in the blade's security during use, while the ergonomic thumb hole further enhances usability. Smith & Wesson backs this product with a Limited Lifetime Warranty, emphasizing its trust in the knife's quality and longevity.
Moreover, there are tons of great reviews about the satisfied users of this product. Overall, Smith & Wesson is my personal favorite brand as they've been making high-quality tactical tools for 171 years. When purchasing from them, consumers are investing in both the brand's storied reputation and the assurance of durable, trusted equipment for their tactical needs.
3. Gerber Gear Remix Folding Knife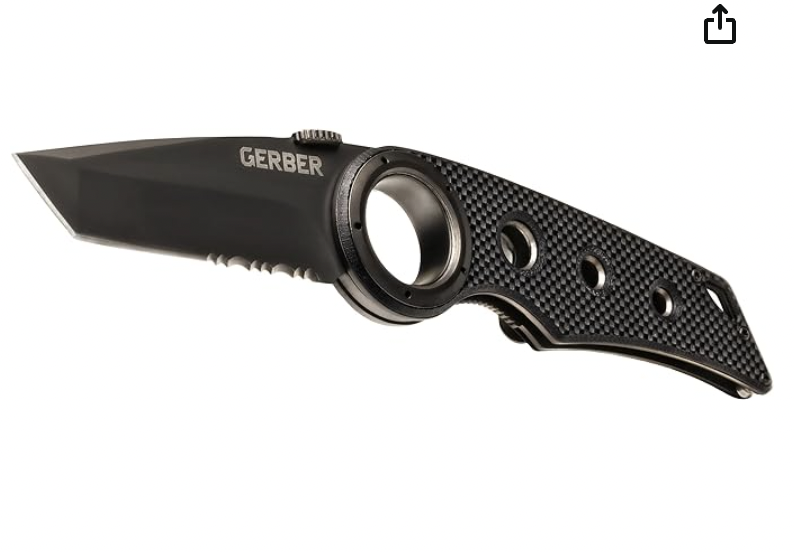 Blade Type: Corrosion-resistant tanto, partially serrated
Handle Material: Lightweight textured G-10
Design Feature: Circular ring for stability
Locking Mechanism: Liner lock
Opening Mechanism: Ambidextrous thumb lift
Blade: 3″ length
Open: 7.86″ length
Weight: 4.6 oz
Warranty: Gerber Guarantee (limited lifetime warranty)
The Gerber Gear Remix Folding Knife showcases a blend of durability and design finesse with its corrosion-resistant tanto blade, featuring a partially serrated edge. Crafted meticulously, the knife incorporates a lightweight textured G-10 handle, an innovative circular ring design for added stability during use, and a dependable liner lock mechanism.
This knife stands as an indispensable tool for enthusiasts, whether for hunting, camping, or everyday carry, owing to its compact foldability and a mere weight of 4.6 oz. The ambidextrous thumb lift ensures ease of use for both left and right-handers, and with the backing of the Gerber Guarantee, users can trust its longevity and performance.
Conclusion
After looking at the TAC Force TF-707, Smith & Wesson Karambit, and Gerber Gear Remix, each has its own flair. I love the TAC Force for its cool dragon design, the Smith & Wesson for its trusted reputation, and the Gerber Remix for its unique circular ring handle. Deciding among them really comes down to what you personally value in a knife. As for the price, TAC Force TF-707 is the cheapest while Gerber Gear is the most expensive one. So I think you could tell the quality by that. But the good news is that they're all on sale, so I suggest you to grab them while you can.
FAQs
Why are folding knives with finger holes becoming popular?
Folding knives with finger holes offer users improved grip and stability, making them more secure in hand during use. This enhanced control is especially beneficial in situations where precision or safety is paramount.
Can the finger hole on these folding knives fit all finger sizes?
While most designs aim to accommodate a wide range of finger sizes, it's always a good idea to test or check measurements before purchasing to ensure a comfortable fit.
Are folding knives with finger holes suitable for beginners?
Absolutely. The added control from the finger hole can be beneficial for beginners. However, like with any knife, proper handling and safety practices should always be observed.
Can I use these knives for everyday tasks, or are they specifically designed for tactical use?
While some are designed with tactical scenarios in mind, many folding knives with finger holes are versatile and can be used for everyday tasks like opening packages or cutting materials.
Other Survival Knives