When it comes to everyday carry tools, versatility is key. Enter the world of folding knives that come equipped with bottle openers – blending practicality with convenience. Whether you're an outdoor enthusiast, a camper, or just someone who values multifunctionality, we've got four top-notch knife recommendations that ensure you're always prepared to slice, dice, and pop open a cold one. Dive in to find your next pocket companion.
1. GVDV Multitool Pocket Knife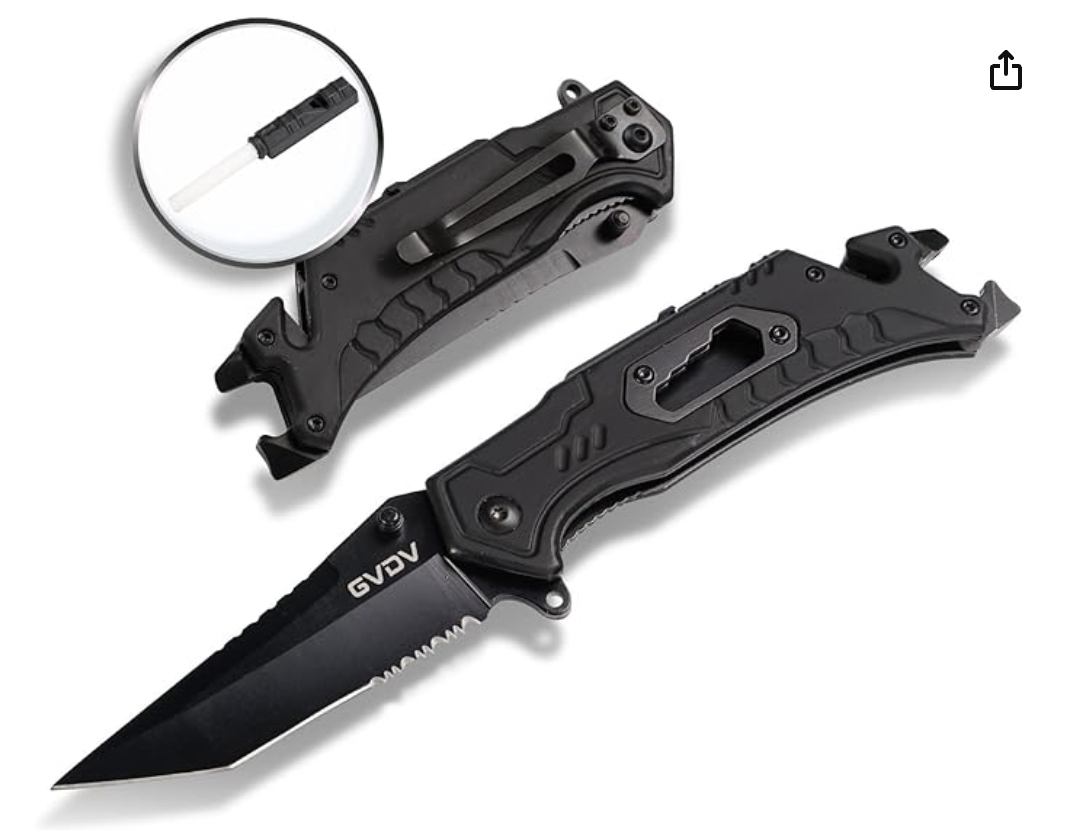 Made of high-quality 7CR stainless steel.
Tanto-shaped blade for optimal piercing.
8-in-1 multi-function features.
One-handed quick opening with side flipper.
Rubber-painted aluminum handle for enhanced grip.
Safety liner lock prevents accidental closures.
Weight: 4.65OZ (132g).
Folded size: 4.7" (12cm).
Blade length: 3.26" (8.3cm).
Comes with a sturdy belt clip for portability.
The GVDV Multitool Pocket Knife boasts a blade crafted from high-quality 7CR stainless steel, ensuring durability and resistance against corrosion and oxidation. Its tanto-shaped blade ensures optimal piercing performance, enhancing its versatility. This 8-in-1 multi-function knife offers a range of features from a glass breaker and whistle to a bottle opener and hex wrench, making it indispensable for outdoor survival, car emergencies, and day-to-day tasks. The inclusion of a quick one-handed opening mechanism, facilitated by a side flipper, makes it user-friendly, especially when one hand is busy.
Complementing its functionality, the knife's design caters to user comfort and safety. The aluminum handle, while lightweight, has been rubber-painted to enhance grip and reduce the risk of slippage. A safety liner lock ensures the blade remains open during use, preventing accidental closures, and is easily disengaged by moving the lock to the left. Additionally, its portable size, combined with a sturdy belt clip, allows users to effortlessly attach it to belts or backpacks, ensuring it's always within arm's reach. Whether you're gifting it or adding it to your personal collection, this pocket knife proves to be both practical and reliable.
2. FLISSA Mini Folding Knife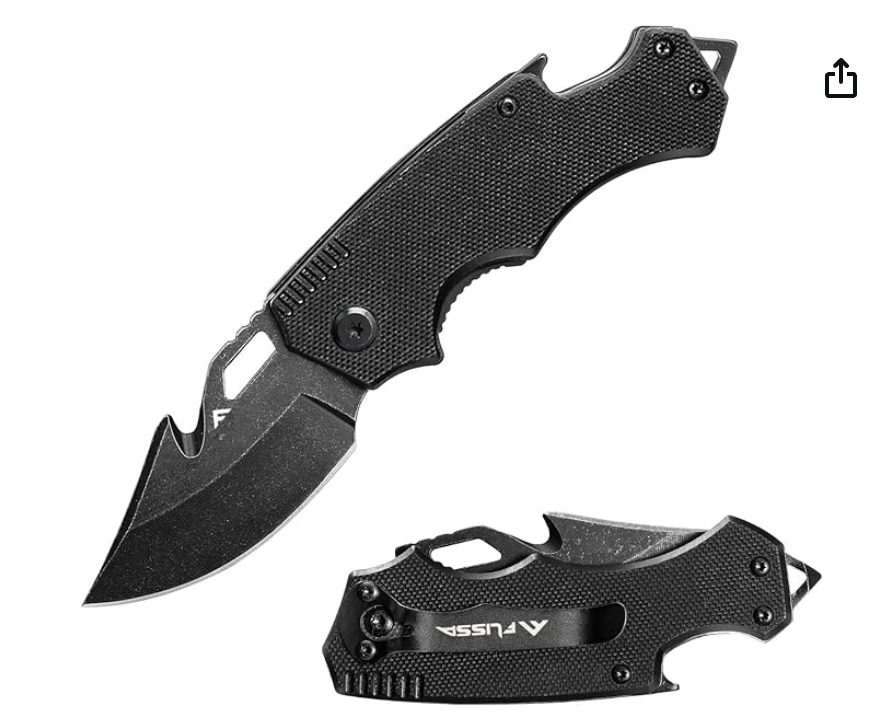 3CR13 stainless steel blade
Edge retention, toughness, and corrosion resistance
Blade length: 2-1/2 inches
Weight: 3.86 oz
G10 handle with ergonomic grooves
Belt clip for easy storage
Secure liner lock for safety
Multifunctional: bottle opener, glass breaker, and more.
FLISSA Mini Folding Knife is a versatile tool crafted from 3CR13 stainless steel. Its stonewashed blade boasts impressive edge retention, toughness, and corrosion resistance. With a blade length of 2-1/2 inches and a total weight of 3.86 oz, this knife is both compact and functional.
Its G10 handle ensures a comfortable and non-slip grip, complemented by ergonomic grooves. For added convenience, the handle features a belt clip for easy storage and daily access. Moreover, the secure liner lock guarantees safety during use. This multifunctional knife doubles up as a bottle opener, glass breaker, and more, making it a suitable accessory for outdoor adventures and an ideal gift choice. And it's a bit cheaper compared to the other alternatives.
3. NedFoss Pocket Knife with Bottle Opener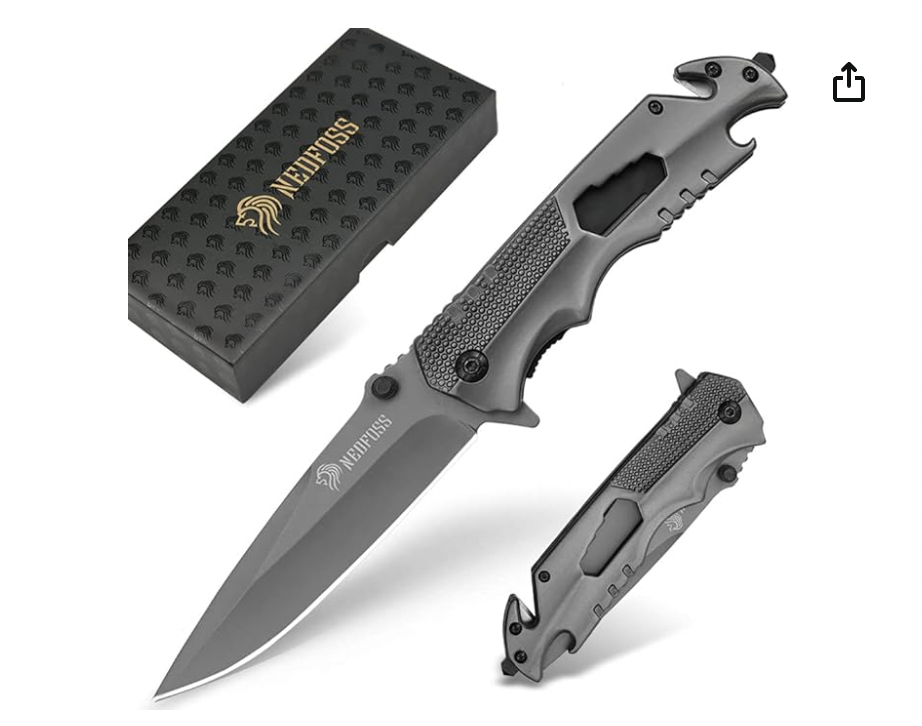 5-in-1 Multifunction: Blade, seatbelt cutter, glass breaker, bottle opener, 4-size wrench
Blade material: 8Cr14Mov stainless steel
Hardness: 57HRC
Liner-lock for safety
Total length: 9 inches
Blade length: 4 inches
Blade thickness: 3.5mm
Weight: 8.6oz
Belt clip for easy carry
Thumb Stud for quick open
The NedFoss FA48 Pocket Knife stands out as a truly 5-in-1 multifunctional tool designed for various scenarios. Crafted from 8Cr14Mov stainless steel, its blade is remarkably sharp and durable, boasting a hardness of up to 57HRC. The knife is not just about cutting; it features a seatbelt cutter, a glass breaker for emergencies, a bottle opener, and a 4-size wrench, making it an indispensable tool for DIY work, outdoor activities, and emergency situations.
In terms of safety and ease of use, the knife incorporates a reliable liner lock to prevent accidental closures. With a total length of 9 inches and a blade length of 4 inches, it remains compact and is conveniently equipped with a clip for easy carry. At 8.6oz, it's weighted for sturdy use without being overly cumbersome. Whether it's for everyday tasks or specific needs, the NedFoss FA48 promises versatility and reliability.
4. EDC Survival Knife with Bottle Opener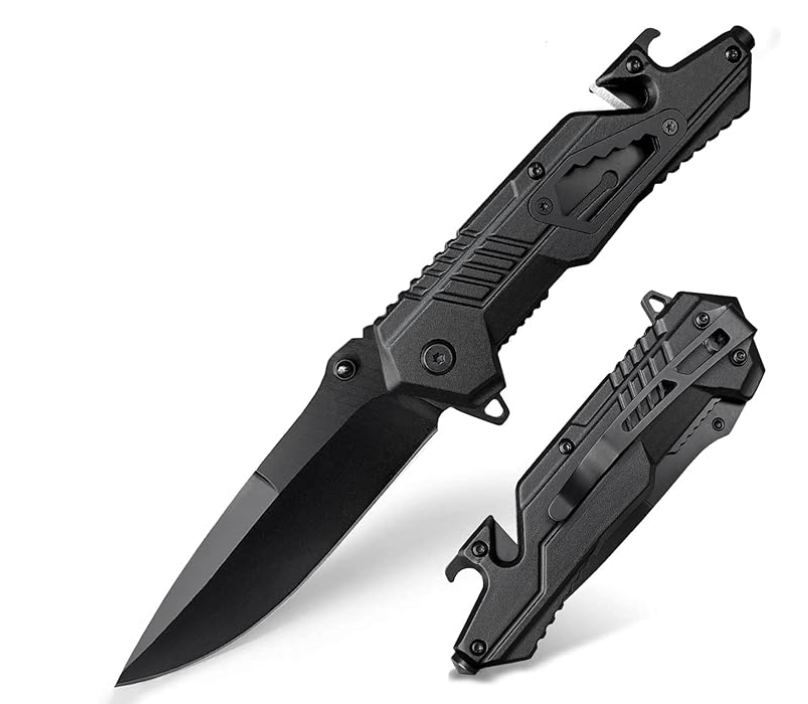 Five-in-one design: Knife, Bottle Opener, Glass Breaker, Seatbelt Cutter, Wrench
Blade material: 7Cr17Mov stainless steel
Hardness: 57HRC
Liner lock for safety
Thumb stud and flipper for smooth blade deployment
Belt clip for easy carry
Suitable for outdoor activities (camping, hiking, fishing)
1-year warranty covering defects
The EDC Survival Knife is a robust and versatile tool, showcasing a five-in-one design that effortlessly merges a knife with essential tools like a Bottle Opener, Glass Breaker, Seatbelt Cutter, and Wrench. Crafted from 7Cr17Mov stainless steel, this folding pocket knife boasts a sharp blade with a hardness of up to 57HRC, ensuring lasting durability and performance. Its ergonomic metal handle guarantees comfort and an outstanding grip, even in challenging conditions.
Prioritizing user safety, the knife features a robust Liner lock that securely holds the blade in place during use. The integrated thumb stud and flipper allow for smooth blade deployment. Adding to its convenience, a belt clip ensures the knife can be easily attached to belts or backpacks, making it a reliable companion for outdoor adventures like camping, hiking, and fishing. Furthermore, it's an excellent gift choice for various occasions and comes with a 1-year warranty, reinforcing its quality and reliability.
Are folding knives with bottle openers safe to use?
Yes, as long as they come with a safety lock mechanism, like a liner or frame lock, to prevent the blade from accidentally opening or closing. Always handle with care and ensure the blade is fully secured before using the bottle opener.
How do I maintain and clean my folding knife with a bottle opener?
Regularly wipe the blade with a lightly oiled cloth to prevent rust. After using the bottle opener, rinse it with water and ensure it's dry to prevent any sticky residue build-up.
Does the addition of a bottle opener compromise the knife's functionality?
Not usually. A well-designed folding knife will integrate the bottle opener in a way that doesn't hinder the knife's primary function. Ensure you purchase from a reputable brand to guarantee quality.
Are there specific materials I should look for when choosing a folding knife with a bottle opener?
Stainless steel is often preferred for the blade due to its durability, sharpness, and corrosion resistance. For handles, materials like G10 or aluminum provide a good grip and are lightweight.
Other Survival Knives