In the world of outdoor survival, one tool stands out as a game-changer: the survival knife with a built-in fire starter and flint. In this blog post, we'll dive into why these multifunctional knives are a must-have for adventurers and preppers alike. Join us as we explore their remarkable capabilities and learn how they can be your key to survival in the wild.
Tactical Knife with a Fire Starter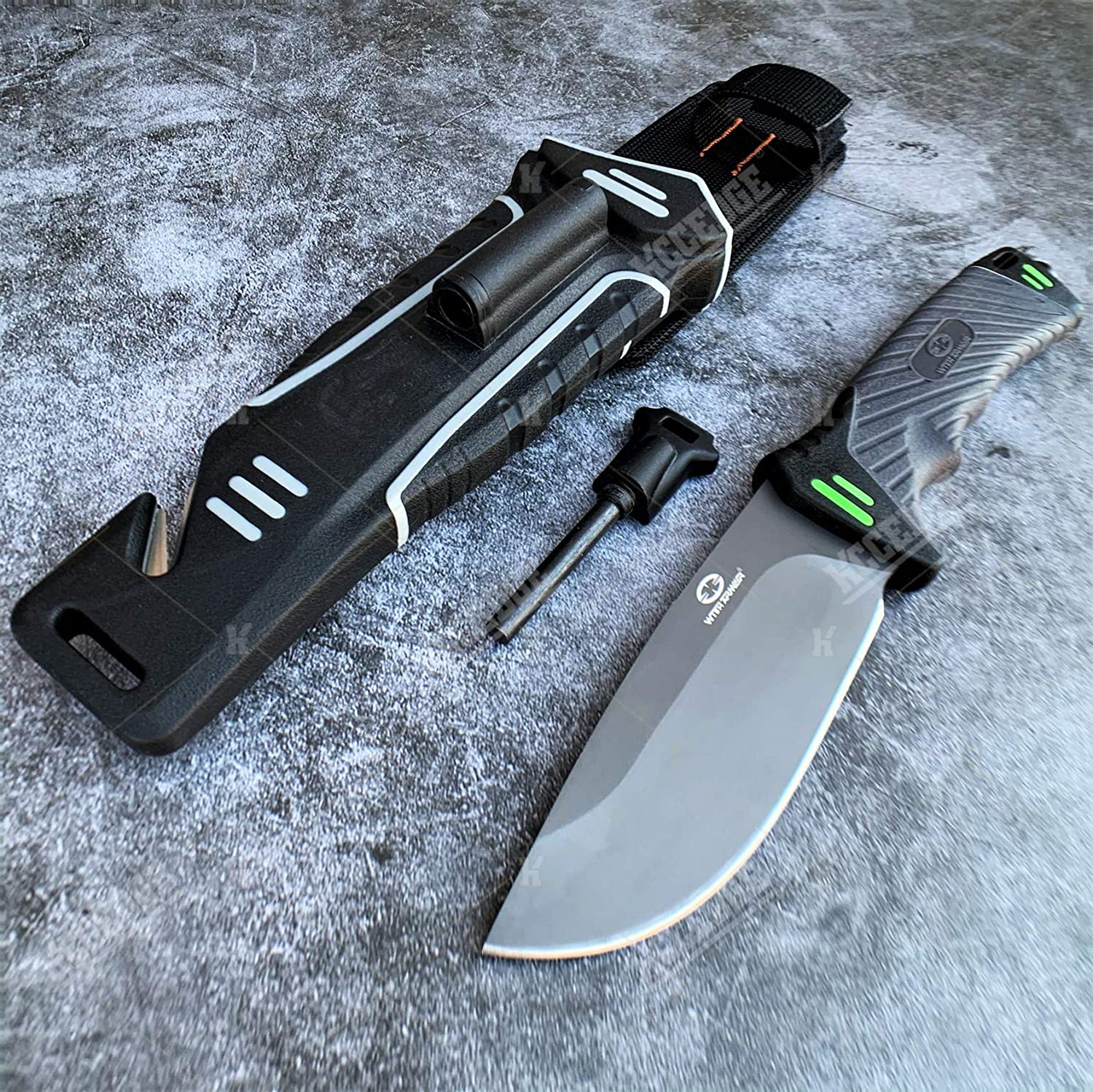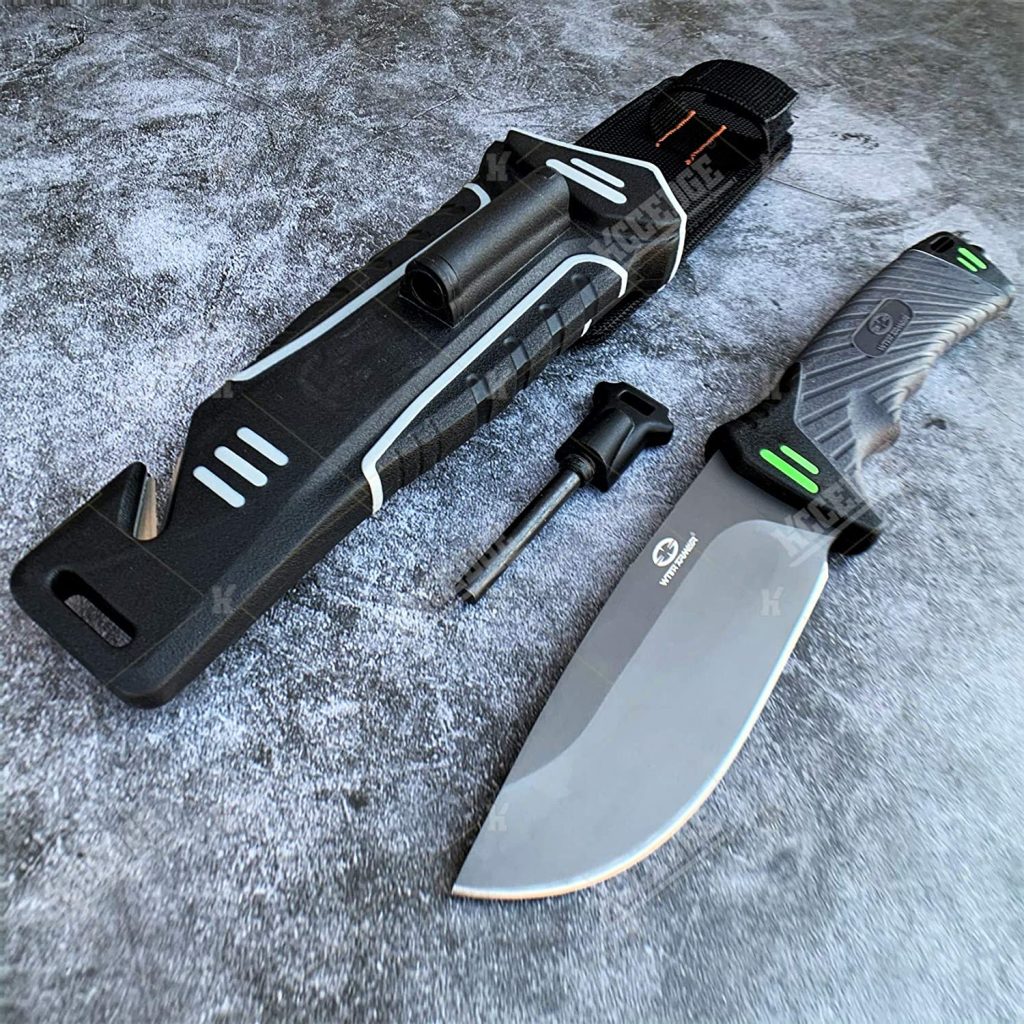 Overall Length: 9.5″
Blade Length: 4.5″
Full Tang: Yes
Blade Thickness: 4.6mm
Blade Steel: D2 Tool Steel
Blade Finish: Titanium Nitride
Handle Material: Twice Injection Grip
Sheath Type: Multi-Function
Sheath Attachment: Belt Loop
Weight: 7.2 oz (Knife Only)
The 9.5-inch full-tang survival knife with fire starter is a must-have tool for emergencies. Designed for ease of use, it fits comfortably in your hand, ensuring a solid grip when you need it most. With a 4.5-inch blade that's 4.66mm thick and a gray coating, it strikes an excellent balance between hardness and toughness, offering razor-sharp cutting performance, high durability, and easy edge maintenance. Crafted from HRC 60-62 D2 steel, this blade resists corrosion, ensuring it stays sharp over time.
What sets this knife apart is its versatility. It comes with a glass breaker, multi-use sheath, fire starter, sharpening plate, and cord cutter, making it perfect for camping, hiking, hunting, and various outdoor activities. It's not only a valuable tool for outdoor adventurers but also an essential item for emergency preparedness.
Survival Kit with a Pouch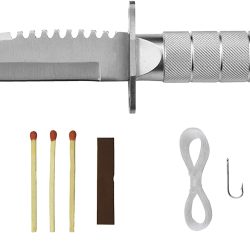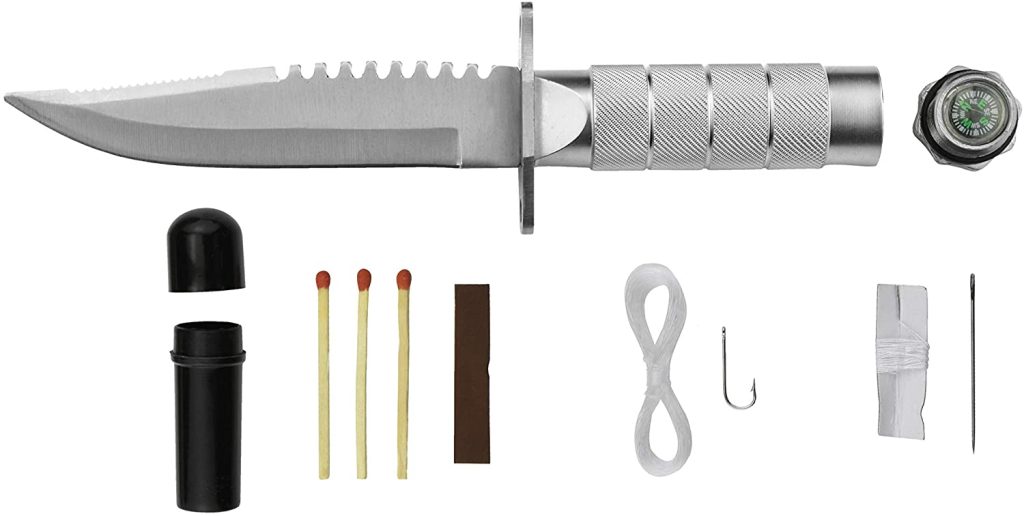 8-inch stainless steel knife
Includes compass and survival kit
Compact and versatile for outdoor adventures
Nylon pouch for easy storage
The Survival Kit is a versatile and compact tool for outdoor enthusiasts and adventurers. This kit includes an 8-inch knife made entirely of durable and lightweight stainless steel, ensuring easy handling. The knife features a 4-3/4-inch blade with a 3mm thickness and a 3-1/4-inch handle, making it suitable for a variety of tasks during camping, fishing, hiking, hunting, or any outdoor adventure.
What sets this survival kit apart is its integrated storage compartment containing essential survival tools. It includes a compass and a survival kit, all neatly packed in a nylon pouch. But compared to other survival knives with emergency kits, this one has few products that can't last long. Please keep that in mind if you're looking for a survival kit to take on a long hiking or camping trip.
Morakniv Companion Fixed-Blade Knife and Fire Starter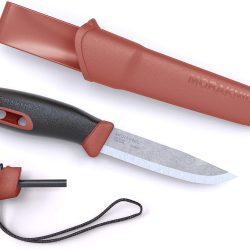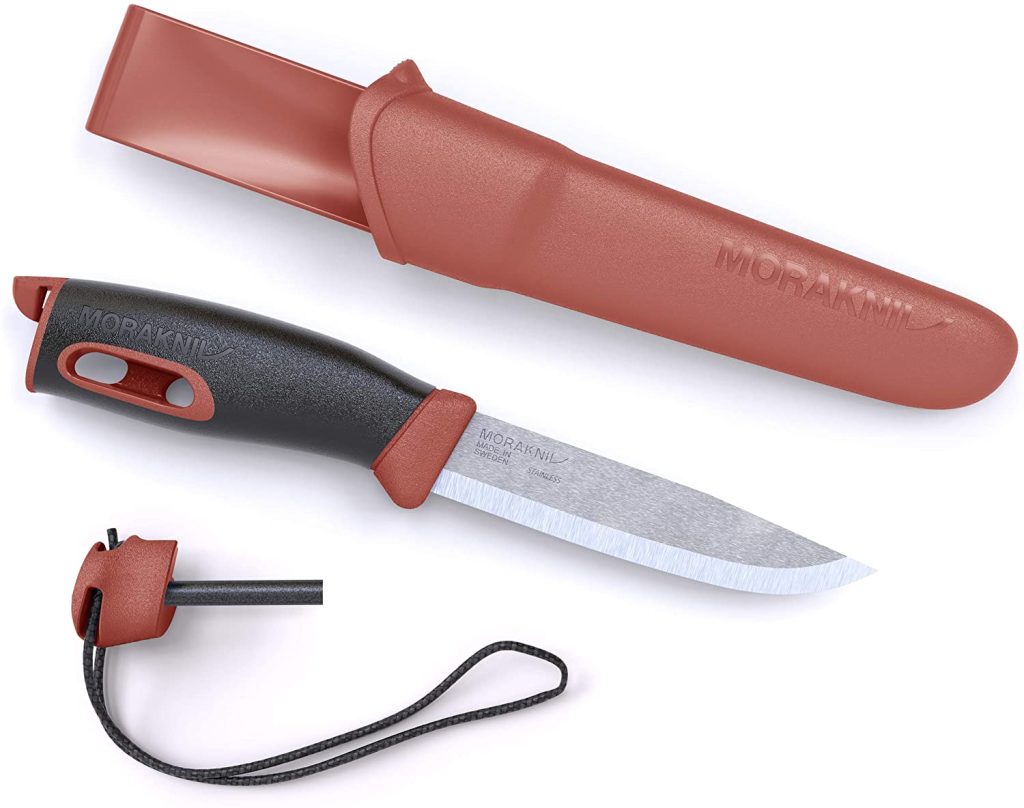 0.09-inch thick stainless steel blade
Integrated fire starter
Sheath with belt clip
4.1-inch blade, 9.4-inch total length
Lightweight at 4.5 ounces with sheath
The Bushcraft Survival Knife is a reliable tool for outdoor adventures, no matter the weather. It has a tough 0.09-inch thick stainless steel blade that stays sharp and doesn't easily rust. You can use it for cutting, preparing food, and making tinder for fires. The handle is comfy to hold and has a finger guard for safety.
What makes this knife special is that it comes with a fire starter that works even when wet. It also has a sheath with a clip to attach to your belt or backpack. The knife's blade is 4.1 inches long, and the whole knife is 9.4 inches in length. It's lightweight, weighing only 4.5 ounces with the sheath. Whether you're camping, hiking, or just enjoying the outdoors, this knife is a handy tool to have by your side.
Mossy Oak Survival Hunting Knife with Fire Starter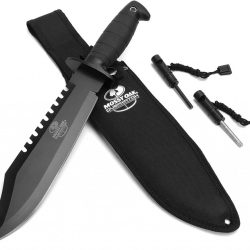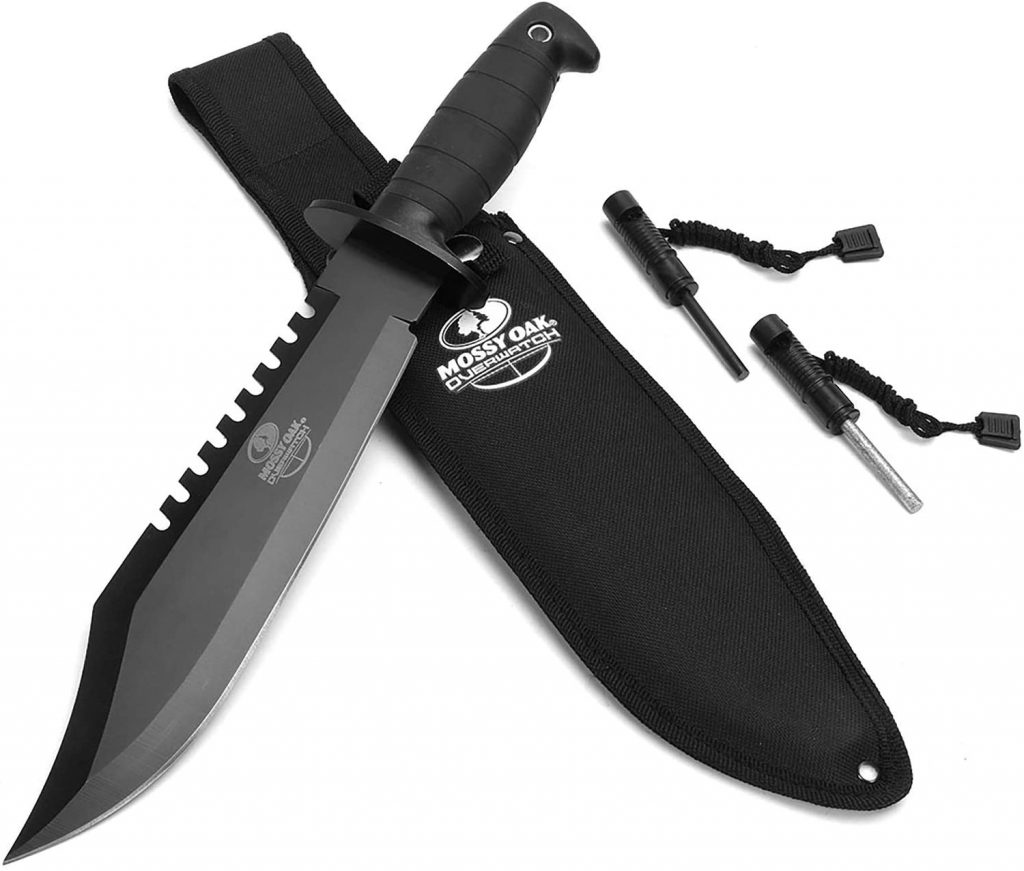 Razor-sharp stainless steel clip-point blade with saw back
Blade thickness: 5/32 inch (3.8 mm)
Overall weight: 16.8 oz
Rubber handle for a secure, non-slip grip
Durable nylon sheath with easy open fastening and belt hanging system
Includes fire starter and sharpener
The Mossy Oak Survival Knife is an impressive 15-inch fixed-blade tool that surpasses typical hunting or bowie knives in strength and sharpness. With a 10-inch stainless steel clip-point blade featuring a saw back and a black anodized finish, this knife is perfect for camping, survival training, and military use. Its 5/32-inch thickness adds to its durability, while the overall weight is a manageable 16.8 ounces.
Designed for practicality, the knife features a comfortable rubber handle that offers a secure, non-slip grip. It comes with a durable nylon sheath equipped with an easy open fastening system and belt hanging capability for convenient and safe carry. Additionally, the survival kit includes a fire starter and a sharpener, making it ideal for outdoor adventures, camping, hunting, and survival situations. And the black finish makes it look way cooler than its alternatives.
What are the benefits of having a survival knife with a fire starter and flint?
The primary benefits include:
1. Fire-Making: It provides a reliable means to start a fire even in challenging conditions, crucial for warmth, cooking, and signaling.
2. Versatility: You have a multi-purpose tool, combining cutting and fire-starting capabilities in one item.
3. Emergency Preparedness: It's a valuable addition to your survival gear, enhancing your ability to survive in the wilderness.
Can a survival knife with a fire starter be used for everyday tasks, or is it only for emergencies?
While these knives are designed with survival situations in mind, many of them are versatile enough to handle everyday cutting tasks. However, it's essential to remember that using the fire starter and flint excessively can wear them down, so it's best to reserve their use for emergencies when possible.
Are there different types of fire starters and flints for survival knives?
Yes, there are various types, including ferrocerium rods, magnesium fire starters, and even integrated fire starters with built-in mechanisms. The choice often depends on personal preference and the specific features of the knife.
Other Survival Knives