As you know a compass is an essential tool when you're traveling. Moreover, I definitely think it's incredibly helpful to purchase a knife that comes with a compass on its own. While carrying your knife with you, you wouldn't have to worry about losing your compass somewhere else. We have selected the best ones in terms of design, functionality, durability, and price.
Survival Knife with Camping Accessories Kit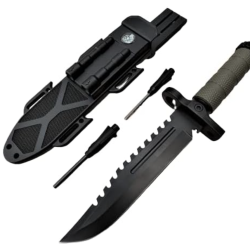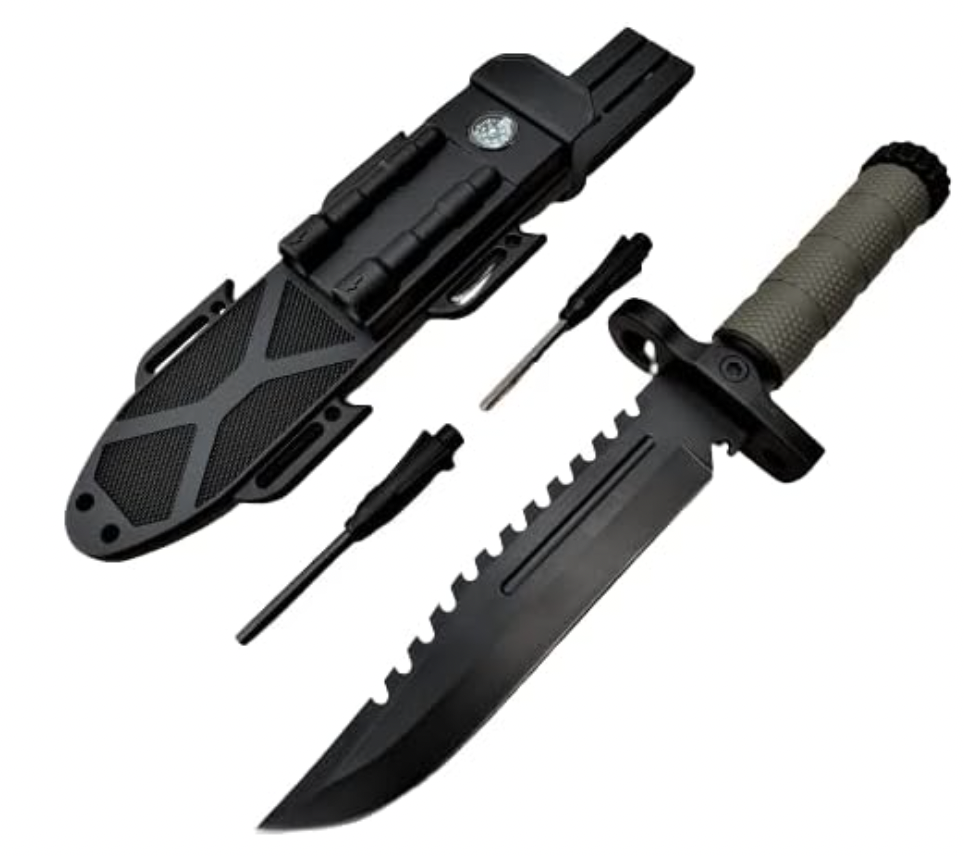 Knife Style: Tactical Fixed Blade Knife
Overall Length: 12.75″
Blade Style: Combat Clip Point
Edge: Full Edge With Sawback
Blade Length: 7.5″
Blade Material: 3cr13 Stainless Steel
The Survival Knife with Camping Accessories Kit offers a comprehensive solution for outdoor enthusiasts and emergency preparedness. With a 12.75-inch tactical fixed-blade knife at its core, this kit includes essential features such as a fire starter, knife sharpener, compass, and bottle opener, making it a versatile tool for navigating rough terrain and survival situations.
The knife's blade is professionally heat-treated to strike a balance between hardness and toughness, ensuring increased durability and performance. Crafted from 3cr13 stainless steel, it provides razor-sharp cutting capabilities, high durability, and easy edge maintenance.
This multi-use knife serves as a valuable companion for various activities, from camping and fishing to hunting and everyday tasks. Its compact design makes it easy to carry in your pocket or attach to a backpack, fitting seamlessly into your EDC gear and tactical equipment.
Survival Kit with a Pouch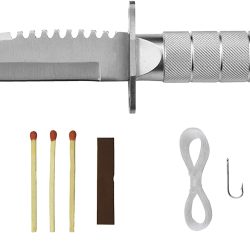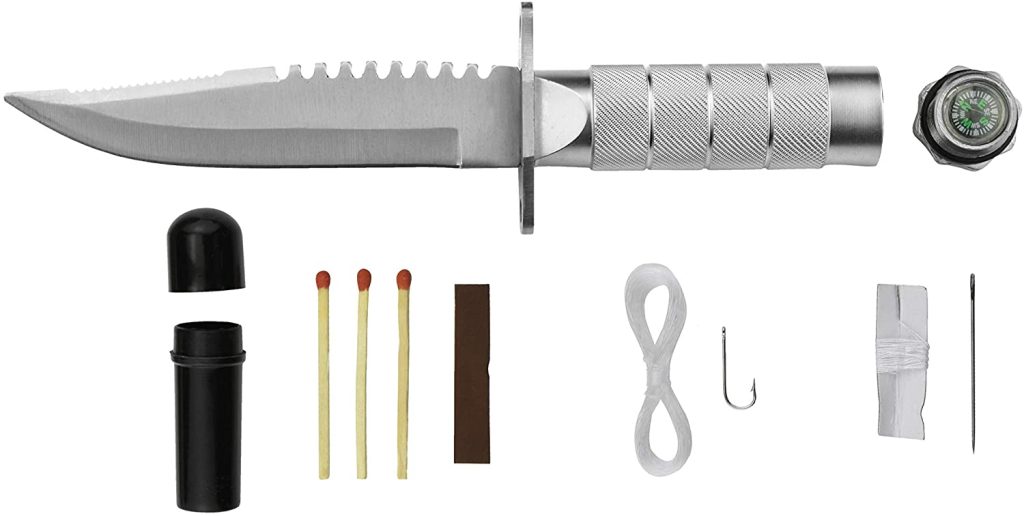 8-inch stainless steel knife
Includes compass and survival kit
Compact and versatile for outdoor adventures
Nylon pouch for easy storage
The Survival Kit is a versatile and compact tool for outdoor enthusiasts and adventurers. This kit includes an 8-inch knife made entirely of durable and lightweight stainless steel, ensuring easy handling. The knife features a 4-3/4-inch blade with a 3mm thickness and a 3-1/4-inch handle, making it suitable for a variety of tasks during camping, fishing, hiking, hunting, or any outdoor adventure.
What sets this survival kit apart is its integrated storage compartment containing essential survival tools. It includes a compass and a survival kit, all neatly packed in a nylon pouch. But compared to other survival knives with emergency kits, this one has few products that can't last long. Please keep that in mind if you're looking for a survival kit to take on a long hiking or camping trip.
K EXCLUSIVE Sawback Survival Knife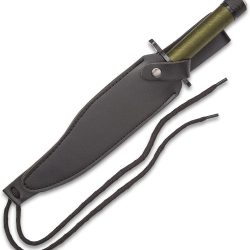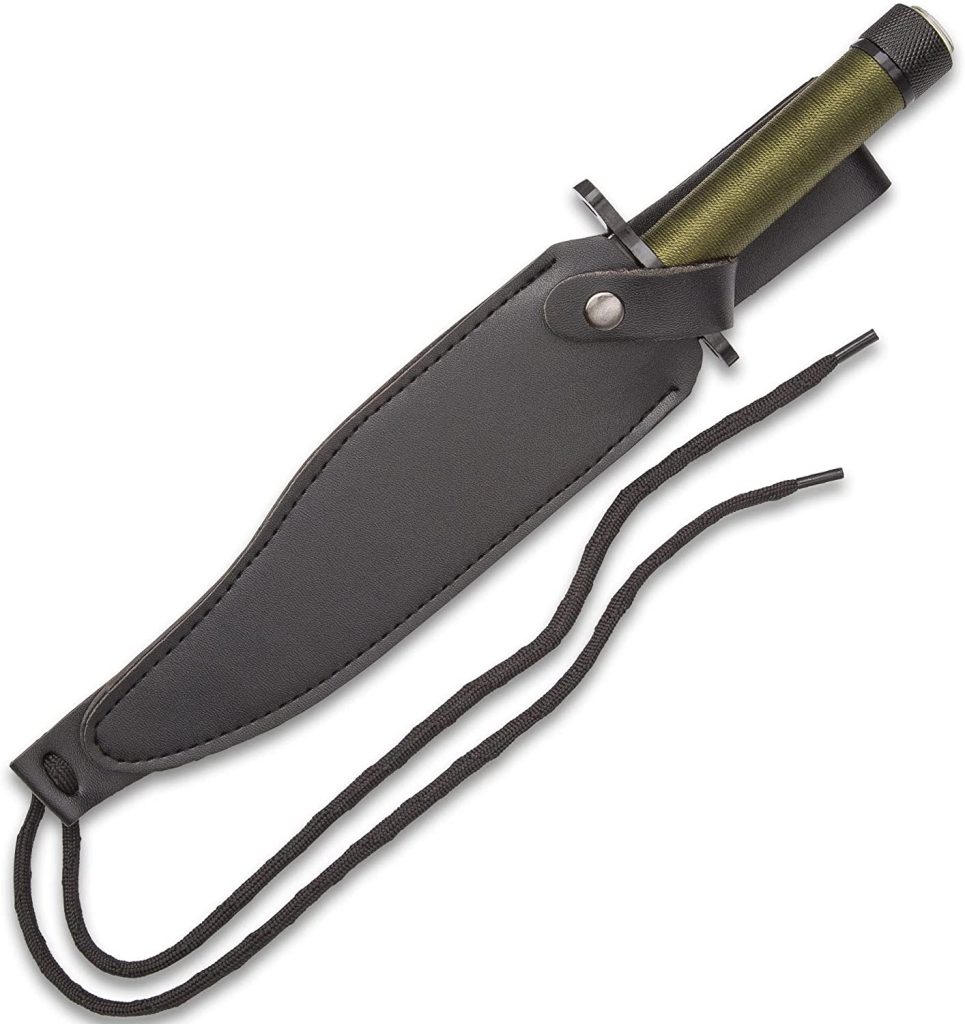 Stainless steel construction with saw back serrations
Cord-wrapped handle with a built-in compass
Mini survival kit in the handle
Removable pommel cap with compass
Corrosion-resistant blade finish
Includes an imitation leather sheath
The Sawback Survival Knife is a reliable companion for various outdoor situations. This fixed-blade knife boasts durable stainless steel construction with a sharp edge, clip point, and robust saw back serrations for versatility. It features a secure grip with cord handle wrappings and a heavy guard to protect against slips.
One standout feature is the built-in compass in the removable pommel cap, adding navigational capabilities to the knife. Additionally, the handle conceals a mini survival kit, containing essential items like fishing lines, hooks, sinkers, needles and thread, and a safety pin. With its corrosion-resistant blade finish and included imitation leather sheath, this survival knife is a dependable tool for outdoor enthusiasts, ensuring preparedness and functionality when needed most.
Survivor HK-690 Fixed Blade Survival Knife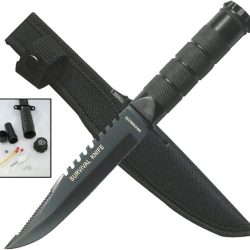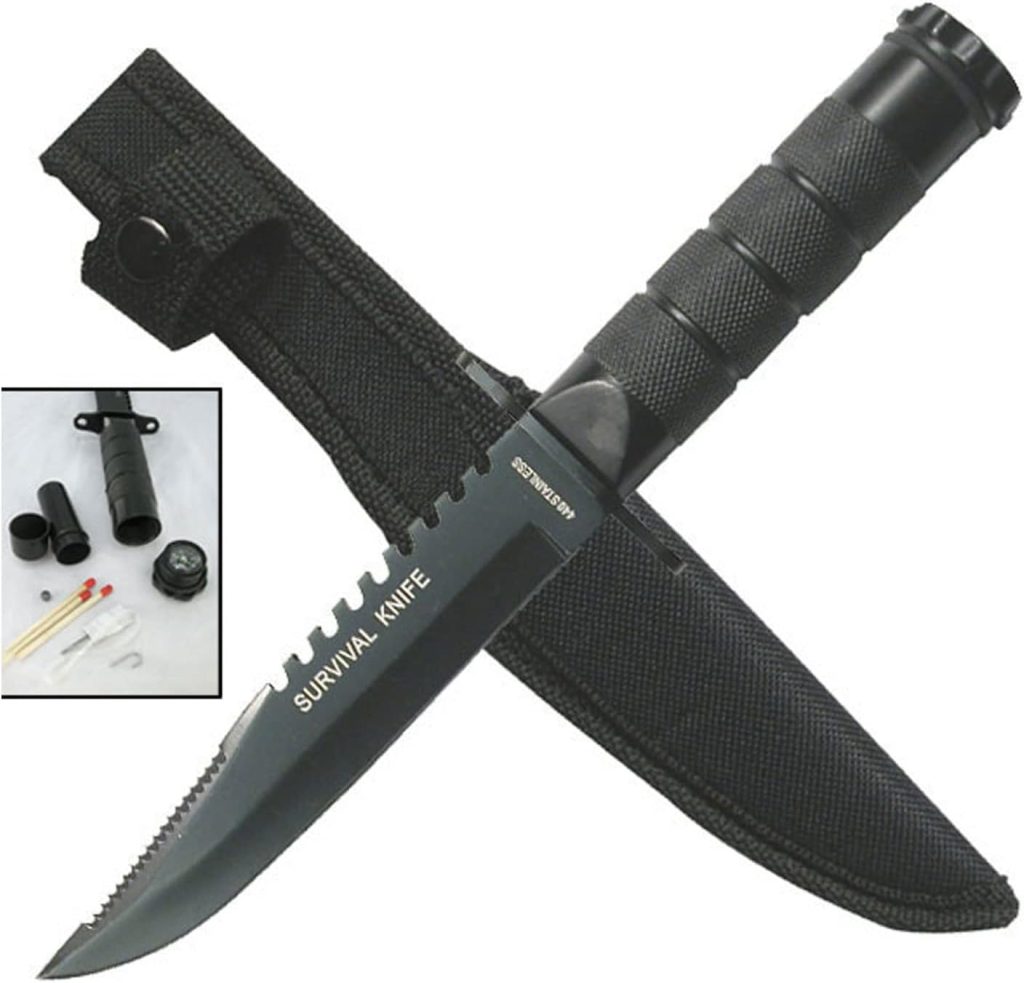 3CR13 black oxidized stainless steel blade for durability
4.25-inch fine-edge blade and 8.50-inch overall length
Black zinc aluminum handle with built-in compass and survival kit
Versatile for camping, hiking, hunting, and more
Includes a black nylon sheath for storage
The Survivor Survival Knife with a compass is a reliable and well-crafted tool designed to handle outdoor challenges. Constructed from 3CR13 black oxidized stainless steel, it strikes an ideal balance between hardness and corrosion resistance, ensuring consistent razor-sharp cutting performance and durability. With dimensions of a 4.25-inch fine-edge blade and an 8.50-inch overall length, this fixed-blade survival knife is versatile for a range of outdoor activities, including camping, hiking, hunting, and fishing.
What sets this knife apart is its integrated survival kit and compass concealed within the black zinc aluminum handle, making it an essential tool for emergency preparedness and self-reliance. Whether you're an outdoor enthusiast, a military or tactical user, or someone focused on DIY activities, this Survivor knife is a dependable companion for a variety of situations. Additionally, it includes a black nylon sheath for easy and secure storage, ensuring you have a trustworthy tool by your side in any outdoor predicament.
How do I maintain a Survival Knife With a Compass?
To maintain your knife, regularly clean and oil the blade. Check the compass for accuracy and calibration. Ensure that all components, including the compass, are in good working condition.
Are these knives suitable for everyday carry (EDC)?
Survival Knives With Compass tend to be larger and more specialized for outdoor use, making them less practical for everyday carry. They are designed with outdoor adventures and emergencies in mind.
Can I rely solely on the compass in the knife for navigation?
While the compass in these knives is a helpful tool, it's essential to have basic navigation skills and knowledge of map reading and landmarks for more accurate navigation in the wilderness.
Other Survival Knives