As you know that a compass is an essential tool when you're traveling. Moreover, I definitely think it's incredibly helpful to purchase a knife that comes with a compass on its own. While carrying your knife with you, you wouldn't have to worry about losing your compass somewhere else.
You will find out our 5 best knife recommendations that feature a compass below! Reading their own unique features, pros, and cons, I am sure you'll find your favorite one!
1. Survival Neck Knife with Fire Starter by Frog & CO
This knife is perfect for those who are planning to carry the knife with them all day long. I am sure you're aware that the most important features of an EDC knife are to be lightweight, small in size, and convenient to hold/carry. This Survival Neck Knife with Compass Frog & CO is the perfect knife to satisfy your needs.
Not only can this incredible survival knife slice easily through paracord, rope, and other materials, but its impressive nylon fiber knife sheath also contains a navigational compass (which must be removed for magnets to work properly) and signal mirror, allowing you to find your way and get rescued in a variety of emergency situations.
Why is it unique?
Since you can easily hang the knife from your neck, there is less chance you'll lose the knife. Plus, measuring just 5.5″ long (with a 2.9″ fixed blade) this survival weapon won't weigh you down or be too bulky to travel with.
It can easily slice through paracord, rope, and other materials. It has a nylon fiber knife sheath that contains a navigational compass and signal mirror, allowing you to find your way and get rescued in a variety of emergency situations.
Thanks to its impressively grippy G10 handle, you can feel confident cutting, slicing, dicing, and hacking in even the wettest conditions without losing your grip.
People who bought this were also satisfied with its quality and durability. (You can easily see it from the website) Due to its size and weight, it may not be as strong as other tactical knives out there. However, I believe it's the perfect knife to use in emergency situations like getting lost, cutting a rope, etc.
2. SE 8″ Survival Knife with a Compass and Survival Kit
Few survival knives with compass come with a kit. A survival kit makes it easier for you to get prepared for your hiking or camping trip. That's because you don't have to go around looking for different items. All you need to carry is only your knife with you.
This knife has a storage compartment in its handle that contains a survival kit. Since the space is small, there aren't many tools, to be honest. However, for such an affordable price, I truly believe it's a great deal.
Why is it unique?
The entire knife is made of durable and lightweight stainless steel, allowing for easy handling. That also means it is going to be lightweight and convenient for you to carry despite the survival kit inside.
It is great for multi-functional uses. You can practically use it for anything including camping, fishing, hiking, hunting, or any outdoor adventure. The knife is strong enough to take on any tough tasks.
There is a sheath that comes with the knife. Sheath makes it safe for you to carry around. The blade is razor-sharp and includes a serrated part to work more effectively.
Overall, it is another great knife for EDC purposes. To look at the compass, one needs to open up the handle and some people find it burdensome. It all comes down to personal preference. Since the price is cheap, the quality might not be as good as you expect. However, it is a great value for money in general.
3. K EXCLUSIVE Sawback Survival Knife
Sometimes we encounter a decision to choose between two kinds of knives. One is super high-quality, but then the price is extremely high. The other one is cheap, however, the quality can't quite satisfy your needs. It's a difficult situation to find yourself in. However, why can't we get a high-quality knife for a reasonable price? This survival knife is just like that, it offers incredible quality, not to mention its durability for a very reasonable price.
This Amazon Jungle Survival Knife with compass, plus sheath is a great knife that can last longer. As you can easily see from the name, it is built to help you survive in any situation. Both the blade and the handle are bigger and longer than the previous EDC knives. Therefore, it is more durable and tough in general. It also comes with its survival kit.
Why is it unique?
This knife stands out with its heavy, rugged saw-back blade design, not to mention the corrosion-resistant blade finish. The reviews also tell that it's strong enough to take on any task.
One of the most important features of any survival knife is indeed the handle. You should be able to grip it firmly and conveniently. The handle of the knife also satisfies that need. It is a cord-wrapped handle with a built-in compass.
Another thing to mention is that you don't have to open the handle in order to see the compass. The compass is placed outside of the handle which makes it even easier.
One disadvantage would be the faux leather sheath. Since it is an imitated one, you would have to purchase or make another durable sheath for the knife to use for a longer period of time. Overall, it's larger and stronger than regular small survival knives. For the affordable price, the quality and durability are surprisingly good.
4. Survivor HK-690 Fixed Blade Survival Knife with Compass
Here you can see another great survival knife. Just like the previous recommendations, this one is also suitable for harsh environments in the wilderness. However, this one differs with its small size and lightweight features. If you liked the previous Amazon Jungle Survival Knife but found it too heavy and big in size, this HK-690 Fixed Blade might satisfy your needs. It's just as effective, but easier to carry and use on daily basis.
Why is it unique?
As you already know, a serrated blade is way more effective when it comes to slicing through thick, tough, and fibrous materials. Therefore, it can practically take on any task.
This knife also has a storage compartment in its handle that contains a survival kit. You need to open the handle in order to see the compass. The handle is built to help give you a stable and tight grip. Even the water can't make the knife slip through your hand.
If you've been looking for a fine knife that can satisfy your needs for an affordable price, it is your go-to option. However, since the price is incredibly cheap, the quality is not as good as other durable and tough knives. If you would prefer to pay the high price and get a long-lasting knife, check out our other recommendations.
5. Stainless Steel Tactical Folding Knife with Compass
Sometimes we want more than good quality. If your knife can not only help you with tough tasks during camping but also can help you protect yourself from emergency situations? It's killing two birds with one stone.
This stainless steel knife is a 5-in-1 tool that offers multiple versatile features including a compass, fire starter, emergency whistle, glass breaker, belt cutter, and more. It is safe and reliable, plus convenient to carry around. I would say it's an ideal survival knife with a compass (and more!).
Why is it unique?
Compass AND Emergency Fire Starter: The fire starter is safer and more reliable that can make fire easily even in a cold and wet environment. Besides, it can be reused thousands of times, and not easy to break even falling from a high place. The fire stool has a compass on it, which is a magnetic compass that can tell you the direction when you get lost.
Besides the two amazing tools above, there is a 120db emergency whistle that helps you call help when in trouble. Plus, a 0.8m neck rope can also be made bow, bundling tool, etc when you need it in an emergency.
For such an affordable price, the quality is amazing too! is constructed of high-quality stainless steel which makes it super anti-rust, anti-drop, and durable. The surface of the magnesium fire starter is made of high-performance waterproof material ABS and highly Sealed at the interface which can perfectly prevent the inner fire starter rod from getting wet. However, since it is a folded blade, it might break easily over tough tasks.
Lastly, to ensure your safety, it adopts an anti-skid handle design to prevent the knife from slipping from your hand. Moreover, there is also a safety lock design to ensure the knife blade locks into place when fully deployed and must be manually unlocked to fold away providing a much safer user experience.
Why are these knives unfoldable?
Because of the mechanics involved with a folding survival knife, it's very difficult to add a compass to the handle. The locking mechanism and the body frame will have to be built very differently, and such a survival knife does not look the best nor function the best.
A fixed blade is much easier because the handle can be sturdy and round with the compass attached to the bottom handle. You also get a fine cutting, especially with double serrated side survival knives, because the handle is sturdier. A solid metal handle can be very comfortable!
Otherwise, if you really prefer a folding survival knife, then perhaps it's a better idea to get a compass and survival kit.
A survival kit includes a fishing hook, fishing line, stick matches, and other tools that can come in handy in a survival situation.
What is the best way to sharpen the blade?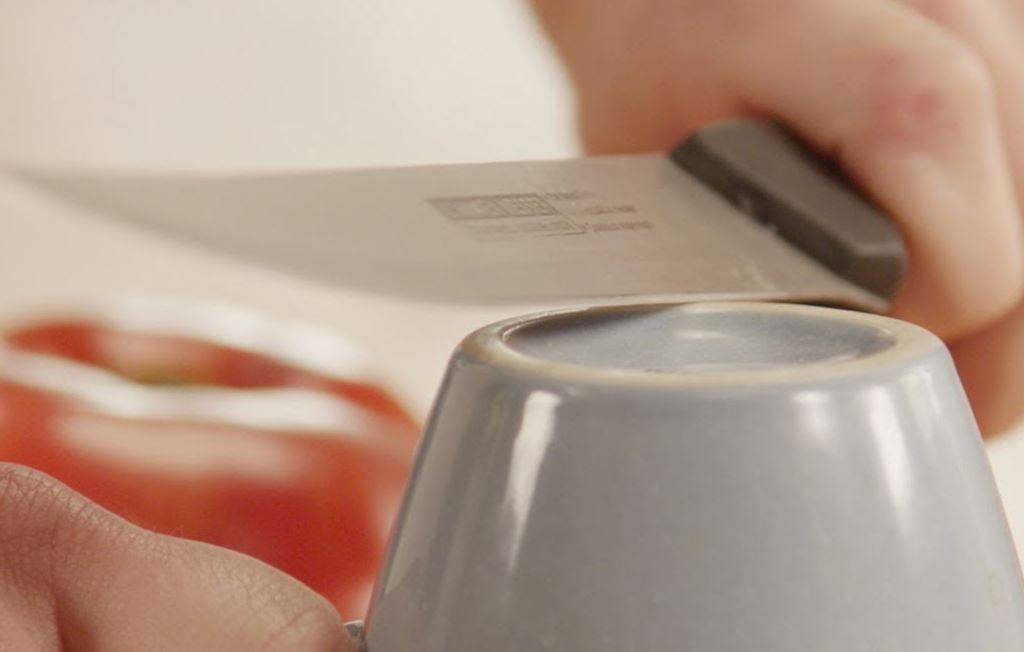 It does not hurt to carry a knife sharpener along your outdoor excursion. They are not necessarily heavy or bulky. Some knife sharpeners are the size of a folding pocket knife. Simply unfold it and you can sharpen your survival knife.
If you don't happen to have a special sharpener, then you can make a sharpening stone. Just find a round and smooth rock, and then use it to sharpen your survival knife. OR, if you have a ceramic mug, the bottom bevel can be used as a makeshift sharpener as well.
How reliable is a survival knife compass?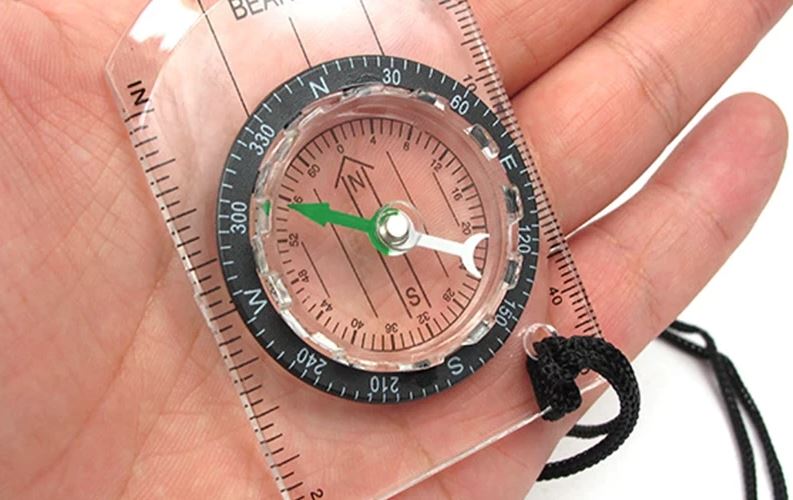 A survival knife compass is reliable because it's just basically a piece of equipment that detects the Earth's natural magnetic fields and responds accordingly.
What material should you choose?
A fixed blade full tang design with stainless steel that is corrosion resistant will be the best. If you have a higher budget, you could get a handle that has quality rubber, which will help your hands to maintain a tight and proper grip. A tighter grip will allow for greater functionality!