Survival Frog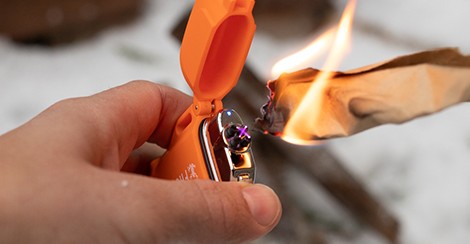 Survival Frog's Tesla plasma lighter is the best choice if you are looking for an electric lighter. It's a well known brand that stands behind its products and delivers on quality. Here are some of the features:
Waterproof and wind-resistant
Fully rechargeable in 2 hours
Flashlight with 3 modes: high, medium, low
17 inches of lanyard cordage
Paratinder for starting fire without tinder
Smoke & flame free
Plasma Torch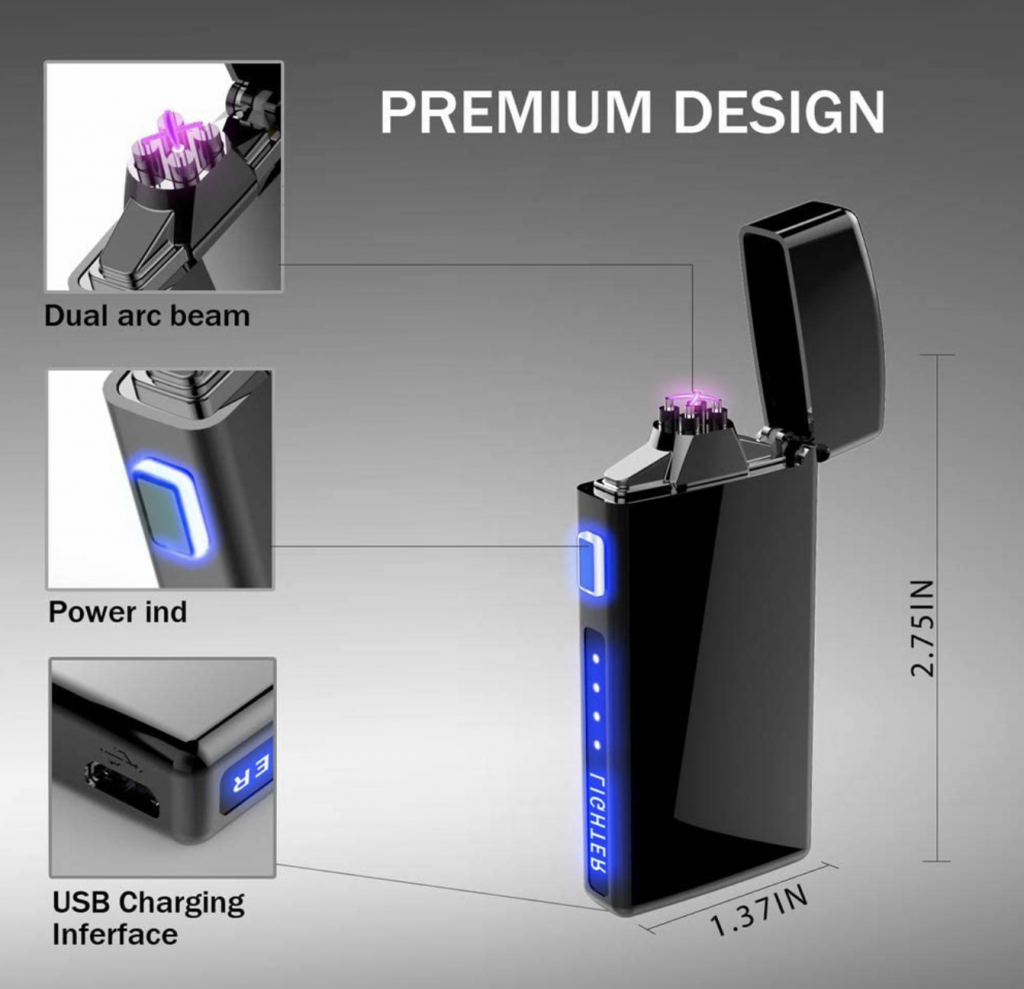 If you are however looking for the coolest Plasma Torch, then check this one out. It has LED lights that tell you how much battery it has. Its design and feel is very nice and the durability along with the battery life make it one of the top plasma lighters out there.
Power Indicator & Long Battery Life: Upgraded 4 LED battery lights to display different power level status, can remind you recharge it in advance; High-quality battery cycle lasts 600~700 charges
Arc design & Quality: Dual arc lighter,5 times faster than single arc electronic lighter; use high-quality zinc alloy and high-temperature resistance ceramic plate, safe and durable; It makes it easier to light candles and cigarettes
Windproof & Flameless: Arc lighter is a rechargeable electric lighter that it requires no flame, no butane, weather-resistant, it is great for camping, traveling and hiking; It can work well on a windy day while protecting the environment
Perfect Gift: Come with elegant gift box, looks cool, definitely let friends scream; This is probably a perfect gift for birthday, friends, family, lover, business and more
Safe & Durable: The lighter uses plasma tech so that you don't have to worry about harmful chemicals; The plasma lighter contains a large capacity battery that can be used more than 200~300 times ignitions after fully charged
TRS Pyro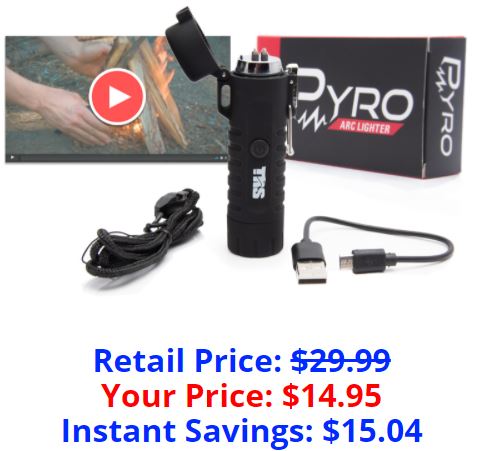 The TRS Pyro is one of my favorites, because you are getting a very sturdy and durable electric lighter for less than $20. It's a real bargain if you consider the features.
In case you don't like the product, there is a 30 day money back guarantee, so there is nothing to lose.
Waterproof & wind-resistant
Only 2 oz
USB rechargeable
100 lumens flashlight
SurvivaLighter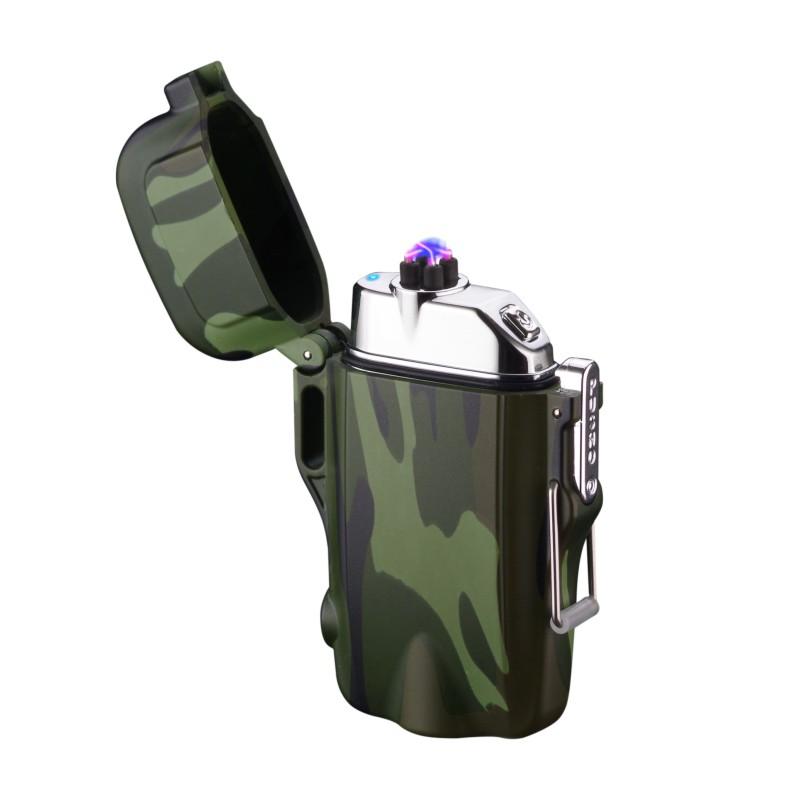 The SurvivaLighter is like a Tesla coil in the palm of your hand. Not only is it waterproof and windproof, but it generates heat at 1800 Fahrenheit. It also has a flashlight which can be used for basic everyday use.
On a full charge, it can last about 7 days of continuous use lighting cigarettes, a camp fire, etc. There is 61% discount on this lighter if you want to get it.
Add-On Features You Should Consider
If you are buying a plasma lighter, then you need to pay attention to the extra features it should have such as a flashlight, usb recharger, and other tools that might come in handy.
Some electric lighters have a flashlight. The TRS plasma lighter for example has a flashlight that is perfect for Every Day Use. It's around 100 lumens, so in case there is a power outage or if you are walking through dark alley or need to light up something in front of you, it is good enough.
Most Plasma arc lighters should have a USB charger and is rechargeable. Depending on the model it can take 1 hour or more and last you 3 days or so of continuous use. Besides outlets, you can use a power bank, a car, etc to charge your lighter.
Most if not all arc lighters are waterproof and works completely fine in wet conditions. However, if you damage the lighter and break the hull, then it won't be as waterproof, but most plasma arc lighters are very durable and made out of quality steel.
Unlike traditional lighters, there is no flame to speak of. It's an electric current that is focused like a laser which in turn generates heat. So even in the harshest conditions, your plasma lighter should work. Some lighters generate more heat from more arcs, whereas some are lower. You should consider getting one that can reach up to 2000 Fahrenheit as it's the most optimal.
Why Buy Electric Plasma Lighter?
Compared with traditional lighters, electric plasma lighters are economical, safer, and works much better than butane and your generic lighter in wet or windy conditions.
You may have to pay a little extra up-front, but if you consider the long-term, it will actually save you money and it is better for the environment.
Plasma lighters generate heat at higher temperatures and it is very easy to get a camp fire going with such a tool. Depending on the model, there are add-on tools such as a flashlight, screwdriver, a whistle, etc.