It is very important for a knife to have a sheath. The sheath protects the knife and works as a carrier. However, most importantly, the sheath protects the person carrying the knife. Unprotected, sharp knives can cause serious injuries.
Sheaths can vary depending on the material and knife. Regardless, the sheath should be made from high-quality material and built to last longer just like the knife itself. Continue reading to see our best recommendations for knives with sheaths.
1. Free Evatac Combat Dagger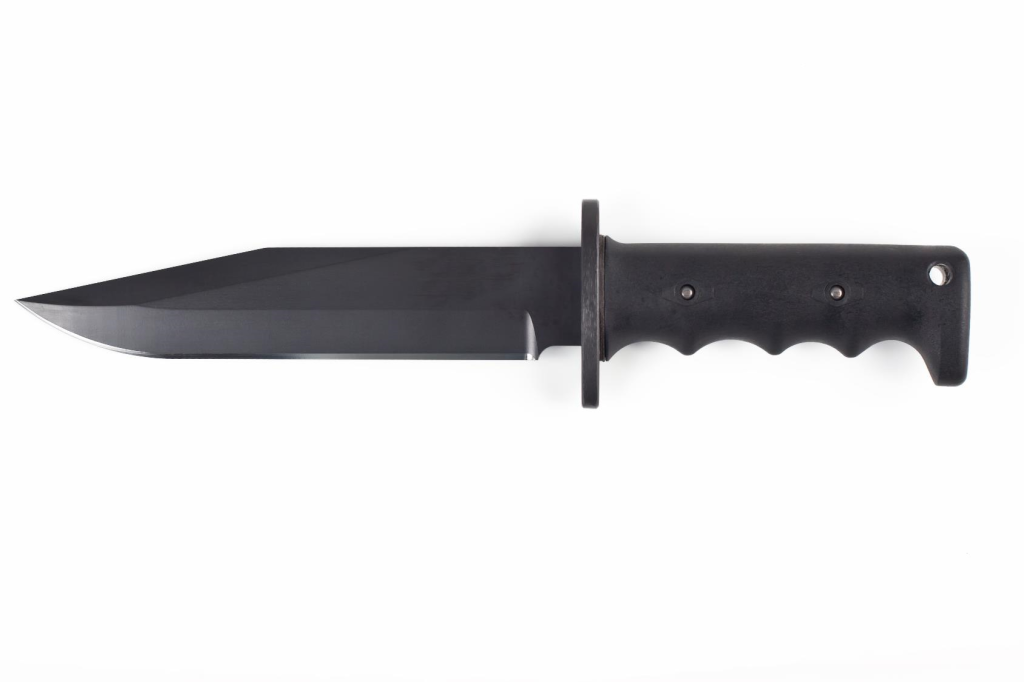 If you have been looking for a high-quality double-edge knife, here is the best offer to take. This Evatac Combat Dagger is a beautifully crafted, fixed, double-edge blade with an asymmetrical shape to the point. Its stainless steel blade is powder coated with a matt black finish and the handle is a palm swell grip with a rubberized coating making it extremely comfortable in the hand.
The extra-sharp double edge makes this the ultimate defense weapon. Most importantly, there is a quality 600D poly sheath with a belt buckle, making this an easy-to-deploy carry weapon. Since the sheath is made from polyester, it'll be reliable as well as durable.
About the Knife & Features
Symmetrical Double Edge Blade
​Overall 9″ In Length (23cm)
​4.7″ Blade & 4.3″ Handle
​Stainless And Rust Proof!
​Matt Black Finish
​Extra Wide Double Guard
​Comfortable Rubberized Handle
​Palm Swell Grip
​Brass Lanyard Hole
Overall, it is a fine Combat Dagger that can take on any task during camping including hunting, fishing, cutting robes, preparing meals, etc. Of course, the best part is the fact that it's completely free!
Get The Evatac Combat Dagger for Free
2. Free Black Karambit Knife
One of the most important features of any Karambit knife is its multi-functionality. This black Karambit knife is versatile enough to be used in any situation. The curved blade allows for easier cutting of difficult materials, better access to targets, and the ability to use unorthodox angles and approaches.
About the Knife & Features
Knife Weight: 3.83Oz, lightweight easy to carry
Stainless Steel Blade: Rustproof, wearable, and sharp
Knife total length: 7.4\" 19cm Blade Length: 3.3\"(8,5cm)
The ergonomically designed handle: feels great to hold in your hand and is comfortable to use
Multifunction: Perfectly suitable for outdoor activities, such as hunting, fishing, camping, etc
The forged full-tang design increases the force and leverage. It makes the knife even more durable. Lastly, the unique finger grip handle allows for greater control of your weapon. It could also work as a self-defense tool as it features a glass-breaker.
The protective sheath is incredibly safe and convenient as well. However, since it is not leather or polyester, it could break if dropped or fractured. Despite that, you could easily see that it's one of the deadliest weapons with a razor-sharp blade which makes it perfect for camping.
Get the Karambit Knife for Free
3. Free Colossal Fixed Blade Survival Knife
Here is another high-quality knife you can get for no price. It is a simple, yet strong and effective knife suitable for any task during your camping trip. The razor-sharp blade and convenient handle provide a "user-friendly" experience.
About the Knife & Features
Steel Trail Point Fixed Blade
Total Length: 10.5 Inches
Extremely Durable
Blade Length: 5.5 Inches
Total Weight Without Sheath: 9.5 oz
Sheath With Belt Clip Included
Rubber Grip for Enhanced Handling
The sheath of this knife is made of leather. Therefore, it is also durable enough to offer strong protection. Another advantage is the belt clip in the sheath. You can carry the knife with you daily during camping.
Overall, it's a great knife that is neither too big nor too small. In my opinion, it can make a perfect EDC and camping knife. From the blade, and handle to the sheath, all of 'em can satisfy your needs.
However, if you want a knife that offers more versatility and can be useful for camping, check out knives with a compass. Getting lost is the last thing you'd want while trudging through the woods.
Get the Survival Knife for Free
4. MoraKniv Companion Heavy-Duty Knife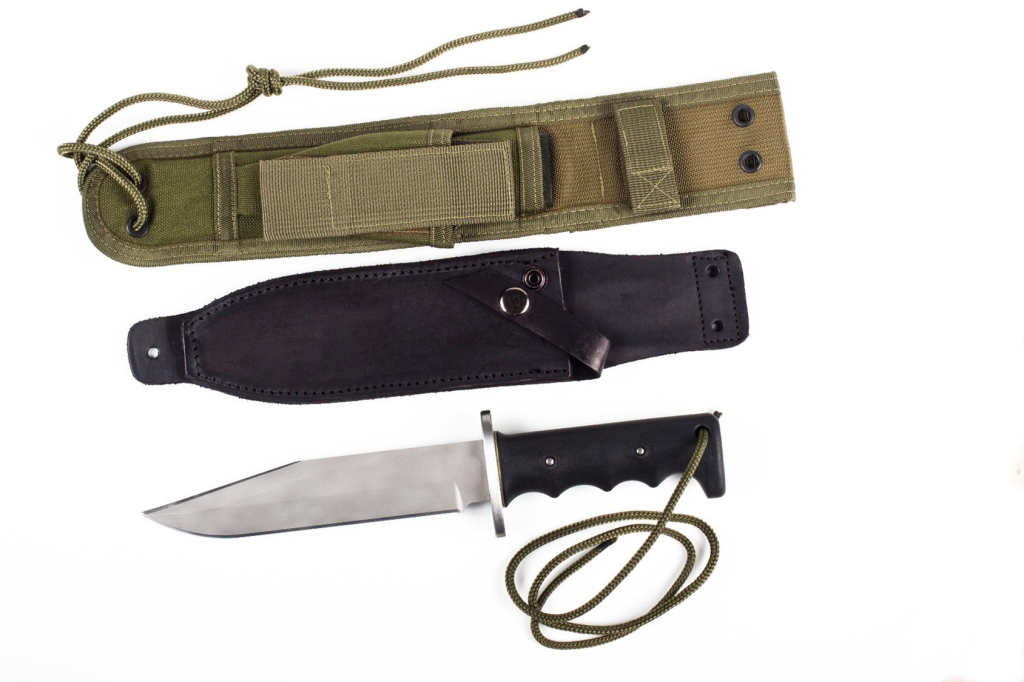 MoraKniv Companion Heavy Duty Knife can help you tackle almost all tasks including cutting wood, carving, and more. With a razor-sharp edge and robust 1/8 inch (3.2 mm) thick blade, it is robust and sharp enough to tackle the toughest of your batoning chores.
The extra-large, ergonomic handle has a patterned, high-friction grip that performs well in wet and cold conditions. The knife sits comfortably in the hand providing greater control, safety and performance. The blade is big enough for most camping/outdoor tasks. Despite the size, it is incredibly light to carry around all day.
About the Knife & Features
Fixed blade outdoor knife with a 4.1-inch high carbon steel blade
Extra-large ergonomic handle with a patterned, high-friction grip that makes the knife comfortable to hold and easy to handle
Blade Thickness: 0.125 inches (3.2 mm), Blade Length: 4.1 inches (104 mm), Total Length: 8.8 inches (224 mm), Net Weight: 4.8 oz. (135 g)
Color-matching plastic sheath with belt clip
Limited lifetime manufacturer's warranty; Made in Sweden
You will be surprised to see how sharp is the blade of this knife! Many customers also claimed that even after being used for several years, the knife maintained its edge perfectly. However, don't forget that you also need to properly care for your knife.
One of the reviews mentioned that it outperformed every knife he has owned before! You could really see what type of impression the knife left on its purchasers. Moreover, it includes a color-matching, hard plastic sheath to keep the knife secure. That features include a belt clip for convenient carrying and a drain hole.
Get the MoraKniv Companion Heavy Duty Knife Free
5. Mossy Oak Survival Hunting Knife
Featuring high-end stainless steel & blade coating, it provides sharp and durable use, plus making it wear-resistant. Built with excellent hardness, improved edge retention, and rust resistance, the purchasers also loved how strong and durable it is. It is suitable for various activities during camping, hiking, and hunting trips.
About the Knife & Features
Brand: Mossy Oak
Blade Material: Stainless Steel
Handle Material: Rubber
Blade Shape: Clip Point
Overall Length: 15 inch
Blade Length: 10 Inches
Thickness: 5/32 inch (3.8 mm)
Weight: 16.8 oz
Black anodized razor sharp clip point blade with a partially serrated spine provides lasting durability with edge retention and corrosion resistance. Plus, the heavy-duty nylon sheath fitted offers easy accessibility and a safe place to hold the knife while trudging through jungles and woods.
Another great feature is the fire starter. A knife with a fire starter is incredibly helpful during camping. Not only it comes with a fire starter, but you'll also find a knife sharpener in the package.
The handle is made of high-quality TPR rubber, provides a high-friction grip, making the knife comfortable to hold, and features easy to handle non-slip design.